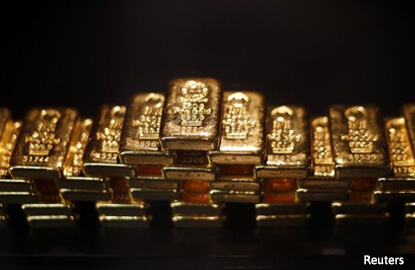 LONDON (March 21): Gold dipped on Tuesday as a weaker US dollar only partially offset a price slide in Asian trading hours, after a failure to overcome chart resistance prompted speculative selling following a four-day rally.
Confidence in the metal was also dampened by a third day of outflows from gold-backed exchange-traded funds, with holdings of the largest, SPDR Gold Shares, falling another 3.8 tonnes on Monday.
Spot gold was down 0.1% at US$1,231.89 an ounce at 1228 GMT, having dropped US$8 an ounce in less than an hour after it touched session highs overnight at US$1,235.26.
US gold futures for April delivery were down US$2.30 at US$1,231.70.
Some gold holders in China liquidated their positions in thin trading after the metal failed to break above the previous day's peak, traders said, close to tough resistance at a retracement of the metal's February-to-March decline.
"Gold failed to break through resistance and ran into selling afterwards," Alexander Zumpfe, precious metals trader at Heraeus, said. "Resistance is around US$1,237/1,238."
A drop in the US dollar to six-week lows versus the euro on expectations of a more cautious approach to rate hikes from the Federal Reserve helped lift gold in later trade.        
Prices were also underpinned by uncertainty over US President Donald Trump's foreign policies and concerns over the impact of populist parties on European elections this year.
Gold rallied in the wake of last Wednesday's less hawkish than expected Fed policy statement, which dampened speculation the US central bank would raise interest rates quickly this year.
That took prices to US$1,235.50 on Monday, their highest since March 6.
Gold is sensitive to rising US rates, as these increase the opportunity cost of holding non-yielding bullion while boosting the US dollar, in which it is priced. It slipped in the run-up to the Fed's rate hike last week, before rebounding.
"The previous two hikes marked cycle lows for gold, and European election uncertainty, US President Trump's foreign policies, as well as seasonal demand in India materialising in April are likely to make 2Q the strongest quarter for gold prices this year," Standard Chartered said in a note.
Silver was down 0.1% at US$17.39, while platinum was 0.4% lower at US$963.60.
Palladium, bucking the falling trend among other precious metals, was up 0.4% at US$782.35, having earlier touched a three-week high of US$785.20 an ounce.