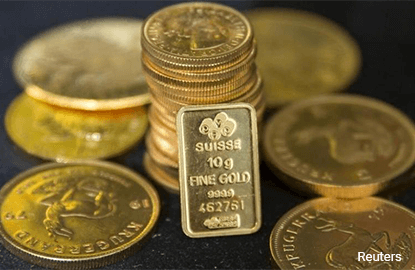 LONDON (Feb 15): Gold slipped on Wednesday, erasing the previous day's slim gains, after Federal Reserve Chair Janet Yellen's suggestion that US interest rates could rise sooner rather than later drove the dollar to a 3½-week high.
Yellen told the Senate banking committee on Tuesday that delaying rate increases could leave the Fed's policymaking committee behind the curve.
Gold is highly sensitive to rising US interest rates, as these increase the opportunity cost of holding non-yielding bullion, while boosting the dollar, in which it is priced.
Spot gold was down 0.2% at US$1,225.49 an ounce at 1035 GMT.
"Gold prices are still under pressure after Yellen's comments yesterday. The US dollar is doing well," ABN Amro analyst Georgette Boele said.
"Today we have CPI and retail sales in the US as well. Better data will likely push gold consistently below US$1,220."
Yellen's comments boosted appetite for assets perceived as higher risk, like equities, as well as the dollar.
World stocks hit 21-month peaks and the US currency rose for the eleventh straight day, while the dollar notched up its longest winning streak in almost five years.  
CME Group's FedWatch data showed US interest rate futures implied an around 30% chance of at least three increases this year.
"We remain cautious (on gold), given our expectation for solid growth, rising interest rates and a strengthening US dollar ," Julius Baer said in a note.
The world's largest physically-backed gold fund, SPDR Gold Shares, said its holdings were unchanged on Tuesday. While it has seen inflows of 18 tonnes so far this year, that is well below the pace of increases a year ago, which saw inflows of 69 tonnes in the same period.
Regulatory filings showed on Tuesday that Paulson & Co cut its stake in the fund as bullion prices posted their weakest quarterly performance in 3½ years, while Soros Fund Management LLC got out of gold in the fourth quarter of 2016.
US gold futures for April delivery were up US$1.20 an ounce at US$1,226.60
Among other precious metals, silver was down 0.7% at US$17.82 an ounce, off the previous session's three-month high of US$18.07, while platinum was down 0.6% at US$994.16 an ounce.
Palladium was up 0.4% at US$782.30 an ounce, bucking the falling trend among other precious metals to rise in line with other cyclical assets. The metal, primarily used in autocatalysts, is more exposed than the others to the broader economic cycle.