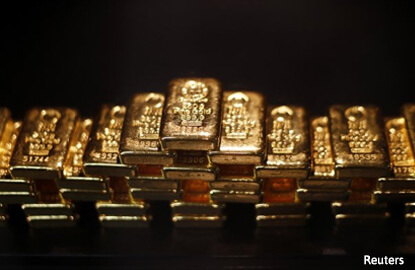 LONDON/BENGALURU (Feb 2): Gold hit its highest since mid-November on Thursday, after the U.S. Federal Reserve gave no clear signal on the likelihood of a March interest rate increase in its latest statement, prompting another drop in the dollar.
The U.S. currency slipped to a 12-week low against a basket of currencies, after the U.S. central bank gave an upbeat view on the economy, but no hint of accelerating rate hikes. 
 
Spot gold rose to its highest since Nov 17 at US$1,223.62 an ounce and was up 1.1% at US$1,222.56 by 1035 GMT. U.S. gold futures for April delivery were up US$16.80 at US$1,225.10.
The weakening dollar was the main factor driving gold higher, along with concerns over political risk, said Afshin Nabavi, head of trading at MKS.
"We have the non-farm payrolls tomorrow, so I don't think there will be huge swings today, but having said that, (gold) looks very strong," he said.
"The US$1,219-US$1,220 level is important resistance. If we can break US$1,225, very quickly we could see US$1,250." 
Friday's non-farm payrolls report is seen as a key barometer of the health of the U.S. economy and will be closely watched for signs that growth is strong enough to support further interest rate hikes.
Gold is highly sensitive to rising U.S. rates, which increase the opportunity cost of holding non-yielding bullion while boosting the dollar, in which it is priced.
Investors' interest in gold rose after the U.S. currency suffered its worst January in 30 years. The world's largest gold-backed exchange-traded fund, SPDR Gold Shares, reported its biggest one-day inflow in nearly four months on Wednesday, of 10.7 tonnes. 
That has helped to support gold, despite the absence of many Asian buyers, because of the Lunar New Year holiday this week.
"The sharp rebound after a pull down below US$1,200 and the Asian pricing model, despite the Chinese New Year, seem favourable," said Spencer Campbell, general manager with Kaloti Precious Metals in Singapore. "We see a lot of bullish signals."
Among other precious metals, silver was up 1.2% at US$17.72 an ounce, while platinum gained 0.9% to US$1,004.90. The metal used in jewellery and autocatalysts earlier touched its highest since Nov 9 at US$1,008.40.
The U.S. Mint sold 20,000 ounces of platinum coins in January, data from the Mint showed, their first since August. 
Palladium was down 0.1% at US$761.80.