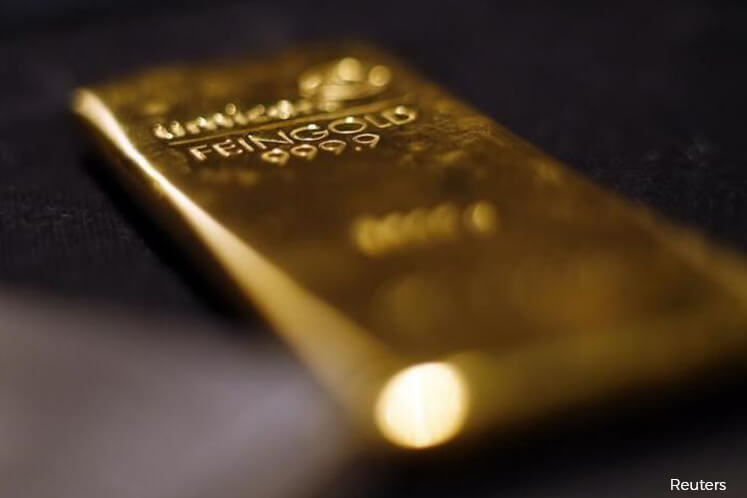 BENGALURU (March 23): Gold prices on Thursday held below a 3-week peak hit the session before, with the dollar recovering from seven-week lows and markets waiting to see if U.S. President Donald Trump can push through a healthcare bill.
Spot gold was down 0.1% at US$1,247.30 per ounce at 0725 GMT. On Wednesday, it touched its strongest since Feb 28 at US$1,251.26.
U.S. gold futures were down 0.1% at US$1,247.90.
"There is a strong technical resistance at US$1,250 and that seems to have been felt strongly at this juncture," said OCBC analyst Barnabas Gan.
Spot gold may retrace to support at US$1,237 per ounce, following its failure to break a resistance zone of US$1,247-US$1,254, according to Reuters technical analyst Wang Tao. 
However, Gan pointed to the impact of sustained political issues in Europe and the United States.
"This kind of uncertainty does lift gold prices," he said.
The immediate focus is on whether Trump can gather enough support in a vote as early as Thursday, to pass a bill to roll back Obamacare, a first major test of his legislative ability and whether he can keep his promises to business.
Trump and House of Representatives leaders were pushing on Wednesday for votes for their plan, and said they were making progress in their efforts to win over conservative Republicans who have demanded changes to the legislation.     
However, a rough ride for the healthcare plan could affect Trump's efforts to cut taxes and boost infrastructure, and drive more investors into gold as a safe-haven investment if stock markets fall, analysts and traders said.
"A sustained break and close above US$1,250 will be the key for a test of the 200-day moving average at US$1,259.50, while support initially sits at US$1,244-US$1,245," MKS PAMP Group trader Sam Laughlin said.
"Uncertainty surrounding the Trump administration continues to weigh upon the dollar and is likely to result in further upside momentum for the yellow metal." 
The dollar index, which measures the greenback against a basket of currencies, was up 0.1% at 99.684. It fell to a near seven-week low of 99.547 on Wednesday. 
Spot silver rose 0.3% to US$17.54.
Platinum was up 0.5% at US$962.55 per ounce, while palladium edged up 0.3% to US$788.85. The metal hit over one-month highs at US$794.30 in the prior session.