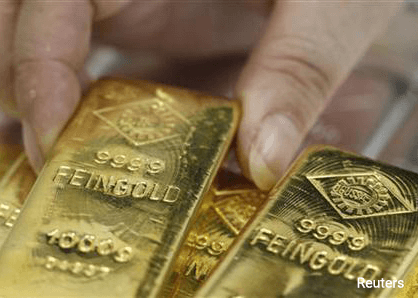 LONDON (Aug 27): Gold steadied on Thursday after its biggest one-day drop in five weeks, supported by speculation that a U.S. rate hike may take longer than expected but still under pressure from a rebound in stock markets and a firmer dollar.
European shares jumped 2.6% after a U.S. policymaker said the case for an interest rate increase next month "seems less compelling" than a few weeks ago, and following Wall Street's biggest gains in four years.
Spot gold was at $1,125.35 an ounce at 1212 GMT, little changed from $1,125.15 late on Wednesday, while U.S. gold futures for December delivery were up 40 cents an ounce at $1,125.00.
A three-day slide in gold prices has eroded the bulk of last week's gains, made after speculation that the Fed would hike rates later rather than sooner initially surfaced.
It is still up nearly 5% from July's 5-1/2-year low of $1,077, but has given up more than 3% since touching a seven-week peak of $1,168.40 last week, hurt by a rebound in the dollar and other assets.
"The market is very nervous," MKS Afshin Nabavi said. "A lot of people are going to sit on the sidelines after covering their short (positions) to see what will happen in September, and the tone of the Federal Open Market Committee, before making any decisions."
Gold tends to benefit from ultra-low rates, which cut the opportunity cost of holding non-yielding bullion while boosting the dollar. It has come under pressure since speculation for a rate hike first surfaced.
The dollar index rose 0.3% as gains in global stock markets, including a 5% jump in Shanghai, sapped demand for safe haven currencies like the Japanese yen.
Other precious metals rebounded from this week's slide. Platinum was up 1.1% to $987.50 and silver was up 0.8% at $14.18.
Palladium was up 1% at $538.72 an ounce after falling to a near five-year low of $528 on Wednesday. It is still down nearly 10% this week.
"Positioning on Nymex suggests that weakness had initially been driven by aggressive shorts while exchange-traded fund liquidations added to the pressure," UBS said in a note.
"With the exception of gold, palladium now has the leanest positioning within the precious metals complex. This suggests that while sentiment remains frail and charts continue to look worrisome, the market may now be nearing a bottom."