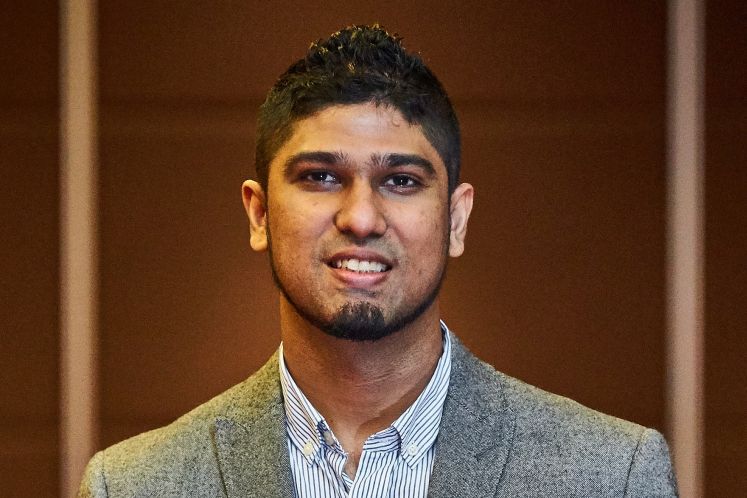 Traditional businesses, including many small and medium enterprises (SMEs), are being forced to digitalise their operations since the implementation of the Movement Control Order in March. Joachim Sebastian, CEO of Everpeaks, has witnessed it first-hand.
For instance, Mum's Place, a popular restaurant located in Damansara Perdana that serves a blend of Portuguese, Chinese and a smattering of Nyonya and Indian dishes, made its first delivery order on April 22. It was the restaurant's first online order since it opened 18 years.
"The MCO affected its business pretty badly and it needed to figure out a solution. That was how the business owner, who is my uncle, embarked on the e-commerce journey," says Sebastian.
Everpeaks, the company founded by Sebastian, has been helping local businesses sell their products overseas through global marketplaces such as Amazon and eBay.
"I worked with them (Mum's Place) and digitalised the whole ecosystem within three days," says Sebastian.
Many traditional businesses did not feel the need to digitise their businesses before the MCO as they were still doing well. They felt going online was unnecessary and would only improve their sales marginally.
"However, the virus outbreak and MCO changed the outlook of these traditional business owners," says Sebastian.
Right now the situation is not ideal for traditional businesses to finally go online because, quite frankly, most of them are cash-strapped as it is and hiring an external e-commerce consultant alone would cost them between RM10,000 and RM15,000 upfront, says Sebastian.
"The subsequent cost is not high. In general, it can be about RM300 a month plus a 2% charge on sales and an amount of marketing fee that you budget for. But the upfront cost is burdensome and these companies are already struggling," says Sebastian.
However, it is the right time for these businesses to get into e-commerce, if only because they are left with minimal options, or none, at a challenging time like this.
"You're going to suffer either way if you do not go digital, so you might as well suffer now and get it out of the way. Take this time as an opportunity to build the relevant skill sets and learn how to improve your business through e-commerce," says Sebastian.
He adds that SMEs can start off by doing a few simple things like setting up their own social media pages and listing their products on online marketplaces that provide good incentives.
"For any company that has fewer than 10 employees, you should look at doing it yourselves You are the one who is going to manage it eventually. You can outsource it permanently by paying a fee if you have a significant margin and great cash flow," he adds.
General tips for going digital
Sebastian also provides some general tips for traditional businesses and SMEs who want to go digital.
"Firstly, you need to make sure that you can fulfill orders placed by your online customers.
"If you are selling a product, you must have the delivery service and warehouse service established. If you are selling food, you need to have your kitchen and packaging process sorted out.
"You must also be prepared to deliver your products at scale as sales could increase over time," he says.
The next step is the platform. "You want to explore places like Lazada, or Shopee, as they are listing your products for free right now. They also have all sorts of promotions at this moment that allow you to sell your products at a lower cost. They are giving all sorts of support.
"If you are a restaurant, then you might want to list your products on social media or online marketplaces that list your foods and help you to deliver them. You might want to have delivery services that can help you send your foods to consumers.
"If you are a service provider, you need to have a method to deliver your content to the audience, whether it is conducting webinars or online seminars through Zoom or other software," he says.
Marketing is the next thing which needs to be taken into consideration. "Just because you have placed your product in a place you can sell it does not mean people will see it. This is becoming one of the biggest issues right now as online marketplaces are being very crowded and competitive. It is becoming very expensive to advertise. So, you must figure a way to get customers.
"You need to create content and it is best if you adopt a hybrid method. Yes, you can try out social media or send out some posting in your own social group. You need to have the right pictures for your product so that it looks good and safe. There are various ways you can do it.
"Content creation is a vast field under the big umbrella of e-commerce. Doing it right is the key difference between a successful business and an unsuccessful one," he says.
It is crucial to have a long-term view while implementing e-commerce plans, adds Sebastian. "You are acquiring a customer rather than generating sales. You want to develop a methodology that provides you with repeat orders. This will justify certain promotions that you provide to your customers to get them into your ecosystem," he says.
Creating a centralised database  
A fundamental mistake most traditional businesses make is not having a centralised database, says Sebastian.
"You must have your products ready to go digital and the data can be translated from one platform to another easily. This is one core thing that is not implemented properly by many companies.
"They usually have different kinds of datasets that are stored across various platforms while some are even written down manually, somewhere. They do not have a centralised database that, for instance, has the name of their SKU (stock keeping unit), price, descriptions and more. This is fundamental for any business to kick-start its e-commerce initiative."