This article first appeared in The Edge Financial Daily, on June 4, 2019.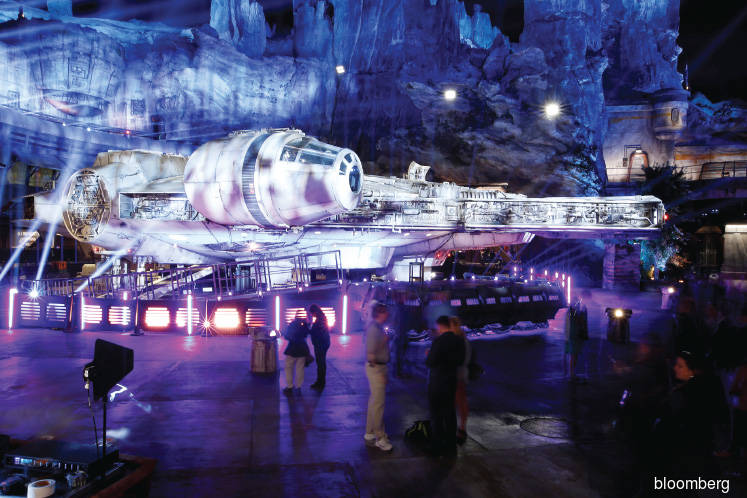 Guests exploring Star Wars: Galaxy's Edge near a Millennium Falcon starship at Disneyland Park in Anaheim, California, the US last Wednesday.
Forget what you have heard about gliding into the cockpit of the Millennium Falcon or seeing Chewbacca face-to-face at Disney's latest thematic romp. Star Wars: Galaxy's Edge opened at Disneyland Park in Anaheim, California, the US last Friday and will open at Walt Disney World outside Orlando later this year, so it would not just be a collection of attractions, entertainment and a liquor-slinging cantina. It is also a nerd mall.
The highlight of Disneyland Resort's largest-ever land expansion and first large-scale footprint since Walt Disney Co's acquisition of Lucasfilm more than six years ago is undoubtedly the merchandise. Come for a vivid universe of attractions, then stay for a detailed treasure trove referencing every obscure toy, cackling monkey and pathetic pretzel rod that characters such as Jyn Erso, Leia Organa and Luke Skywalker have encountered in the 42-year history of the film franchise.
As for the rest of the land? It is brilliantly Star Wars with a Disney sheen. Since park offerings are centred on the planet of Batuu (not yet seen in the films), whose gone-by-the-wayside Black Spire Outpost trading station has become a new stomping ground for the First Order, the light-versus-dark conflict is there but subtle. Expect stormtroopers to gently accost you, Rey and Chewbacca to interact and more references to Solo throughout than one might expect. Still, there is no space scum lurking around the cantina, just friendly human staffers. Droids would not be wandering the 14-acre (5.67ha) expanse until the crowd subsides, the prospect of which itself may be in a galaxy far, far away.
Until then, there is shopping to be done. Disney has mastered finding something for everyone both in terms of age (the Toydarian Toymaker shop is stocked with games, sweet stuffed dolls and cantina band instruments) and fandom, with offerings for casual Jedi enthusiasts and diehards spread among their different points of entry, whether cinematic or animated, new or old.
If you have ever wanted your wedding photos held inside a frame by C-3PO's disembodied hand, you are in luck for US$85 (RM355.30). Crave the half-melted face of a battered-down Luke cast in bronze? Dream big, young Padawan, because everything you never thought could be put into production is here.
Pick up a few chance cubes like Watto's in The Phantom Menace, a busted wooden stormtrooper doll similar to the one young Jyn Erso had in Rogue One: A Star Wars Story, or decorate your desk with Hera Syndulla's prized Kalikori as seen in Star Wars Rebels. There is even a Resistance MRE toolbox filled with pretzels, crackers and candies designed after the dinner Luke refuses to share with Yoda in The Empire Strikes Back.
No longer are fans of Revenge of the Sith relegated to the edge of the Internet. Here, one can purchase triangular Sith holocrons for US$49.99 that will recite Emperor Palpatine's Return of the Jedi speech — or even don his robes (produced from archival designs) and US$150 cane yourself. (Note that Disney's policies have not changed with the advent of this far-flung planet — only children under the age of 14 can wear full costuming inside the park.)
Even the toys are not, as one could say, galactic basic. Many products sold among the stalls in the marketplace section of Galaxy's Edge — an expanse inspired by bazaars and souks in Turkey and Morocco — emphasise handmade designs or are seemingly whittled from natural materials, like a poseable jointed Admiral Ackbar doll for US$19.99 or a small wooden Convor that doubles as a whistle. Pick up a fuzzy brown Bantha or a bat-like Mynock and quell your surprise when they react to your touch — the Tauntauns will growl, the Puffer Pigs grunt, the Loth-cats hiss and the deadly Rathtars, seen in The Force Awakens, shake uncontrollably when activated.
Fans are already clamouring for the most popular items like customisable R- or BB-series droids from the Droid Depot (where guests can select their own parts off a conveyor belt for US$99 a pop) and personalised lightsabers crafted in Savi's Workshop. The exclusive, hand-built lightsaber experience costs US$199. (Both the Depot and Savi's are likely to take reservations going forward.) With a selection of pieces for each, the deep-cut enhancements do not end there. Disneyland is even selling modifications, like R2-D2's cocktail tray used to serve drinks aboard Jabba the Hutt's barge in Return of the Jedi, to turn your droid into a tiny remote-controlled waiter, twisting indelible cinematic moments into must-buy souvenirs.
Kyber crystals within Savi's customised lightsabers are interchangeable with holocrons and legacy lightsabers, or US$100 to US$200 hilts modelled after popular Star Wars characters, sold around the corner at Dok-Ondar's Den of Antiquities — the first place a collector should make a beeline for within the intentionally decrepit land. This cavernous shop rife with collectibles and oddities is where devoted superfans will gleefully flip open their wallets, and it is the only one on Batuu manned by a non-human creature. Here, Dok-Ondar — a towering audio-animatronic figure that oscillates between sitting and standing to tally his sales — has hoarded the good stuff. You can ask him for a discount, but do not expect one — the discerning Ilthorian would not interact directly with guests visiting the park but with staff, who translate his native tongue.
Other items within the den are unique designs for true galaxy obsessives, with US$325 General Grevious masks, US$450 Imperial Tie Fighter Helmets and US$200 models of Darth Vader's obsidian sanctum, ideal for the thriving dad who needs to zhoosh up his in-home theatre. The upper level, filled with relics from past films only a keen eye could identify, also boasts a 12ft (3.66m) taxidermied Wampa and plenty of items recognisable to fans, while the rest of the store offers collectibles such as statues and busts from the Jedi Temple and General Palpatine's office as well as a likeness of Darth Maul, among others. Between sandstone art of Jabba the Hutt, Padme Amidala stained-glass squares, and a statuette of Supreme Leader Snoke on his throne seemingly made of iron, every inch of Dok-Ondar's den is fan service at its stunning finest.
There is even a jewellery section offering a collection of galactic baubles, including Rose Tico's crescent necklace (US$50), a half-circle pendant necklace (US$295) modelled after Qi'ra's in Solo: A Star Wars Story, and Leia's famed silver-plated Chalcedony Waves necklace (US$2,000). (The actual Planetoid Valleys necklace by Lapponia, as worn in the film, costs a cool US$2,500.)
Still, even with a US$25,000 full-scale automated R2-D2, the most talked-about take-home item is likely to come free with a soda purchase. Aurebesh alphabet-branded Dasani water bottles and tiny containers of Coke, Diet Coke and Sprite sold within the land are bound to be hot-ticket items, popping up on eBay even prior to opening. Walt Disney Co spending a rumoured billion bucks on a transportive, expansive theme park land and having handheld plastic grenades of soda feels more American than interplanetary, but for Star Wars fans, being able to take home any piece of the saga is worth it. — Bloomberg