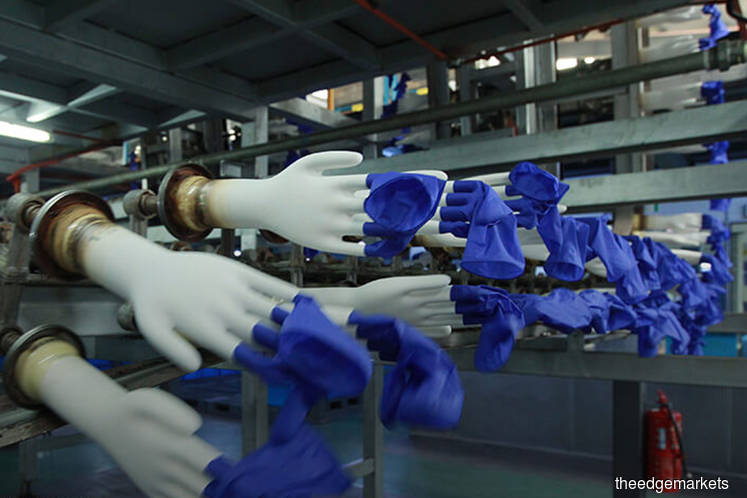 KUALA LUMPUR (Jan 21): Shares in Bursa Malaysia-listed glovemakers jumped this morning as fears of a global epidemic are mounting after the deadly person-to-person transmission of a Severe Acute Respiratory Syndrome (SARS)-like virus killed four in 200 confirmed cases identified in China so far.
The news corresponded with the spike in trading and share price of the world's largest rubber glove manufacturer Top Glove Corp Bhd. Top Glove saw its stock price surge as much as 33 sen or 6.8% to RM5.15 within the first hour of trading, making it the biggest gainer on the local bourse.
Trading volume of Top Glove, which is now valued at RM13.18 billion, ballooned to 12.98 million shares as of writing versus its 200-day average of 3.76 million shares.
Kossan Rubber Industries Bhd climbed as much as 22 sen or 5.2% to RM4.45, bringing a market capitalisation of RM5.7 billion.
Similarly, Hartalega Holdings Bhd and Supermax Corp Bhd both added gains as investors predicted a boost in glove demand in China and worldwide.
Hartalega shares rose as much as 25 sen or 4.5% to RM5.80, while Supermax gained 13 sen or 9.92% to RM1.44.
CGS-CIMB Research analyst Walter Aw pointed out that Top Glove and Supermax could be the biggest beneficiaries as both have excess capacity in the latex segment, which was due to more pricing pressure.
He added, however, that glove makers will only see a sharp rise in global glove demand if the outbreak is prolonged and turns into a global pandemic.
"Based on our channel checks, glove makers under our coverage has yet to witness a surge in demand for gloves owing to this virus outbreak. We attribute this to the fact that this outbreak is very recent while China does not have high glove usage per capita due to lower healthcare awareness vs. developed countries.
"We witnessed this during the SARS outbreak in 2003 and avian flu in 2009. We estimate that global glove demand rose 12% to 16% in 2003 and 2009 (versus 7% to 9% per annum in 2009-19).
"In the long term, we believe that this virus outbreak will lead to higher healthcare awareness especially in emerging countries, and in turn boost glove demand," Aw added.
The number of people infected with the new virus in the central city of Wuhan, China, had tripled over the weekend, resulting in at least four deaths and over 200 confirmed cases in Wuhan, Beijing, Shanghai, and Guangdong.
The World Health Organisation said it will hold an emergency meeting this week to discuss the contagious coronavirus strain, which has fuelled anxiety due to its connection to SARS, which killed nearly 800 people in 37 countries in 2002 and 2003.
See also: Mystery China Virus Spreads in Asia, Infects Health Workers