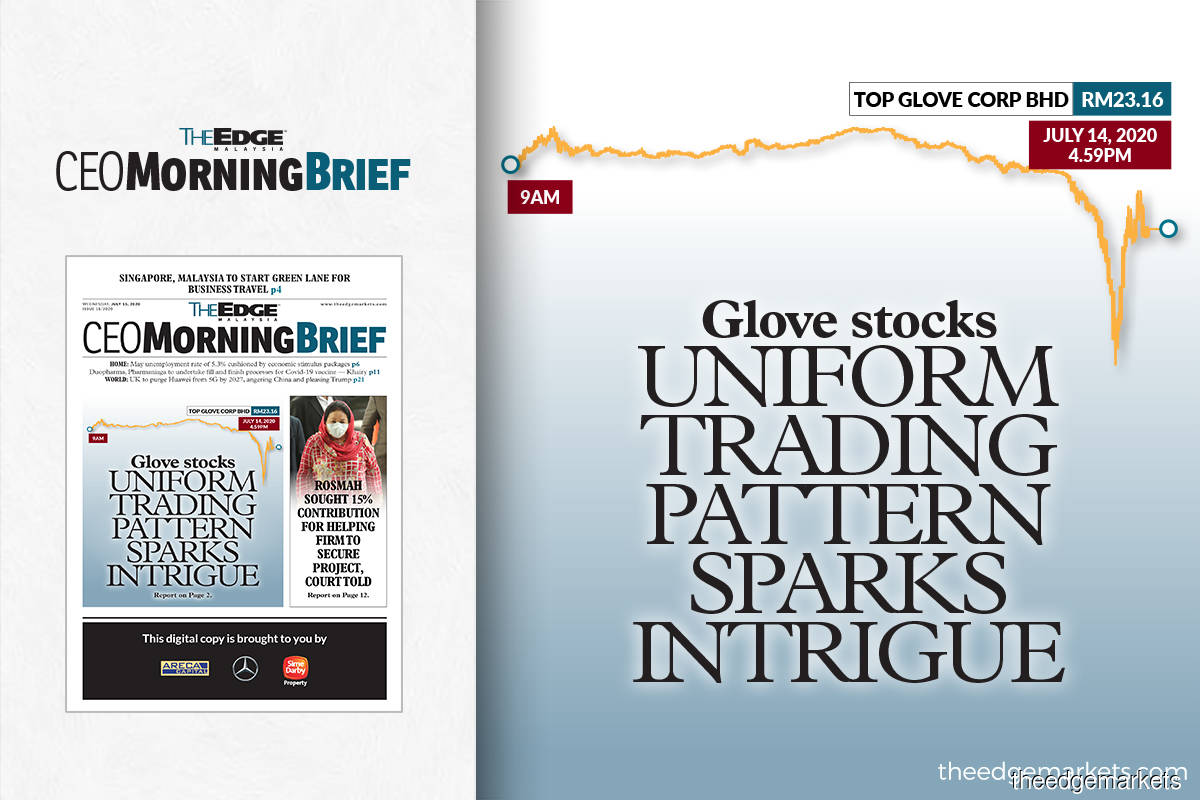 KUALA LUMPUR (July 15): The seven glove stocks on Bursa Malaysia took a nail-biting roller-coaster ride together during the final trading hours yesterday.
All seven counters plummeted simultaneously shortly after 4pm, but rebounded soon after, right before the closing bell. Share price charts show a uniform V-shape pattern among the rubber glove makers (see charts), whose share prices have rocketed at least several folds since March.
What was intriguing was that there was no negative news flow about the rubber glove industry that could possibly have swung the share prices in such a drastic and uniform fashion.
The sudden plunge among the seven glove stocks during the final trading hours was in the range of 15% to 25%. The big drop on Top Glove Corp Bhd and Supermax Corp Bhd dragged the FBM KLCI down by 1.8% to its intraday low of 1,577.33 before it bounced back to above 1,600-level to close at 1,598.75 points, down 7.68 points.
Investment analysts were baffled by the share price trend.
Some experts suspected that algorithmic trading activities could be at play. Algorithmic trading is a method of executing orders using automated pre-programmed trading instructions that account for variables such as time, price, and volume.
Malacca Securities Sdn Bhd head of research Loui Low did not rule out the possibility that algorithmic trading activities could be involved.
Another possibility, he believed, could be that the glove counters had triggered the stop limit for various investors and brokers.
MIDF Research senior analyst Imran Yassin Md Yusof, meanwhile, commented that investors had started to take profits following the strong share price rallies.
Top Glove, Supermax and Hartalega Holdings Bhd shares all settled in the negative territory yesterday, after closing at their record highs on Monday.
Supermax experienced the steepest drop with a 25.2% plunge to a low of RM12.52. It closed at RM15.90.
Similarly, Top Glove sank 15.4% to its intraday low of RM20.50, but bounced back to close at RM23.16. Hartalega sank 15.02% to a low of RM15.28, but later pared most of its losses to finish at RM17; Kossan Rubber Industries Bhd slid 14.2% to RM12, before closing at RM13.50.
Comfort Gloves Bhd's share price also tumbled 19.2% to RM3.33, before settling at RM3.84. Careplus Group Bhd fell 21.7% to RM1.48, then rebounded to close at RM1.76, while Rubberex Corp (M) Bhd dropped nearly 18% to RM3.22, to eventually settle at RM3.65.