This article first appeared in Capital, The Edge Malaysia Weekly, on July 26, 2021 - August 01, 2021.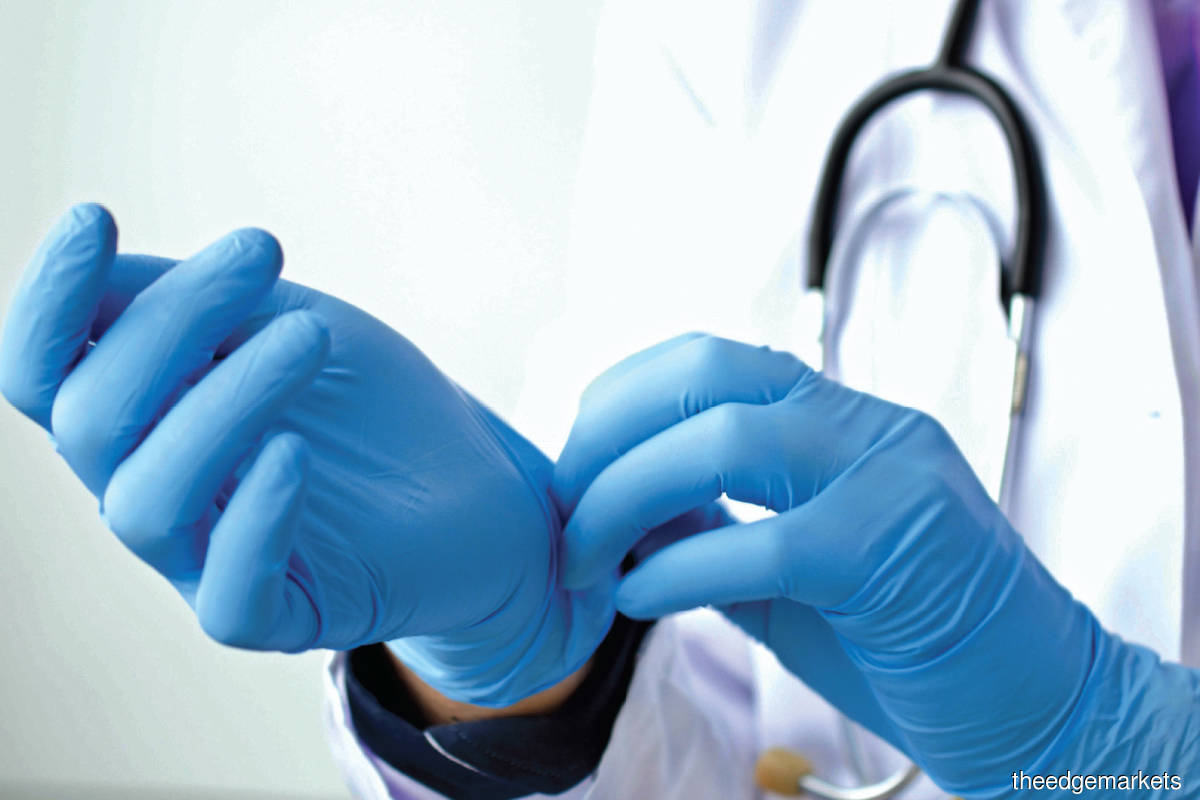 THE spread of the more contagious Delta variant and a resurgence of Covid-19 cases globally have again drawn market attention to glove stocks, which were languishing at their lows earlier this month — the lowest since the pandemic began in early 2020.
First discovered in India in April, the Delta variant is at least two times more transmissible, and infections can spread very quickly airborne in just 15 seconds, say scientists.
As the vaccination rates in developing countries are much lower than those of developed nations, Indonesia's record high daily new cases have made it the new Covid-19 epicentre in Asia.
Because of the deteriorating situation, trading interest in glove stocks started to build up a week ago, boosting counters that had been hit by massive selling pressure earlier this year amid the ramping up of inoculation drives globally.
Except for Careplus Group Bhd (+5.6%), all other glove stocks have registered negative returns since the start of the year. Supermax Corp Bhd saw the biggest drop at -37.4%, followed by Hartalega Holdings Bhd (-36.5%) and Rubberex Corp (M) Bhd (-32.1%).
Their regional peers have performed much better. Singapore-listed Riverstone Holdings Ltd and UG Healthcare Corp Ltd had seen gains of 20% and 4.5% respectively over the same period. On the Thai stock exchange, Sri Trang Gloves Thailand had risen 3.3%.
Most glove counters are trading at a price-earnings ratio of less than four times, a stark contrast to their historical highs of more than 50 times at the height of the pandemic last year.
ASP normalisation to slow down if Covid-19 situation worsens
A glove analyst with a bank-backed research house reckons that there could be further upside for glove stocks as demand is expected to increase in tandem with rising Covid-19 cases due to the Delta variant. This, in turn, will reduce the pace of declining average selling prices (ASPs) of gloves.
Taking Hartalega as an example, he observes that its share price is almost back to pre-pandemic levels. Considering that earnings are much higher now than pre-pandemic, he believes the stock should be worth more. "The valuation does not really make sense, plus it is paying good dividends," he opines.
Among the Big Four, Top Glove Corp Bhd has the highest trailing 12-month dividend yield of 16.4%, followed by Kossan Rubber Industries Bhd (7.5%), Supermax (4.6%) and Hartalega (4.2%).
The analyst is of the view that glove stocks will continue to be supported by the Delta variant's transmissibility, coupled with the fact that a few of the vaccines being administered could be less effective against the variant.
Although glove players around the world are ramping up production, the analyst expects the global shortage of gloves to persist until 2023. "During the height of the pandemic, everyone was desperate to get gloves. But now, they are less desperate as vaccination is being rolled out. Although there is new supply coming on board, bear in mind that the usage of gloves has increased tremendously since the pandemic began."
Another analyst is less bullish on the sector as he does not expect a strong rebound in glove stocks. "Looking at the Covid-19 trend in the UK, the death rate is still quite low. For Malaysia, the death rate should come down when more people get vaccinated," he points out.
"Also, there has been a significant drop in serious infection cases (category four and five) among the elderly. People know that the vaccines are working, so the demand for gloves is not going to be strong unless the situation with the Delta variant gets worse."
Risk of oversupply remains
The analyst cautions that when Delta variant cases subside, glove stocks may tumble again as investors are still concerned about an oversupply situation next year. "Margma (Malaysian Rubber Glove Manufacturers Association) didn't impute much supply from China. If not, why would Top Glove say the lead time for glove deliveries is only 60 days? It does not make sense. It should be more than one to two years," he says.
"For now, based on the expansion plans, there will be oversupply. But some players will slow down their expansion plans when the oversupply kicks in. So, will China slow down or continue to push the volume? That is still a question mark. But in terms of efficiency and operating costs, Malaysia will still have an advantage."
Going by past trends, an oversupply lasts six to nine months. After two to three quarters, ASPs tend to bounce back when demand catches up, the analyst points out. "Overall, it will depend on how aggressive the expansion plans of the Chinese players are."
One factor that may slow the decline in ASPs is the reduced workforce at factories due to the movement restrictions under the recent Enhanced Movement Control Order (EMCO).
"Compared with 2Q2021, ASPs are still on a downward trend in 3Q. There is no indication yet for 4Q," he says.
"So far, Top Glove hasn't seen any change in the ASP trend. But Hartalega's ASPs may still be up quarter on quarter in 2Q after it shut down some lines in 1Q due to the Covid-19 cases."
Nonetheless, glove buyers are still adopting a wait-and-see approach because they do not want to hold inventories at high prices, he notes. "The current lead time for glove deliveries is about 60 days. However, the lead time may increase due to the EMCO."
AmResearch said in a July 7 note that the Delta variant would slow the fall in glove ASPs, as glove urgency is buoyed by the rise in cases. A smaller rate of decline in ASPs would help support earnings over the next 12 months. "We expect market glove ASPs to stabilise at US$30 to US$35 per 1,000 pieces before tapering off more gradually."
UOB Kay Hian Research's assumption is that ASPs will decline by 5% month on month, which translates into an ASP of US$80 and US$40 per 1,000 pieces for 2021 and 2022 respectively.
Most players hit an ASP peak in 1Q this year, but Supermax has already seen a decline of 15% to 25% in its 3QFY2021 ended March 31, with spot market prices falling below contracted prices.
Margma has projected that global demand for gloves will hit 500 billion pieces this year, compared with an estimated supply of 420 billion pieces, or a shortfall of 80 billion pieces. Malaysia accounts for about 68% of the global glove supply. An equilibrium between supply and demand is only expected to be achieved after two years.
Independent business consulting firm Vital Factor is far more bullish on global demand, given its projection of 682 billion pieces this year against 466 billion pieces in global output.
As investor sentiment is heavily influenced by the number of Covid-19 cases worldwide, active trade could provide trading opportunities for glove stocks, especially as expectations of a recovery are likely to be dampened in the short term.