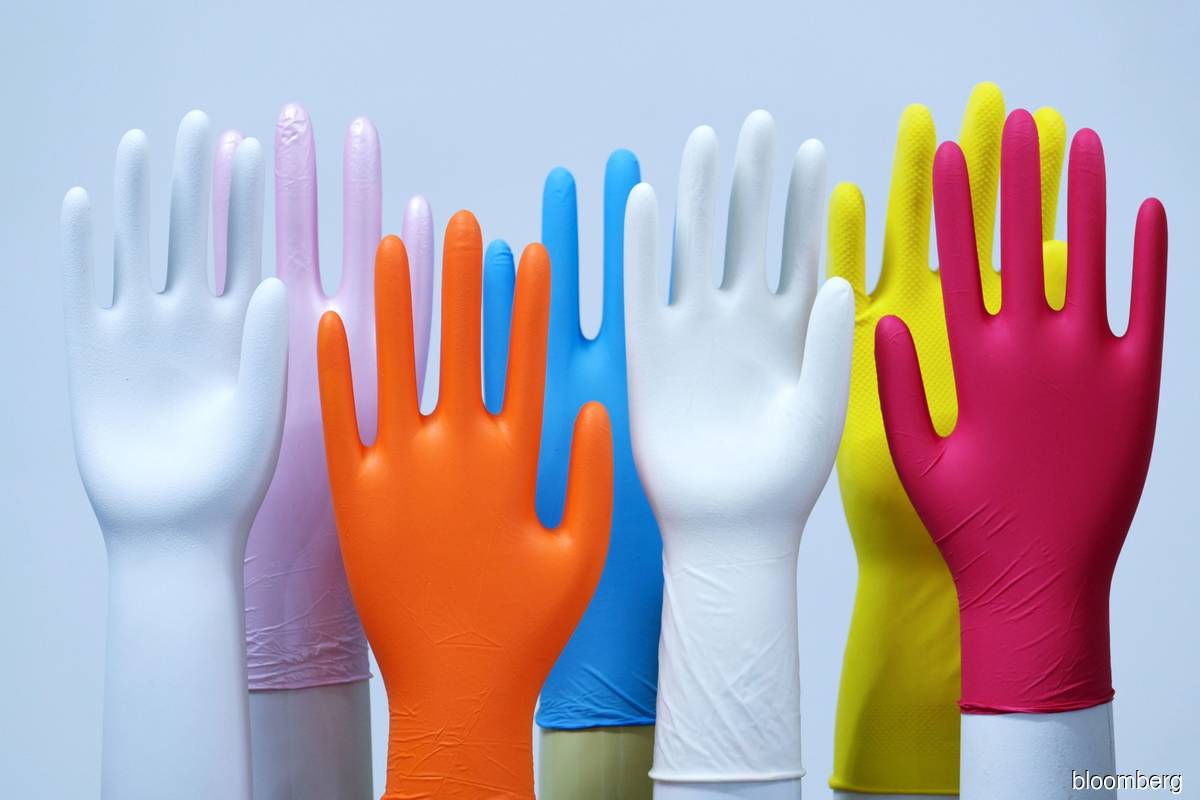 KUALA LUMPUR (June 21): Glove makers Supermax Corp Bhd, Kossan Rubber Industries Bhd and Careplus Group Bhd are now trading below their net assets per share as investors evaluate the impact of a Covid-19 vaccine-led economic recovery on the industry, but also broader market weakness ahead of anticipation of interest rate hikes to fight rampaging inflation.
After benefiting greatly from the Covid-19 outbreak in early 2020 as demand for rubber gloves — seen as a crucial piece of personal protective equipment — surged, demand has now normalised on the back of global vaccination progress which has brought the pandemic under control.
A rubber glove company spokesperson, who declined to be named, told theedgemarkets.com on Tuesday (June 21) that the glove supply is more than demand now.
"The glove sector has been hit hard as the [Covid-19] pandemic is over and glove demand is now back to normal," the spokesperson added.
At the opening bell on Tuesday, Supermax was traded at 86 sen before dropping to an intraday low of 83 sen. At about 11am, the counter had fallen half a sen or 0.58% to 85.5 sen, before rebounding to 88 sen at the noon break.
Supermax's latest-reported net assets per share stood at RM1.81.
At 88 sen, Supermax's market capitalisation is RM2.39 billion — a far cry from the start of the year given that year-to-date (YTD), the stock has tumbled 38.46% from RM1.43. The magnitude of loss over the past year was even greater at 75.89% from RM3.65.
Kossan opened lower at RM1.32 in the morning, before settling at RM1.36 at the noon break, valuing the glove company at RM3.48 billion. Kossan has dropped 26.88% YTD from RM1.86 and 62.53% over the past year from RM3.63. Its net assets per share was RM1.6155.
Careplus's share price hit an intraday low of 42 sen, before rising to 45 sen at the first session break for a gain of 4.65% or two sen. Careplus' market capitalisation was RM255.64 million, while its net assets per share stood at 78.9 sen, according to its quarterly financial report.
According to CGS-CIMB Research in its latest strategy note dated June 20, the KLCI for the week ended June 17 fell 2.5% week-on-week (w-o-w) — led by declines in gloves, technology and plantation stocks — due to foreign investors' risk aversion on concerns over aggressive monetary tightening by global central banks.
"The sell-down could have arisen from recession fears resulting from aggressive policy tightening by the US Federal Reserve.
"The worst-performing sectors last week were energy (-8.1% w-o-w), healthcare (-7.8% w-o-w) and technology (-7.0% w-o-w)," the research firm added.