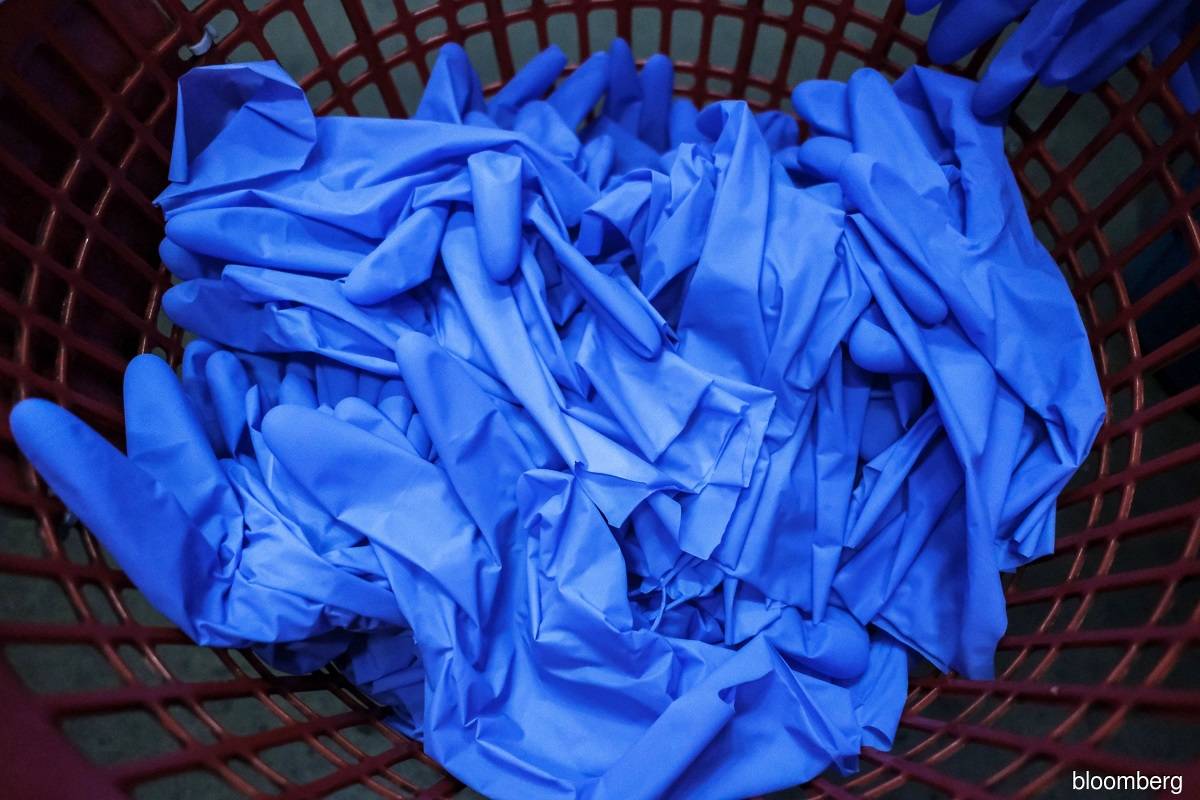 KUALA LUMPUR (Aug 27): Glove counters plunged this morning as the Covid-19 pandemic appears to let up and the faster-than-expected pace of vaccine development continues to pummel the sector.
Following a months-long rally which has ballooned glove makers' share prices, JF Apex Research has downgraded its rating on the sector to "neutral" from "overweight" amidst what it called a "reversal of fortune" that has dealt a blow to rubber gloves' demand.
The rating change comes after AmBank Research also downgraded its call on the sector to "neutral" considering that the share prices of glove makers were fully valued.
The research house reduced its target price for Hartalega Holdings Bhd to RM16.02 from RM21.62 and downgraded its call for the glove maker to "hold" from "buy".
Hartalega fell 1.55% or 26 sen to settle at RM16.50 at the time of writing with around 864,800 shares swapping hands so far.
The target price for Top Glove Corp Bhd is, however, maintained at RM25.40 as JF Apex believes it has higher spare capacity to cater to the huge demand of gloves globally as compared with Hartalega.
Top Glove was down 2.28% or 60 sen this morning to RM25.74, with around 3.66 million shares traded.
"Both target prices for Hartalega and Top Glove are in line with their five-year mean PE of 40x (54x which is at its +1SD previously) and unchanged PE of 30x respectively," the research house said in a note today.
Of the big four glove counters, Supermax Corp Bhd took the steepest dive, plummeting 4.14% or 88 sen to RM20.40, which makes it Bursa's top loser today.
Kossan Rubber Industries Bhd also fell 1.18% or 18 sen to RM15.12, just two days after reporting a record quarterly net profit of RM131.06 million.
JF Apex said the development of a Covid-19 vaccine is moving faster than expected as two vaccines are being approved for early or limited usage, expected to be distributed globally in the first or second quarter of next year. This would be negative news for glove makers, which have been riding on soaring glove demand brought about by the global pandemic.
The research house also said the spread of Covid-19 is decelerating, noting that countries worst hit by the virus such as the US and Brazil have seen a significant drop in their five-day moving average number of new cases from July's peak.
"Besides, around 57% of people across parts of India's financial hub of Mumbai have coronavirus antibodies from a study found in July which is very close to [the] 'herd immunity' [level of] 67%-70% of the population according to an expert from University of Chicago, despite Indian Covid-19 new cases growing at the fastest rate in the world," JF Apex added.
The momentum of rising average selling prices, which have contributed to bumper profits for glove companies recently, may not be as strong as initially thought as more companies venture into the sector while the rally is also seen to be taking a breather, according to the research house.
"We believe the PPE's (personal protective equipment) price rally has reached its end phase on the back of alleviating Covid-19 cases, faster-than-expected vaccine development, and supply catching up with demand amid prevailing strong awareness of personal or hygienic protection," JF Apex said.
Notably, the US has experienced a decline in hospitalised patients in tandem with its virus cases, which would spell a blow to demand and pricing for gloves as the country was the world's largest glove importer last year, willing to pay a premium for PPE due to the severity of its Covid-19 outbreak.
The research house added that less human interaction and social activities, which would slow the spread of the virus, have further reduced glove usage, citing Google mobility reports indicating that mobility trends across the US, Brazil and India have fallen drastically since the onset of the pandemic.
Edited by Lam Jian Wyn