This article first appeared in The Edge Malaysia Weekly, on September 21, 2020 - September 27, 2020.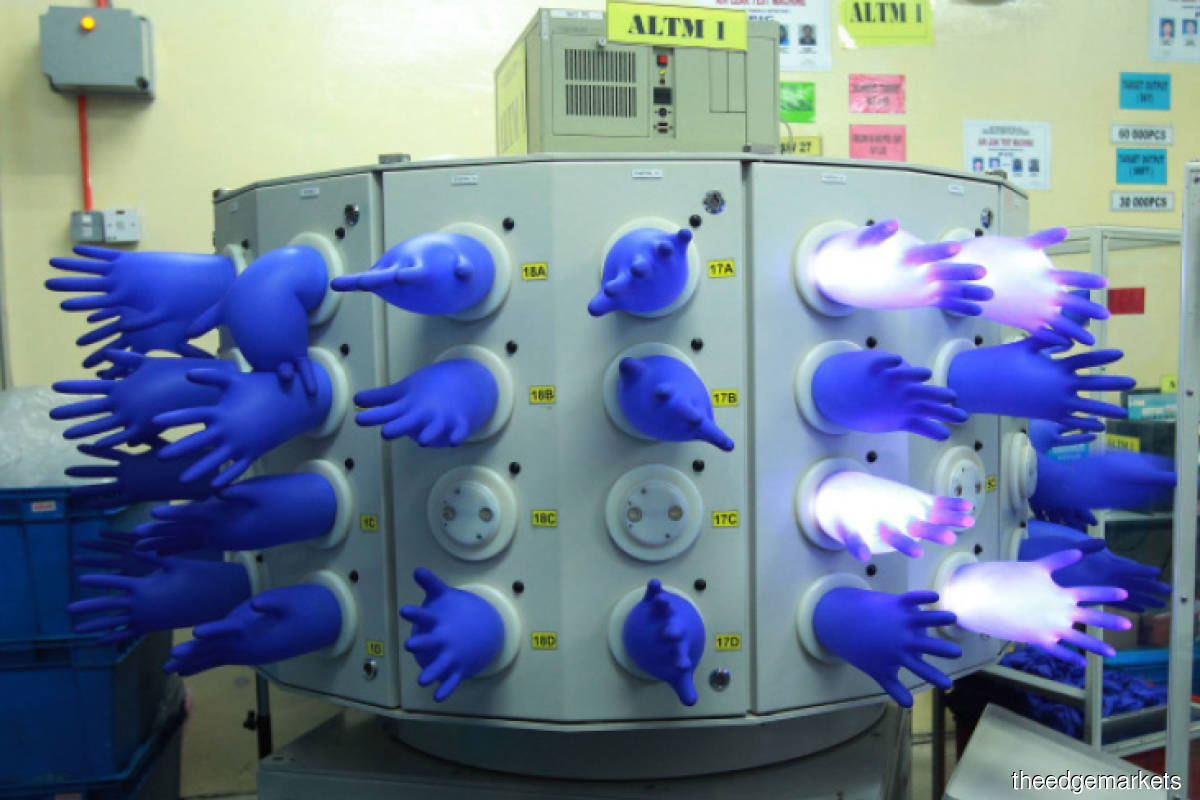 SINCE the outbreak of Covid-19, investors have been rushing to buy into rubber glove stocks for various reasons. One is that glove makers are direct beneficiaries of the pandemic.
Another is that glove makers have been undertaking corporate exercises such as bonus issues to reward shareholders as well as share buybacks to shore up investors' confidence. The third is many investors do not know what else to buy.
Glove stocks have been driving the record trading volumes on Bursa Malaysia this year. Several rubber glove companies have become more valuable than banks, not only just in terms of market capitalisation but also stock valuation.
At one point, some glove stocks were being valued at a trailing 12-month price-to-earnings ratio (TTM PER) of over 100 times. The phenomenon was described as glove mania.
But, as the Big Four glove makers — Top Glove Corp Bhd, Hartalega Holdings Bhd, Supermax Corp Bhd and Kossan Rubber Industries Bhd — released their latest quarterly results — which are, unsurprisingly, stellar — their PERs have started to correct.
After all, what better way to justify a premium valuation than by delivering impressive earnings growth?
Notably, Top Glove announced last Thursday that the group had posted a record-breaking RM1.87 billion net profit for the financial year ended Aug 31, 2020 (FY2020).
With that, Top Glove saw its TTM PER fall from 104.7 times on Sept 15 to 33.9 times on Sept 17.
Now, according to some analysts' forecasts, the company's profits are expected to swell above the RM10 billion mark in FY2021.
In other words, based on its market capitalisation of RM63.3 billion last Thursday, Top Glove is currently trading at a future PER of merely six times.
Glove mania? What glove mania?
Similarly, after the announcement of their latest quarterly results, Hartalega saw its TTM PER drop from 161.6 times on Aug 3 to 121.9 times on Aug 4; Supermax, from 194.1 times on Aug 10 to 53.2 times on Aug 11; and Kossan, from 81.1 times on Aug 25 to 63.9 times on Aug 26.
Top Glove and Supermax are currently trading at a TTM PER of 34 times and 37 times respectively, Kossan at 50 times and Hartalega at 86 times.
While a low PER is not the sole basis for investing, do the valuations now justify a buy? More importantly, are their strong earnings sustainable? And for how long?
Regional private equity investor and former investment banker Ian Yoong points out that many pundits have likened the glove rally to the dotcom bubble of 2000. But the big difference between the two, he says, is that the earnings of the large glove companies may be sustainable.
"Standard operating procedures that require the use of rubber gloves will most likely be practised for many years," he tells The Edge.
Yoong acknowledges that his biggest concern is an oversupply.
"The biggest threats to the earnings of glove companies are that all existing players are furiously ramping up production capacity, which they can do so easily, and the introduction of new players that have jumped on the rubber glove bandwagon. This will have a major impact on ASP (average selling price) and profitability when production matches demand," he explains.
Yoong highlights that those who invested in the rubber glove sector at lower levels will most likely have a safety margin of 20% to 30%.
"These investors can choose to stay invested in rubber glove companies. Low earnings multiples may suggest that there is little certainty of future earnings growth. There is, of course, nothing that suggests that earnings will fall off a cliff in CY2022 at this juncture," he says.
Yoong notes that investing based mainly on low PERs is too simplistic an approach, as there are many facets to stock valuation. "The most important considerations are the ability to generate cash and future earnings growth."
He says it is best to invest in established glove manufacturers Top Glove, Hartalega, Kossan and Supermax, which are well managed and have good corporate governance.
Yoong cautions against buying into rubber glove wannabes, especially small to mid-cap companies that have announced plans to diversify into rubber gloves, as he deems them to be "high-risk investments".
"You do not play for a top sports team by wearing its jersey. The majority will most probably abandon plans to manufacture rubber gloves at a later date. It will be a Herculean task to achieve the levels of efficiency of the large established players," he warns.
LeInves PLT chief investment officer William Ng concurs, noting that the safer bets would be the Big Four glove counters.
"Generally, investors should have some glove stocks in their portfolios for capital appreciation, if they believe that glove demand will continue to grow in the long run. It is better to pick the Big Four, as they have better profit margins," he tells The Edge.
Ng adds that if the earnings of the glove companies continue to grow, the current valuations would appear to be cheaper.
He says investors should not be too greedy when it comes to buying glove counters, by using margin accounts or bank loans.
"If you are a new investor who is looking for a long-term investment in gloves, you need to understand the industry and think about what will happen to these stocks when the pandemic ends. Do not blindly follow other people in buying or selling [stocks]," he cautions.