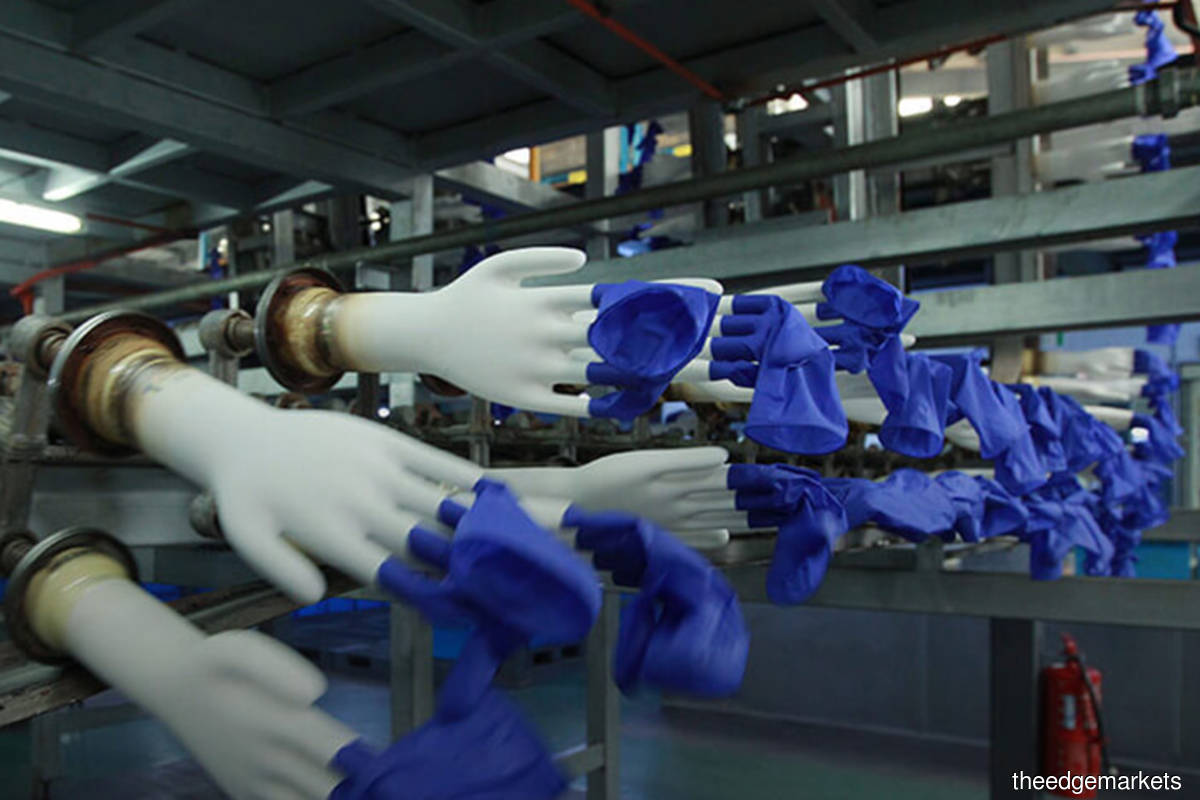 KUALA LUMPUR (July 1): Rubber glove stocks extended their losses in the afternoon session on Friday (July 1), on concern over lower average selling price (ASP) coupled with an oversupply situation as a result of massive capacity expansion by incumbent players.
The drop was led by Hartalega Holdings Bhd, which was the top loser on Bursa Malaysia — falling as much as 10.8% to hit its intra-day low of RM2.73. The stock pared some losses to close lower by 10.46% to RM2.74, with 10.56 million shares done. Its market capitalisation stood at RM9.39 billion.
Shares of Kossan Rubber Industries Bhd were also down 1.52% to end the day at RM1.30, while Top Glove Corp Bhd fell 2.88% to close at RM1.01. Supermax Corp Bhd lost 2.29% to close at 85.5 sen. Top Glove was also among the most active stocks today, with 38.53 million shares changing hands.
Other glove stocks like Comfort Gloves Bhd also closed 5.56% lower at 59.5 sen, Rubberex Corp (M) Bhd fell 0.96% to finish at 51.5 sen, and Careplus Group Bhd dropped 5.62% to close at 42 sen. In contrast, the benchmark FBM KLCI ended the day up 0.38% at 1,449.74 points.
In a report on Friday, MIDF Research said the downward trajectory in ASP is primarily caused by supply exceeding demand for gloves.
"The oversupply situation arises due to the nature of the business, which has low entry barriers. The majority of the new entrants came because the business appeared lucrative during the Covid-19 pandemic, but the situation reversed when there were too many gloves supplied in the market.
"Furthermore, incumbent players' expansion plans have had an impact on the ASP. The combination of these two factors resulted in higher supply and competition, causing the ASP to fall," it added.
"With the current industry utilisation rate being 50%-60%, we opine that the glove companies will put on hold their new capacity expansion plans. The oversaturated market has affected the capabilities of the players to pass through higher production costs (labour, fuel and electricity) to consumers. This circumstance has had a significant impact on its earnings. As a result, the most immediate action they can take is to delay their expansion plan in order to stabilise the ASP," said MIDF Research.
The research firm also believed that environmental, social and governance concerns remain a serious issue in the gloves industry. It cited the Malaysian Rubber Gloves Manufacturers Association data that stated the US Customs and Border Protection's import ban had cost the local glove industry an estimated RM3.6 billion in potential glove export revenue.
"We continue to remain 'neutral' on the gloves sector due to the declining ASP, rising raw material prices, freight costs and lack of imminent catalysts. Risks to our call include (i) larger-than-expected movements in ASP, (ii) volatility in raw material prices, and (iii) exit of new entrants reduces the risk of oversupply," MIDF Research said.
On June 23, Kenanga Research also downgraded the gloves sector to "underweight" from "neutral", as indications from its supply-demand analysis points towards excess capacity in the sector spanning the next two years.
"We expect the weak operating environment to continue to weigh down glove makers over the medium term to long term. Specifically, industry leader Top Glove's recently released results are already indicating weaker earnings ahead for glove makers, suggesting that earnings have yet to bottom out. This is due to crimped margins arising from the mismatch between ASP and inability to fully pass cost through, further exacerbated by low industry plant utilisation averaging 50%-60%, which appears to likely persist over the medium term.
"The situation is further aggravated by the softening demand as evident from the low utilisation rate of glove players leading to oversupply putting pressure on ASP coupled with customers' reluctance to commit to sizeable orders as they expect selling prices to ease further," Kenanga Research added.
Kang Siew Li & Surin Murugiah