Click / Tap image to enlarge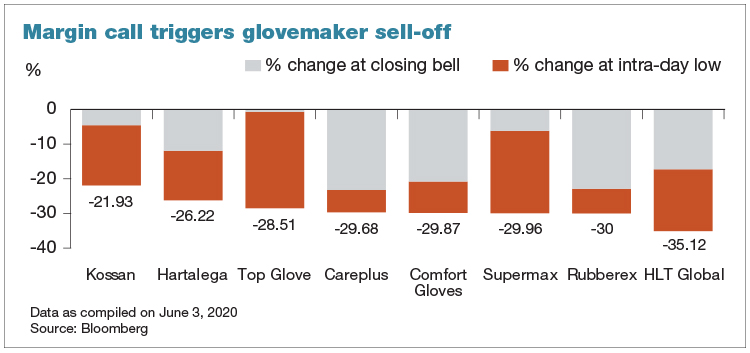 Click / Tap image to enlarge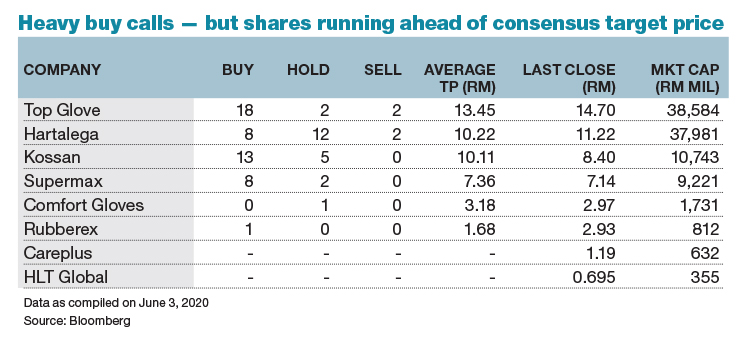 KUALA LUMPUR (June 3): Glove manufacturers woke up to heavy selldown with their share prices bashed down by more than 20% to intra-day lows as stock brokerages have tightened margin financing after the meteoric rise. 
The steep sell-off at the glove makers this week marked a break from the three-month rally in the sector. 
Shares of glove makers closed in the red, albeit after a late rebound towards the end of the trading day, as more stockbroking houses joined their peers to tighten margin financing for purchase of shares in glove companies. Four counters, namely Supermax Corp Bhd, Rubberex Corp Bhd, Comfort Gloves Bhd and Careplus Group Bhd, hit limit down. 
The change of sentiment prompted investors to take profit after the astronomical jump in share prices since the start of the year, from 100% to up to 1,000% up until Monday.
At least five brokerage houses are known to have tightened the margin financing on glove stocks. They are Maybank Investment Bank Bhd, RHB Investment Bank Bhd, AmInvestment Bank Bhd, CGS-CIMB Securities Sdn Bhd and UOB Kay Hian Securities (M) Sdn Bhd.
Tightening of margin financing has drained liquidity away from the glove counters, particularly the smaller-cap stocks.  
Top Glove Corp Bhd is the most resilient one. It recouped the most lost ground at the closing bell, settling down 10 sen or 0.68% at RM14.70, having retreated 28.5% earlier today.
Hartalega Holdings Bhd's share price dived as much as 26.2% in the morning session. However, it managed to pare losses to close at RM11.22, down by RM1.52 or nearly 12%. 
Likewise, Supermax, which hit limit down, settled at RM7.14, dropping 47 sen or 6.18%. Kossan Rubber Industries Bhd lost 40 sen or 4.55% at RM8.40, having retreated by nearly 22% earlier. 
The smaller glove makers were the worse hit, as seen in shares of HLT Global Bhd (down 14.5 sen or 17.27% to 69.5 sen), Comfort Gloves (down 78 sen or 20.8% to RM2.97), Rubberex Corp (M) Bhd (down 87 sen or 22.9% to RM2.93) and Careplus (down 36 sen or 23.23% to RM1.19). 
Notably after today's sell-off, the share price of smaller players like Rubberex and Comfort Gloves have retreated to around the valuation range by some of the brokerage houses.
That said, analysts are bullish that 2021 earnings will catch up to justify the hefty premium valuation.
AmBank Research in its latest note, maintained "overweight" on the sector on expectations of higher sales and wider profit margin, as demand growth triggered by the Covid-19 pandemic is not seen to subside anytime soon.
"We believe that selling prices will continue to soar for the next 12 months as lead time stretches up to 12 months. 
"The glove companies' earnings will be further pushed by expanded margins as raw material prices remain low, average selling prices (ASP) continue to grow, the US dollar continues to strengthen over the ringgit and expansion plans remain intact for the glove producers," it said. 
"Glove makers are now expecting glove demand to increase by roughly 30–50% (8–10% pre-Covid-19). The higher demand has resulted in a shortage of supply, pushing up average selling prices for these medical gloves," it added. 
Interestingly, the rush for glove shares has changed the dynamics to the point where AmBank Research opined that even a stronger ringgit — a bane for glove makers due to its nature as exporting business — will expand margins rather than squeeze it because "unlike pre-Covid-19 times, cost savings are not passed through to customers due to supply constraints". 
Top Glove is now on analysts' radar, as the projected capacity growth and higher utilisation rate coupled with the market environment factors are seen to boost its earnings by more than 100% in the financial year ending August 2021 (FY21).
AmBank Research valued the group at RM17.38 per share, with a historical price-to-earnings (PE) multiple of around 100 times — but 33 times PE estimates for FY21.
In short, strong demand as a result of Covid-19 pandemic, higher ASP and low raw material prices are expected to continue fueling the glove mania moving forward. 
Of 22 analysts covering Top Glove, the counter has a whopping 18 "buy" calls, Hartalega (eight "buy" calls, 28 analysts), Kossan (13 "buy" calls, 18 analysts) and Supermax (eight "buy" calls, 10 analysts).