This article first appeared in The Edge Financial Daily, on July 25, 2018.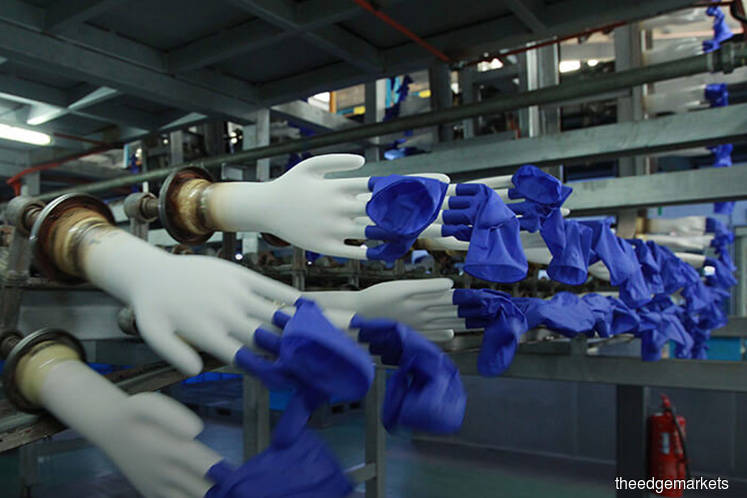 Rubber product sector
Maintain neutral: We estimate that the top four in the glove industry will have increased capacity by around 11% this year. At this juncture we believe that the supply demand dynamics remains balanced as the excess supply has been mopped up as evidenced by the higher utilisation rates experienced by the sector in general. However, we do note that an imbalance is expected to manifest next year with the glove players expected to increase supply by about 14% which will outstrip the expected annual demand growth of 8% to 10%. However, in view of the oligopolistic industry structure, we do not rule out the possibility of glove players eventually expanding capacity in a more gradual manner to avoid price competition.
The ringgit is expected to be weaker in the second half of 2018 (2H18) which augurs well for the sector in maintaining its cost competitiveness against its regional peers [despite the ringgit being the better performer against the currencies of a basket of emerging markets]. Our economics team revised its exchange rate projection to the US dollar against RM3.90 to RM4.10 for the rest of the year (previous: dollar against RM3.85 to RM4.00) which is within our forecasted range. Within our coverage, Top Glove Corp Bhd (TG) is the main beneficiary of a weaker ringgit as it has the highest exposure to natural rubber (NR) latex gloves.
The Pakatan Harapan government promised in its 14th general election (GE14) manifesto to increase minimum wage to RM1,500 (from RM1,000). At this juncture, the government is expected to announce its decision on the minimum wage by August. We understand that the increment is staggered and that there will be a government subsidy component. As always, the increase in costs will be passed to customers. However, we can expect a temporary negative impact on margins as glove players take time to renegotiate prices. We estimate that the impact on net profit would range between 1.5% to 2% for every RM100 increment in minimum wage.
We expect the price of nitrile to increase moving forward on the back of renewed strengthening of the price of oil and stronger demand from China. As such, nitrile heavy players such as Hartalega Holdings Bhd and Kossan Rubber Industries Bhd would be negatively impacted. Year to date (YTD) the price of butadiene (a core component in nitrile manufacturing) has increased by 48.8%, outpacing the price of crude oil (9.4% increase). We expect the price of NR to remain low for the remainder of financial year 2018 (FY18), averaging RM4.00 to RM4.50 per kg, (YTD average: RM4.57 per kg; 2017 average: RM5.92 per kg) assuming there is no supply disruption. This is primarily to the benefit of glove players with a skewed product mix toward natural rubber (TG and Supermax Corp Bhd).
We are downgrading Karex Bhd (target price (TP): 86 sen) to a "sell" from a "hold" given the recent run in share price. Although management will have instituted margin improvement measures and average selling price are on the rise, we note that earnings outlook remains soft on the back of a higher overall cost structure as the group builds its original brand manufacturing segment and make inroads overseas. We also take this opportunity to downgrade Kossan Rubber Industries Bhd (TP: RM3.84) to a "sell" from a "hold" due to valuations. — Hong Leong Investment Bank Research, July 24