Click / Tap image to enlarge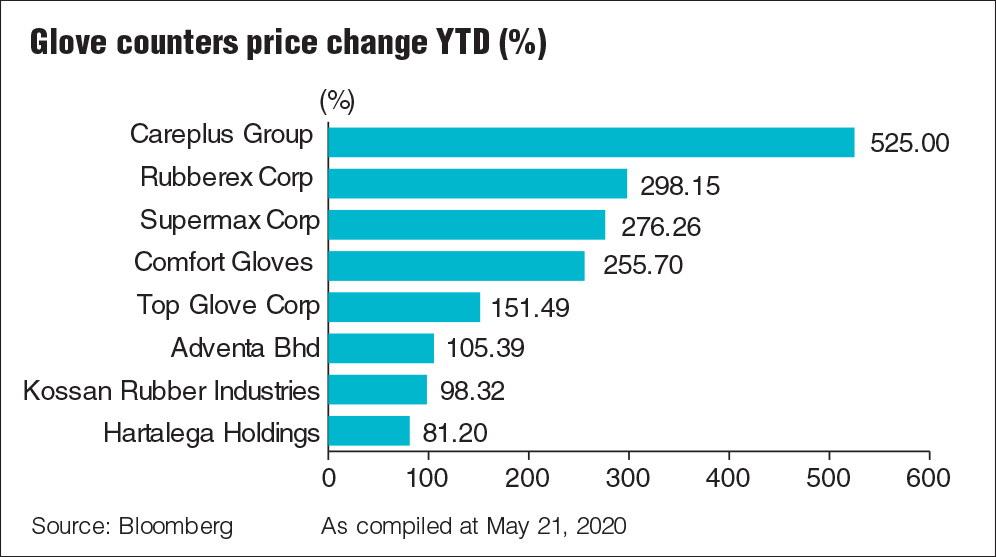 Click / Tap image to enlarge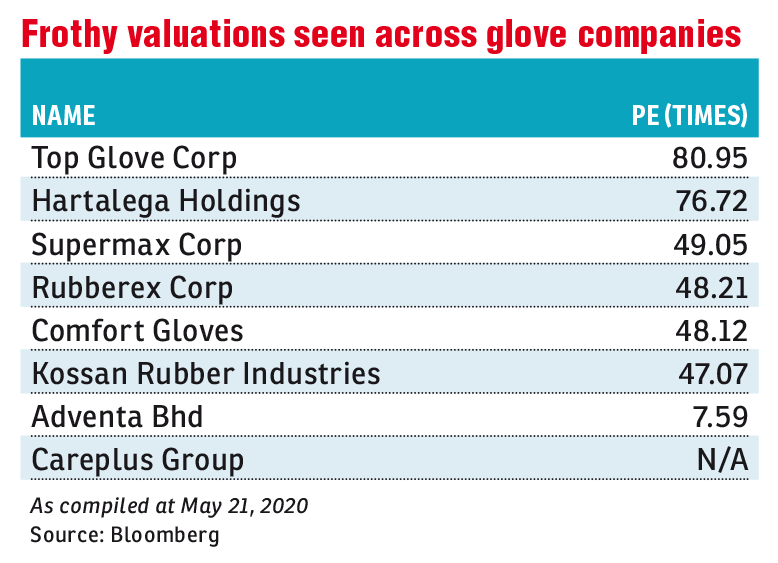 KUALA LUMPUR (May 21): The buying frenzy on glove companies moved a notch higher, right after Supermax Corp Bhd delivered a strong set of results which saw its third quarter net profit jumped 106.9% to RM72.34 million.
At 10.33am, Top Glove Corp Bhd was the top gainer across Bursa Malaysia, with its shares up RM1.36 or 12.59% at that point.
At the time of writing, Top Glove was trading RM1 or 9.26% higher at RM11.80.
The rest of the big four glove players were not left behind either. Shares in Supermax rose 64 sen or 13.94% to RM5.23, Kossan Rubber Industries Bhd jumped 57 sen or 7.4% to RM8.27, while Hartalega Holdings Bhd traded 54 sen or 5.73% higher at RM9.95.
It is worth noting that some of the lower-liner glove manufacturers, including Comfort Gloves Bhd (up 33 sen or 13.31% to RM2.81) and Rubberex Corp Bhd (up 20 sen or 10.2% to RM2.16), managed to join Bursa's top gainer list today.
The strong sentiment on the industry is apparent, as smaller caps Adventa Bhd and Careplus Group Bhd saw their share price traded up 2.78% and 5.26% to RM1.10 and RM1 respectively.
With the strong price action today, Top Glove, Supermax, Kossan, Hartalega and Comfort Gloves are currently trading at record high levels. The price-to-earnings ratio (PER) for these glove makers ranges from 47 to 80 times.
When asked about the brisk trading across glove companies, Rakuten Trade Sdn Bhd head of research Kenny Yee told theedgemarkets.com that with the risk-on appetite broadly portrayed in the stock market, he expects the buying momentum to persist.
However, Yee cautioned that the high valuations of glove companies will soon have to be justified with expectations on earnings growth of at least 50% to 70%. Currently, he thinks short-term trading opportunities are present.
A quick glimpse over analyst reports showed that some analysts think the high valuations are not considered overstretched given the robust demand and certainty in earnings that could well last into the second half of 2021.  
In particular, some analysts think there will not be any negative surprises in the earnings of the glove companies, for at least the next few quarters, as they do not foresee any execution risk.
The analysts had even pointed out that strong earnings growth in the coming quarters would likely be the factor to re-rate the sector further.  
For the most optimistic analysts, target prices were computed with two notches standard deviation in the glove companies historical PER, implying peak valuations are acceptable as long as high earnings growth is delivered.
Meanwhile, for the more conservative analysts, a moderate PER, with one standard deviation range allotted to compute fair value, has largely indicated that the current prices of glove makers have far outstretched the purported target prices.