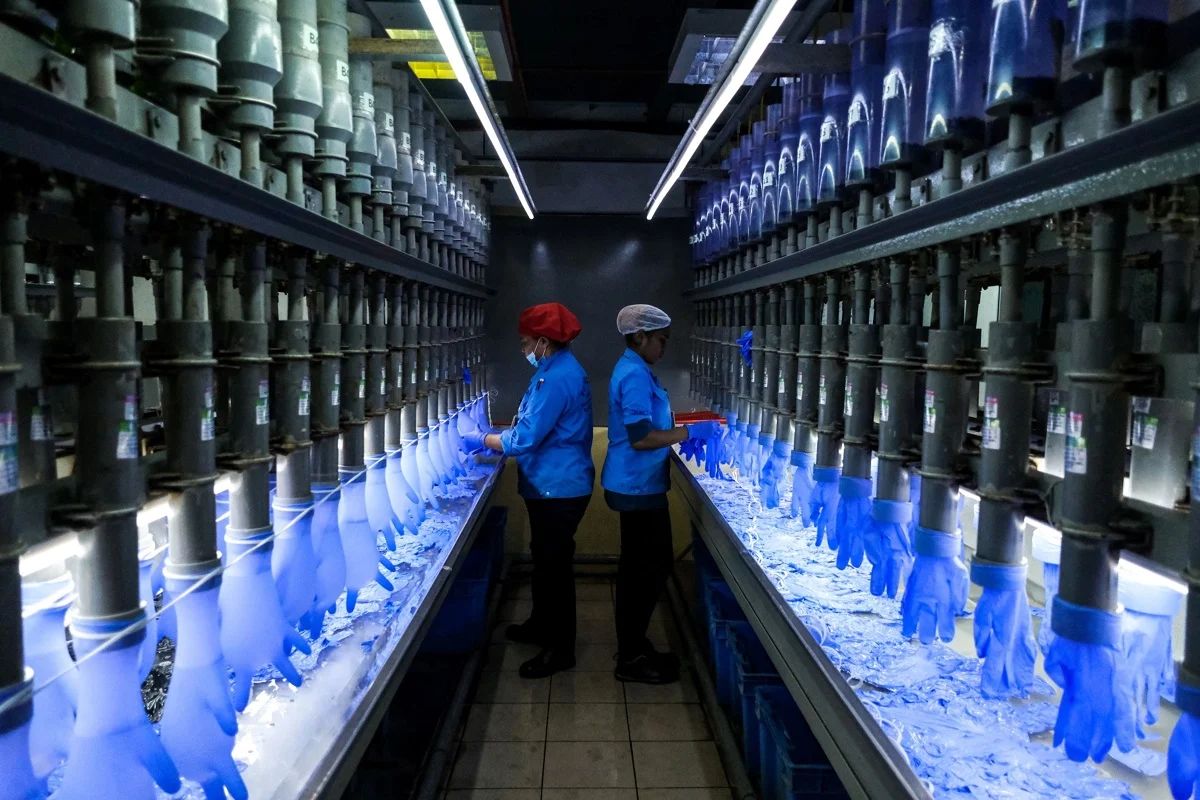 KUALA LUMPUR (Aug 15): Malaysia's two largest glovemakers single-handedly dragged Bursa Malaysia KLCI into the red this week, following the sharpest weekly sell-off in the segment since the start of the year.
Notwithstanding gains in banking and Genting stocks, the benchmark index slipped on losses in Top Glove Corp Bhd and Hartalega Holdings Bhd to settle at 1,564.59 points — down 13.55 points or 0.86% lower from 1,578.14 last Friday.
Excluding the two counters, the KLCI could have risen by 1.55% to close above the 1,600-point mark.
Top Glove's 15.35% decline alone more than offset gains contributed by KLCI's five biggest gainers this week — Public Bank Bhd, Malayan Banking Bhd, CIMB Group Holdings Bhd, Genting Malaysia Bhd and Genting Bhd.
Top Glove dragged the KLCI by 23.33 points, while the five counters combined supported the index by 21.54 points. On Friday, Top Glove settled near its one-month low of RM23.82.
Hartalega, meanwhile, plunged 16.3% this week to RM16.02, dragging the KLCI by 14.66 points.
The pull-back came after all seven glovemakers on the local exchange touched fresh record highs last week. The decline was accelerated by news that Russia had granted regulatory approval to a COVID-19 vaccine.
On Friday, sentiment further soured as one broker is reportedly halting contra transactions on glove stocks beginning next week.
Supermax Corp Bhd, which posted super profit for its April-June quarter this week, fell 21.82% on-week to RM17.92. Kossan Rubber Industries Bhd sank 24.13% to RM14.40. Also down were other small-cap glovemakers, which retreated between 22% and 41%.
Shares of companies which have announced they are venturing into glove making, on the other hand, traded mixed over the week.
Among them, Inix Technologies Holdings Bhd fell 30.61% on-week. From its Tuesday peak, the counter fell 58.53% or 48 sen to settle at 34 sen. Also down, albeit by just 1 sen or 10%, was AT Systematization Bhd.
Titijaya Land Bhd and Kanger International Bhd, meanwhile, booked gains of 10.87% and 70.97% respectively.
Small-cap fervour cools as GDP contraction hits
Malaysia's small-cap stocks also saw its rally put to a halt, ending a two-week period of irrational trading on Bursa Malaysia, in light of the steep 17.1% decline in Malaysia's 2Q20 GDP.
The Bursa Malaysia Small Cap Index retreated 4.64% this week, led by declines in healthcare and technology stocks, which had enjoyed a good run over the last month.
The ACE Index, meanwhile, fell 6.85% after rising 20% last week — but not before touching a new record high on Tuesday.
Across Bursa Malaysia, weekly trading volume was the highest on record with 90.65 billion shares traded — although there are signs of slowing down to July levels.
"A lot of people got burnt," said a retail research head in a local investment bank. "As the 2Q results dusts clears, interest could gradually shift back to blue-chips or value stocks," the analyst added.
Profit-taking at O&G, jewellery counters
Sector-wise, oil and gas sector also caught some attention, with the Energy Index rising to its three-month high before paring gains.
Integrated oil and gas group Sapura Energy Bhd stood among the most active counters in the week with share price climbing 45% to its five-month high of 14.5 sen. The counter settled at 11.5 sen on Friday.
This was in tandem with a temporary jump in Brent crude oil price to US$45/bbl — levels last seen in March before the first global wave of the COVID-19 pandemic.
This week also saw a steep sell-off in jewellery and precious metals-related counters, with week-on-week decline of 30%-40% for Tomei Consolidated Bhd and Poh Kong Holdings Bhd from their record-high.
Spot gold price, too, came off its record-high of above US$2,000 per ounce. The commodity last traded at the US$1,950-range at the time of writing.