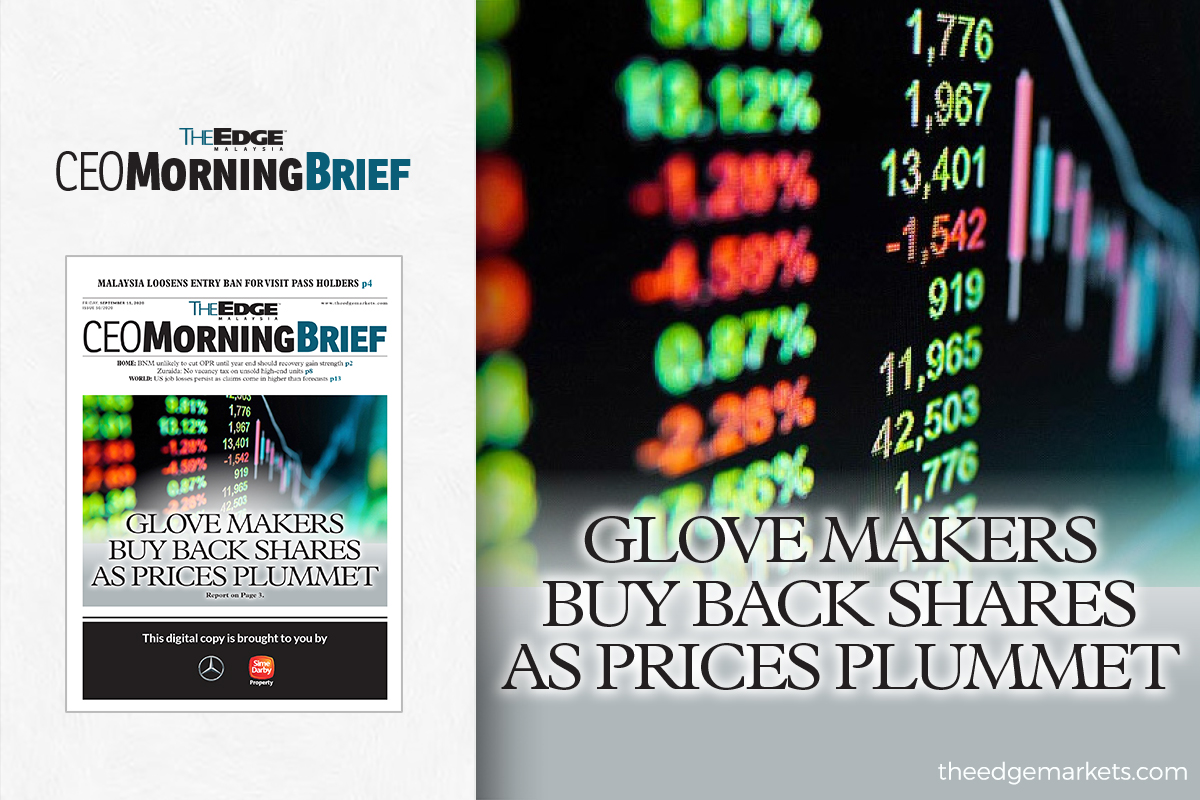 KUALA LUMPUR (Sept 11): Two glove manufacturers, Top Glove Corp Bhd and Supermax Corp Bhd, have started their share buyback schemes as their share prices plummeted after the meteoric rise over the past five months.
Top Glove, whose share price has slipped 32% from the peak of RM9.47, spent nearly RM100 million to buy back 14.93 million shares at between RM6.12 and RM7.40 yesterday, according to its filing with the stock exchange.
The group also bought back 1.39 million shares for RM9.995 million the day before. In short, the world's largest rubber glove producer spent almost RM110 million for the share buyback scheme in the two days. The amount spent is equivalent to 31% of its cash pile of RM347.8 million as at May 31. It also owned investment securities of RM1.45 billion as at end-May.
Nonetheless, Top Glove's cash pile is likely to have ballooned in the third financial quarter ended Aug 31 amid expectation of bigger sales volume coupled with increase in average selling price.
Following today's purchase, the group said its cumulative net outstanding treasury shares have risen to 18.31 million, compared with its adjusted issued capital of 8.13 billion shares.
Top Glove was the 12th biggest loser on Bursa Malaysia today, and also the third most active stock.
Its peer, Supermax, also bought back 5.48 million shares on the open market yesterday. And that cost it RM36 million, compared with its cash pile of RM1.18 billion as at June 30.
Meanwhile, Supermax spent about RM58.08 million to buy back 28.7 million shares between April 15 and April 30. The glove maker has accumulative treasury shares of 143.26 million, which is equivalent to a 5.26% stake.
The two glove stocks have fallen substantially from the peak. Still, year to date, Top Glove has gained 311% and Supermax 777%.
Downgrade on Top Glove
Macquarie Research downgraded its recommendation on Top Glove to underperform from outperform, and slashed its target price to RM5.45 from RM10.13 (adjusted for bonus issue).
The research firm said the downgrade is due to the fact that while its short-term results are expected to be robust and higher average selling (ASPs) will drive ratings upgrades, earnings are expected to peak in the financial year ending Aug 31, 2021 (FY21). Macquarie commented that the stellar earnings performance will unlikely repeat once the demand-supply equation normalises — either in the second half of 2021 or the first half of 2022.
It is advising clients to sell on strength.
"We would use this upgrade cycle and potential share price spike as an opportunity to take profits.
"While we maintain that long-run PER [price-earnings ratio] multiples should mimic those of the consumer staples at 40-50x, we believe investors should be ascribing these multiples on long-run earnings, rather than peak earnings. At current levels, Top Glove's shares are trading at a lofty 70x FY23E PER," said Macquarie Research in a note dated Sept 9.
Macquarie expects Top Glove to post an annual net profit of RM1.75 billion for FY20, which will jump to RM10.3 billion FY21, before easing to RM2.02 billion for FY22.
For the first nine months ended May 31, 2020 (9MFY20), Top Glove's net profit nearly doubled to RM575 million from RM290.51 million a year ago. Its revenue leaped 14.3% to RM4.13 billion from RM3.61 billion, driven by unparalleled growth in sales volume on the back of the global COVID-19 pandemic.
Selling pressure piles up
Glove counters continue to drop, share prices moving further away from their peaks that reached in August.
In particular, shares in Supermax took the heaviest beating today. The stock led the decline yesterday, down 18.5% or RM1.38 at RM6.10, valuing it at some RM16.6 billion. The average target price of the stock is RM11.96.
Supermax was the third top loser and the 14th most actively traded stock on the stock exchange with 111.35 million shares traded.
Following Supermax in the firing line is Kossan Rubber Industries Bhd. The fifth top loser on Bursa Malaysia yesterday finished 11.5% lower or RM1.26 lower at RM9.70, compared with its average target price of RM18.63.
Meanwhile, Hartalega Holdings Bhd fell 8.62% or RM1.12 at RM11.88, giving it a market capitalisation of RM40.72 billion. The stock has fallen 42% from its peak of RM20.50. Its average target price is at RM22.61.