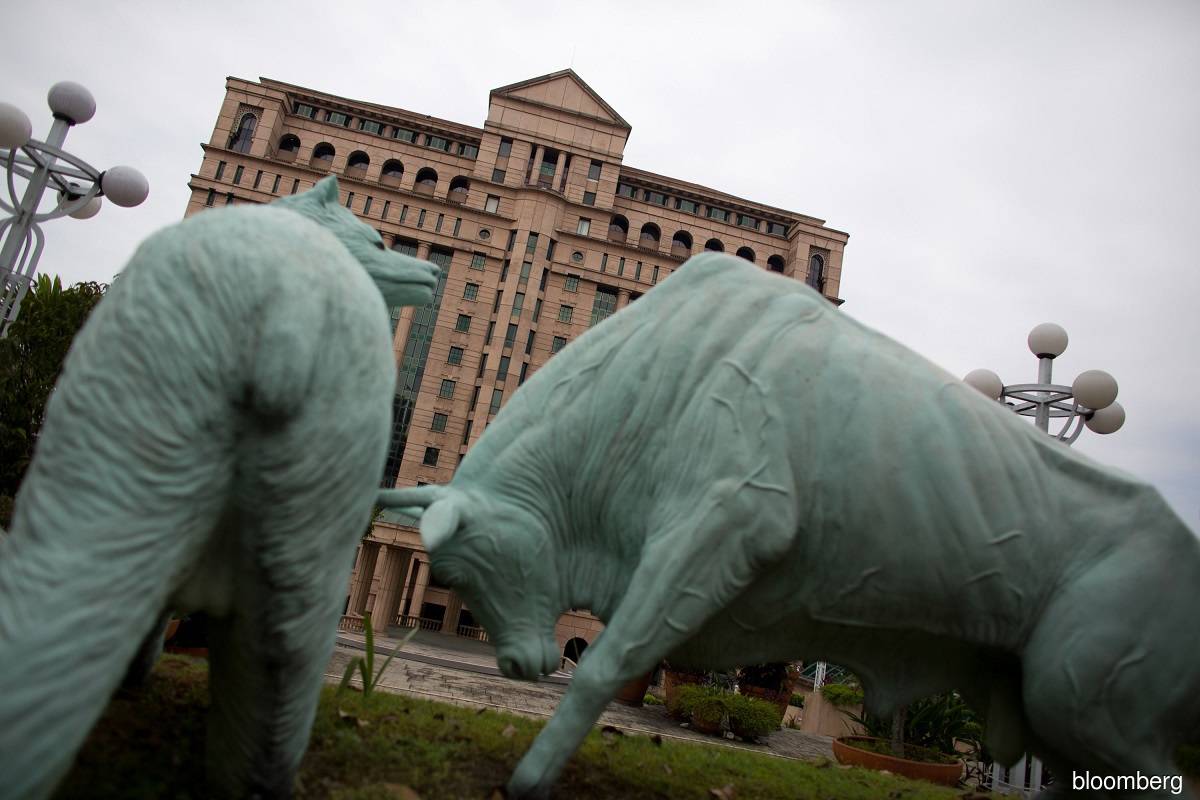 KUALA LUMPUR (Oct 21): Bursa Malaysia has regained market capitalisation of RM412 billion as a result of the rebound from the mid-March trough over the past seven months between March 18 and Oct 19, 2020, according to Bloomberg data.
Since March, the FBM KLCI touched a six-month high of 1,611.42 in July. At that time, the benchmark was one of the few indices in the positive zone. However, the gains only lasted for a brief period. The index has pared its gains since late July to close at 1,518.11 points on Oct 19, down 4.4% year to date (YTD). That said, the FBM KLCI has climbed 24% over the seven-month period after the global rout.
Healthcare theme, particularly the rubber glove makers, has remained on the centre stage most of the year. Besides the glove stocks, The Edge is taking a closer look at the data to find out the top winners, which have been grouped according to market capitalisation, that have outshone in times of economic uncertainty.
Market cap of more than RM10 billion
There are 35 companies now in Bursa Malaysia that are worth more than RM10 billion. Of these companies, two were initially not under this category on March 18, namely Supermax Corp Bhd and Kossan Rubber Industries Bhd that were valued at RM1.93 billion and RM5.84 billion then.
Altogether, stocks that are in this category have collectively gained some RM224.98 billion worth of market value over the past seven months. In terms of share price performance, 26 out of the 35 counters have rebounded from their lows in March.
Topping the list evidently are the big four glove makers — the main beneficiaries of the Covid-19 pandemic.
Press Metal Aluminium Holdings Bhd is the non-glove counter that has made the most gains — up 78% to RM5.32 from the low of RM2.84. Sime Darby Bhd is another star performer that grew by 49% to RM2.40, while Petronas Chemicals Group Bhd leapt by 39.2% to RM6.
Interestingly, other FBM KLCI index-linked plantation counters also registered a solid 20% growth in their share prices, namely Sime Darby Plantation Bhd (up 23.1%), PPB Group Bhd (up 23%), Kuala Lumpur Kepong Bhd (up 22.1%) and IOI Corp Bhd (up 21.7%).
Crude palm oil (CPO) prices were up to a nine-month high of RM3,011 per tonne in mid-September, as a result of the recovery in demand for palm oil mainly from India and China. This contrasted with the low of RM1,962 per tonne in May.
Although they have rebounded from the trough in March, only PPB is marginally higher by 0.6% YTD among the plantation stocks. The other three plantation counters have yet to recoup their losses since the beginning of this year. YTD, Kuala Lumpur Kepong declined 11.8%, Sime Darby Plantation is down 8.3% and IOI Corp slid 7.2%.
Market cap of RM1 billion to RM10 billion
There were a total of 108 counters recording gains over the seven-month period, dominated mostly by technology-related manufacturers. Cables manufacturer Supercomnet Technologies Bhd (STB) led the pack. It surged 501% to its closing price of RM2.20 on Oct 19, from 36.6 sen as at March 18.
The counter has seen a steady uptrend since March, with its market capitalisation ballooning to RM1.47 billion from RM205.76 million seven months earlier.
The company was valued at RM205.76 million seven months ago and has since ballooned to breach the RM1 billion mark with a total market capitalisation of RM1.47 billion. YTD, STB has climbed 205% and is trading at a price-to-earnings ratio of 69.3 times.
Metal fabricator UWC Bhd was the first runner-up, gaining 423% within the same period to close at RM6.46 on Oct 19, followed by hard disk drive components producer JCY International Bhd, which rose 421% to 75.5 sen.
The big leap on their share prices, indeed, exceeded that of healthcare counters, namely Pharmaniaga Bhd that soared 420% during the period to RM5.50, as well as Duopharma Biotech Bhd which surged 261% to RM4.06 as at Oct 19.
The rise in both pharmaceutical counters were mainly driven by news that they would be taking part in the fill-and-finish process for a Covid-19 vaccine for Malaysia, besides the general optimism about the healthcare segment amid the pandemic.
Mah Sing Group Bhd, the latest darling for the glove bulls, has rallied 246% in just three trading days, thanks to its move to diversify into rubber glove production.
It is also worth noting that market capitalisation of HLT Global Bhd, which is involved in the fabrication of glove-dipping lines, ballooned significantly to RM1.11 billion as at Oct 19, from around RM61 million in March. The counter gained 1,509% during the period.
Market cap of RM500 million to RM1 billion
Little known Hong Seng Consolidated Bhd tops the list with its share price skyrocketing 22 times (up 2,189%) to RM1.03, from just a mere 4.5 sen on March 18.
The IT solutions provider, previously known as MSCM Holdings Bhd, has also jumped on the rubber glove manufacturing bandwagon in a bid to turn around its financial performance.
The company, which was only valued at RM11.95 million seven months ago, now has a market capitalisation of RM533.2 million.
Of the 74 companies under this category, 22 of them have registered more than 100% growth in their share prices since March 18. A total of RM17.8 billion worth of market cap was gained from this list.
Luster Industries Bhd, which is mainly involved in the manufacturing of precision plastic parts and components, sub-assembly of plastic parts and products, as well as precision engineering works and manufacturing of die-casting components, is the second top gainer in this list.
Its share price grew 309% to 22.5 sen. It is also the latest company announcing to venture into rubber glove making.
Iris Corp Bhd is also one of the top gainers for being one of the bidders for the government's billion-ringgit National Integrated Immigration System project and it is said to be one of the front runners. Its shares were up 279% to 26.5 sen, from seven sen on March 18.
Thermoformed food plastic packaging supplier SCGM Bhd, which diversified into personal protective equipment (PPE) manufacturing in March, is also among the top gainers in this list as it saw its share price grow 3.7 times (up 277%) to RM3.31.
Other notable companies are technology firm JF Technology Bhd (up 232% to RM4.19) that gained from the rally in the technology sector, frozen food maker Kawan Food Bhd (up 181% to RM2.63) as well as Luxchem Corp Bhd (up 172% to 94.5 sen) that supplies chemicals to glove manufacturers.
Market cap of RM100 million to RM500 million
Among the smaller cap stocks, the top gainers include travel agency company Parlo Bhd, which in September signed an agreement with Myanmar's Diamond Palace Group of Companies Ltd and Agensi Pekerjaan Seaview Hectare Sdn Bhd to provide employment agency-related services.
While it has yet to see the earnings contribution from the new business, the counter surged 1,229% to 46.5 sen as at Oct 19, against its March 18 closing of 3.5 sen. The company's market capitalisation multiplied to RM169.28 million from RM10.92 million during the period.
Ancom Logistics Bhd has also stepped into the limelight, amid news that integrated security IT solutions provider S5 Holdings Inc is seeking a back-door listing via the company.
The parties involved in the proposal entered into a heads of agreement in July. Although there have not been any updates since, Ancom Logistics' share price skyrocketed 1,129% to 43 sen as at Oct 19 over seven months from the low of 3.5 sen on March 18.
Meanwhile, a number of gainers in this category saw gains after announcing healthcare-related ventures this year, including bus operator GETS Global Bhd (up 1,400%), which announced a rubber glove venture, Solution Group Bhd (up 1,380%), which announced a vaccine venture, as well as LKL International Bhd (up 1,060%), which was awarded a glove supply contract by a China-based company.
Other gainers on the list with related ventures include Bintai Kinden Corp Bhd (up 1,038%) and Ho Wah Genting Bhd (up 994%), both of which announced vaccine-related ventures, and MQ Technology Bhd (up 900%), which announced a venture into the manufacturing of PPE.
Read also: