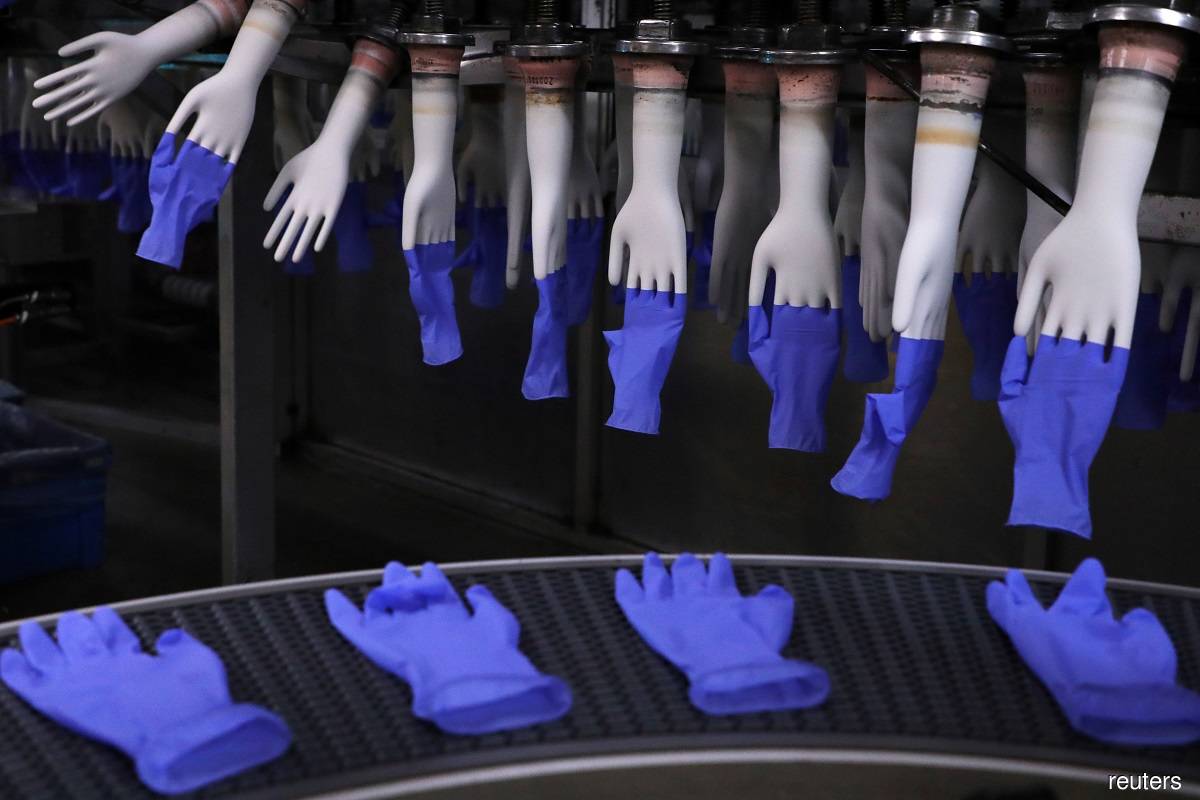 KUALA LUMPUR (Jan 7): Glove stocks, whose share prices have tumbled more than 40% from their record highs, attracted bargain hunting, lending support to share prices for the third consecutive day after the severe selldown on Monday.
Some quarters attributed the buying interest to short sellers covering their positions. The big four glove companies, namely Top Glove Corp Bhd, Hartalega Holdings Bhd, Supermax Holdings Bhd, and Kossan Rubber Industries Bhd, were the targets for regulated short selling on Monday.
Hong Leong Investment Bank Research's (HLIB Research) analyst Farah Diyana Kamaludin reiterated the "buy" call on the rubber glove sector, noting that strong demand and high average selling prices (ASPs) will continue to brighten the outlook of the rubber glove sector.
"Along with the Covid-19 impact, we opine the strong demand to persist in 2021 (with MARGMA projecting +25% year-on-year). Post Covid-19, we opine the normalised global glove demand growth would be at [about] 13%-15%; higher than the usual 8%-10% pre-pandemic," wrote Farah in her research note.
As at noon break, Supermax gained 32 sen or 5.4% to RM6.21, with 24.59 million shares changing hands. Comfort Gloves Bhd went up 22 sen or 7.6% to RM3.17, Careplus Group Bhd increased by 24 sen or 11.5% to RM2.33, Hartalega climbed 36 sen or 3.4% to RM10.96, Rubberex Corp (M) Bhd rose 17 sen or 12% to RM1.57.
Top Glove climbed the least in the morning session. Its shares increased seven sen or 1.22% to RM5.83 with 68.11 million shares traded. Kossan went up six sen to RM4.06.
"Although there may be gradual dent in gloves' demand post vaccine discovery, we do not see it being too damaging, considering past trends showed only mild tapering in growth," said HLIB Research analyst Farah.
According to her, rubber gloves will still be in demand for testing and administering vaccines. Meanwhile, high global Covid-19 count and potential hiccups in vaccine supply and demand for mass immunisation as well as permanent structural shift in hygiene awareness will support demand for gloves.
She estimates the top four Malaysian glove players to increase capacity, especially for nitrile gloves, by about 18.5% in 2021.
"For 2021, there will be an estimated addition of about 34.9 billion pieces versus 29.3 billion pieces in 2020. In view of the still unabating pandemic, it is expected to continue to fuel near-term glove demand and thus, also lead to the possibility of a quicker capacity expansion," she said.
According to her, the glove makers currently see a longer lead time of more than 18 months, versus six months in the beginning of pandemic, and two months pre-Covid-19.
"Spot orders too have been increasing, from about 5% of total capacity to the current of about 15% to 30%, thus giving the opportunity for further upside to ASPs," she said.
The ASPs have soared by about 200% since the beginning of the outbreak, Farah expects the spot order ASPs to potentially hit US$180, noting that the blended ASPs of nitrile gloves are between US$90 and US$160 per 1,000 pieces.
Her optimism also hinges on the anticipation of elevated utilisation rate of above 95% at the glove makers' plants in 2021 compared with 80% to 85% at pre-Covid 19 level amid strong demand.
However, she noted the appreciation of the ringgit against the US dollar has a slight negative impact on the sector.
Lam Jian Wyn & Kathy Fong