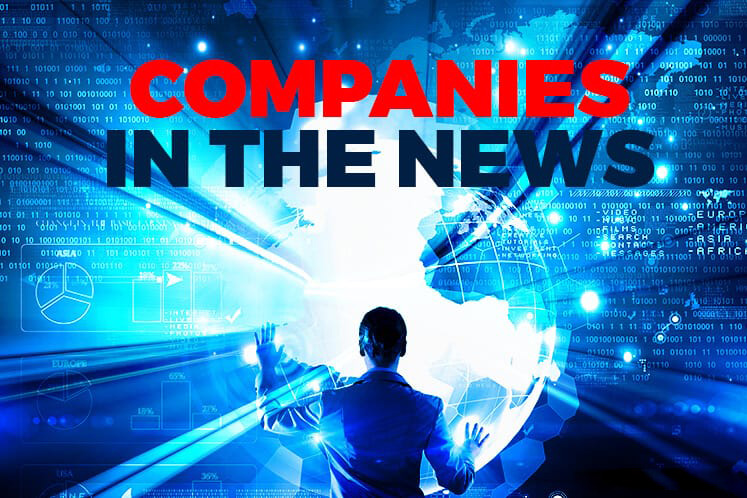 KUALA LUMPUR (Nov 27): Based on corporate announcements and news flow today, stocks in focus on Tuesday (Nov 28) may include: Glomac Bhd, Manulife Holdings Bhd, Affin Holdings Bhd, China Stationery Ltd, Tiong Nam Logistics Holdings Bhd, Eastern & Oriental Bhd, Eversendai Corp Bhd, Zecon Bhd, RHB Bank Bhd and QL Resources Bhd.
Property developer Glomac Bhd reported a 92.3% decline in second-quarter net profit, no thanks to the recognition of a one-off government grant received totalling RM26.3 million in the previous year.
The group's after-tax profit for the three months ended Oct 31, 2017 was down to RM1.41 million versus RM18.25 million a year ago. Quarterly revenue, however, climbed 30.9% to RM109.93 million from RM83.99 million, thanks to projects such as Lakeside Residences in Puchong, Saujana KLIA in Dengkil and Saujana Perdana in Sg Buloh.
The weak quarterly performance was a drag to Glomac's net profit for the cumulative six months, which plunged 96.6% to RM3.51 million from RM103.79 million a year earlier, while revenue fell 38.2% to RM207.42 million from RM335.41 million.
Glomac said it expects its earnings performance in FY18 to remain modest, reflecting lower property sales brought on by a more measured pace in past launches.
Glomac said it has a potential gross development value of over RM8 billion to further tap into demand in this mass market segment.
Manulife Holdings Bhd saw its net profit for its third quarter ended Sept 30, 2017 falling 41.14% to RM7.45 million, from RM12.64 million a year ago, as its life insurance business recorded worsened claims and higher distribution channel expenses, due to business expansion.
Quarterly revenue, meanwhile, improved 14.91% to RM305.97 million, from RM266.74 million, largely on the back of a 77.3% increase in operating revenue from its asset management services.
For the cumulative nine-month period, the group posted a rise of 16.51% in after-tax profit to RM21.37 million from RM18.34 million in the previous year's corresponding period, attributable to improved profitability in its life insurance business. Cumulative revenue climbed 17.41% to RM951.14 million from RM810.07 million in 9MFY16.
Affin Bank Bhd is seeking Bank Negara Malaysia's (BNM) go-ahead to acquire an additional 5.81% stake in AXA Affin General Insurance Bhd from an indirect subsidiary of Felda Global Ventures Holdings Bhd, Felda Marketing Services Bhd (Felma), for RM81.44 million cash.
This is in addition to the 7.07% equity interest the bank is acquiring from Felma.
Affin Holdings Bhd said Affin Bank, its wholly-owned subsidiary, is seeking the central bank's approval to enter into a share purchase agreement with Felma for the total 15.33 million shares, or 12.88% stake, in AXA Affin GI.
If approved, the acquisitions will raise Affin Bank's total stake in the general insurance company from the current 37.07% to 49.95%.
On Sept 18, BNM had approved Affin Bank's application to take up the initial 7.07% stake in AXA Affin GI from Felma. Affin Holdings had proposed to acquire the initial stake of 8.4 million shares for RM99.09 million.
China Stationery Ltd (CSL), whose share trade will be suspended next Tuesday (Dec 5), said it will not be able to release its financial results for the third quarter ending Sept 30, 2017 (3QFY17) by Nov 30.
The company said it has not been able to contact its two remaining directors, namely Chan Fung @ Kwan Wing Yin and his son Angus Kwan Chun Jut; hence its board was unable to hold a meeting to approve its 3QFY17 results.
Chan is the company's chief executive officer and chairman, while Kwan is its executive director. On Nov 1, CSL announced Kwan had resigned, and that his resignation would take effect on Dec 18.
Chan is the company's single largest shareholder with an 18.84% stake as at March 31 this year, while Kwan had an indirect 18.69% stake.
The company was also unable to obtain confirmations from third parties — including bankers, debtors, creditors, and courts, among others — to verify all litigation cases involving its subsidiaries in China.
In addition, it said it is unable to undertake the necessary assessment on the impact of the litigations to CSL's financial statements and its operations without the issuance of legal opinion report by Zhi Jun Law Firm of Fujian.
Hence, it is unable to ascertain the target date to issue and release its 3QFY17 results to Bursa Securities, it added.
Tiong Nam Logistics Holdings Bhd is eyeing growth opportunities in the regional logistics and warehousing services sector as it seeks to maintain its lead position.
Managing director Ong Yoong Nyock said opportunities are thriving for integrated providers that can bring greater efficiency and value to businesses amid competitive environments.
"Recognising this, we are investing in the expansion of our infrastructure in Malaysia and across the region, involving the setup of new delivery routes, as well as new warehousing facilities and sales offices," he said in a statement.
Tiong Nam's net profit fell slightly by 0.07% to RM13.04 million in the second quarter ended Sept 30, 2017 from RM13.05 million a year earlier, while quarterly revenue grew 22.7% to RM173.44 million from RM141.32 million previously, thanks to higher deliveries and value of services in the logistics and warehousing services segment.
Cumulative six-month net profit was 48.19% lower at RM13.73 million against RM26.49 million a year earlier, while revenue improved 15.4% to RM314.35 million from RM272.41 million.
Eastern & Oriental Bhd (E&O) has taken up the remaining 4.4% stake it does not own in Bridgecrest Resources Sdn Bhd (BRSB) for RM33 million.
BRSB is an intermediate holding company of Tanjung Pinang Development Sdn Bhd, the holder of the concession to reclaim the Seri Tanjung Pinang land in Penang, and E&O Property (Penang) Sdn Bhd, the developer of the Seri Tanjung Pinang Phase 1 land.
E&O said its wholly-owned indirect unit Kamunting Management Services Sdn Bhd has entered into a share sale agreement with North Zest Sdn Bhd (NZSB) for the share acquisition.
Eversendai Corp Bhd's net profit for its third quarter ended Sept 30, 2017 surged 186% to RM20.83 million from RM7.28 million a year ago, as quarterly revenue climbed 21%.
Revenue came in at RM449.32 million against RM371.36 million a year ago, on higher contributions from its structural steel and construction businesses in India, Thailand and Singapore, while it recorded lower losses from consolidation adjustment and eliminations.
For the first nine months of FY17, the group returned to profitability with an after-tax profit of RM56.7 million from a net loss of RM64.43 million a year ago, as revenue grew 6% to RM1.31 billion from RM1.23 billion.
So far this year, Eversendai has bagged RM1.6 billion new contracts, bringing its order book to RM2.7 billion. The bulk of these contracts are from the Middle East at 44%, while 21.8% are from India and 19.1% are from Southeast Asia — the remaining 15% are from the oil and gas sector.
Zecon Bhd is disposing of a 49% stake in wholly-owned subsidiary Zecon Medicare Sdn Bhd to the Sarawak state government for RM155 million. The group had entered into a share purchase agreement (SPA) with the State Financial Secretary of Sarawak (SFSS) today for the disposal of 3.92 million shares in Zecon Medicare Sdn Bhd, subject to terms and conditions.
The group plans to use proceeds from the proposed disposal to repay bank borrowings (RM70 million), for working capital (RM84.8 million) and estimated expenses in relation to the proposals (RM200,000).
Zecon Medicare holds the 30-year concession to develop the UKM Specialist Children's Hospital, granted by the federal government. The proposed disposal is expected to be completed by the first half of 2018.
RHB Bank Bhd's net profit for the third quarter ended Sept 30, 2017 dipped 3.26% to RM488.83 million, from RM505.33 million a year earlier, largely due to higher impairment losses on loans, operating expenses and lower non-fund based income.
RHB Bank said revenue for the quarter remained flat at RM2.62 billion, versus RM2.65 billion a year earlier.
For the cumulative nine months, RHB Bank said its net profit rose 4.9% year-on-year to RM1.49 billion from RM1.42 billion previously, on the back of revenue of RM7.87 billion against RM8.01 billion a year earlier.
QL Resources Bhd saw an 18.4% growth in net profit to RM59.8 million for its second quarter ended Sept 30, 2017  compared with RM50.5 million a year ago. Revenue was up 10.9% at RM808.9 million from RM729.7 million.
For the first half of this financial year, net profit came in at RM102.02 million, which was 10.1% higher from the RM92.65 million recorded in the same period last year.
Cumulative revenue grew by 13.4% to RM1.59 billion from RM1.4 billion.