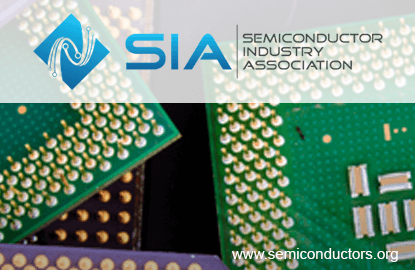 KUALA LUMPUR (July 7): Global sales of semiconductors rose 5.1% year-on-year in May 2015 to US$28.2 billion from us426.8 billion a year earlier, according to the US-based Semiconductor Industry Association (SIA).
In a statement on ite website July 6, the SIA said global sales from May 2015 were 2.1% higher than the April 2015 total of US$27.6 billion.
It said that regionally, sales in the Americas increased 11.4% compared to last May to lead all regional markets.
SIA president and CEO John Neuffer said the global semiconductor industry overcame lingering macroeconomic uncertainty to post solid year-to-year growth in May.
"Year-to-year sales have now increased for 25 straight months, month-to-month sales increased for the first time in six months, and we expect modest growth to continue for the remainder of 2015 and beyond," he said.
The SIA said that in addition to the Americas market, year-to-year sales also increased in China (9.5%) and Asia Pacific/All Other (8.0%), but decreased in Europe (-7.8%) and Japan (-11.8%).
It said that compared to last month, sales were up in China (4.0%), Asia Pacific/All Other (3.3%), and the Americas (0.2%), but decreased slightly in Europe (-0.6%) and held flat in Japan. 
Neuffer said Congress and President Barack Obama recently gave the U.S. semiconductor industry and other trade-dependent sectors a major boost by enacting Trade Promotion Authority (TPA), which makes it easier for the United States to strike deals on free trade agreements.
"With TPA, the United States is more likely to get the Trans-Pacific Partnership (TPP) and other critical trade agreements across the finish line, leading to continued growth and innovation in our industry and across the U.S. economy," he said.