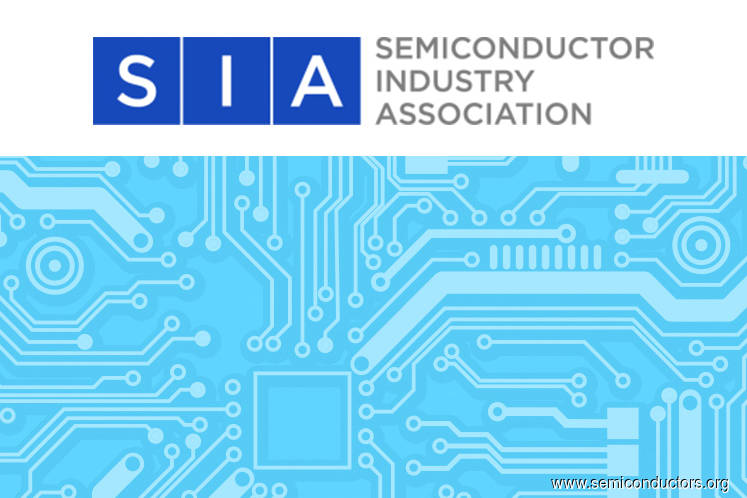 KUALA LUMPUR (Dec 4): Worldwide sales of semiconductors have been projected to increase 5.9% and 6.3% in 2020 and 2021, respectively, by US-based Semiconductor Industry Association (SIA).
SIA was citing the industry forecast by the World Semiconductor Trade Statistics (WSTS), which said annual global sales will fall 12.8% in 2019 to US$409 billion from US$468.8 billion in 2018.
In a statement on its website Dec 3, SIA said global semiconductor sales fell 13% year-on-year in October to US$36.6 billion from US$42.1 billion.
It said sales rose 2.9% month-on-month from US$35.6 billion.
SIA president and chief executive officer John Neuffer said while the global semiconductor market has slumped somewhat in 2019 compared to the record sales posted in 2018, the recent trend is more positive, with month-to-month sales increasing in October for the fourth consecutive month.
"Global sales are projected to decrease by double digits in 2019, then rebound with moderate growth expected in 2020 and 2021," he said.
SIA said that regionally, sales increased in October 2019 compared to September 2019 across all major regional markets: the Americas (8.6%), China (2.9%), Japan (1.0%), Europe (0.5%), and Asia Pacific/All Other (0.4%).
Meanwhile, sales were down across all regions compared to October 2018: Europe (-7.3%), Asia Pacific/All Other (-7.4%), Japan (-9.3%), China (-10.2%), and the Americas (-27.1%).
SIA said WSTS projects year-to-year decreases across all regional markets for 2019: Europe (-6.9%), Asia Pacific (-8.8%), Japan (-11.1%), and the Americas (-26.7%).
At 10.56am, the Technology Index on Bursa Malaysia shed 0.11% or 0.04 points to 36.12.