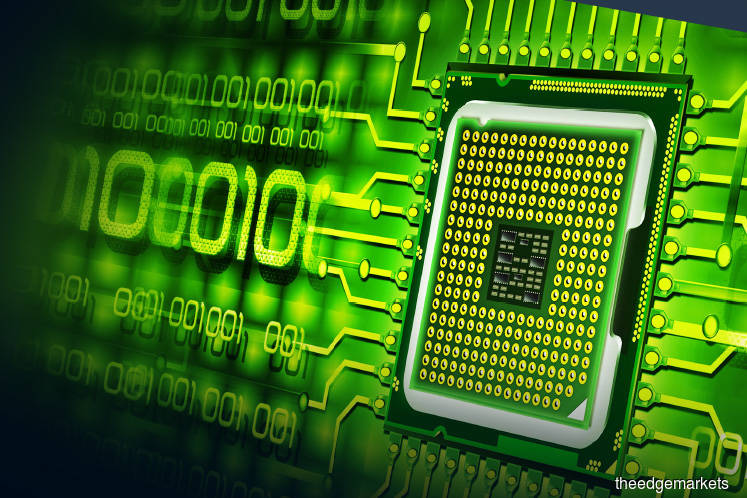 KUALA LUMPUR (Dec 12): Global semiconductor manufacturing equipment sales will drop 10.5% to US$57.6 billion in 2019 from last year's historic peak of US$64.4 billion, but stage a 2020 recovery and set a new high in 2021, according to the US-based Semiconductor Equipment & Materials International (SEMI).
In its Year-End Total Equipment Forecast released Dec 11, SEMI said the forecast shows equipment sales registering a 5.5% increase to US$60.8 billion in 2020 and continued expansion into 2021, with record revenues of US$66.8 billion as leading device manufacturers invest in sub-10nm equipment, especially for foundry and logic.
Meanwhile, the forecast shows sales of wafer fab equipment — consisting of wafer processing, fab facility and mask/reticle equipment — falling 9% in 2019 to US$49.9 billion.
The assembly and packaging equipment segment is on track to fall 26.1% to US$2.9 billion in 2019, while semiconductor test equipment is forecast to drop 14% to US$4.8 billion this year.
SEMI said Taiwan will dethrone Korea as the largest equipment market and lead the world with 53.3% growth this year, followed by North America with a 33.6% uptick.
It said China will maintain the second spot for the second consecutive year, and Korea will fall to third after throttling back capital expenditures.
It added that all regions tracked except Taiwan and North America will contract this year.
SEMI said it expects the 2020 equipment market recovery to be fuelled by advanced logic and foundry, new projects in China, and, to a lesser extent, memory.
"In Europe, equipment sales will surge 45.9% to US$3.3 billion.
"Taiwan is forecast to remain the top equipment market next year on the strength of US$15.4 billion in sales, with China second at US$14.9 billion and Korea third at US$10.3 billion," it said.
SEMI said more upside is likely if the macroeconomy improves and trade tensions subside in 2020.
It said in 2021, all sectors tracked are expected to grow and the memory spending recovery will hit full stride.
China is expected to ascend to the top position with equipment sales of more than US$16 billion, followed by Korea and Taiwan, it said.
The Year-End Total Equipment Forecast is based on SEMI's industry-recognised World Fab Forecast database and input from equipment manufacturers.
Total equipment includes wafer processing, fab facilities, mask/reticle, total test, and assembly and packaging equipment.