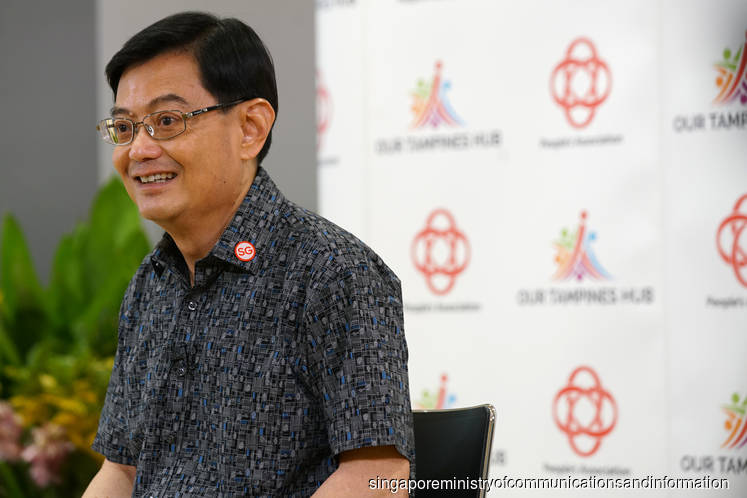 KUALA LUMPUR (July 29): Based on movements in the global market, investors have turned a lot more jittery than before, says Singapore's Deputy Prime Minister cum Finance Minister Heng Swee Keat, as tensions between China and the US continue to rise and increase uncertainties worldwide. 
"We are already in the late stage of the global economic cycle, and these trade tensions between China and the US are casting a pall on the global economy. Will this get worse or better? Well, we do not know. But I hope that good sense will prevail. And that some agreement can be reached between China and the US," Heng told Malaysian media representatives who visited the city-state last week, on the invitation of his government under the 14th Malaysian Journalists Visit Programme. 
"At the same time, the lessons from the Asian Financial Crisis and the Global Financial Crisis are that none of us can predict the future... But if things turn bad, then we have to be prepared to respond. So in fact, with the recent slowdown, Minister Chan Chun Sing — our Trade and Industry Minister — and I, together with other ministers, have been discussing. We are ready with a package to help our businesses and help our workers, should the global economy take a sharp downturn. We always have to be prepared. In the same way, our financial regulators are also watching the global financial markets very closely," he said.
"So, we just have to be alert to all these changes that are happening, and hope for the best but be prepared for the worst," he added.
 
On July 17, Singapore revealed that its exports in June fell the most in six years, as it struggled against lacklustre global demand and the drag of the US-China trade war. Its non-oil domestic exports shrank 17.3% in June, its fourth straight month of year-on-year decline. Meanwhile, its economy grew just 0.1% in the second quarter, the slowest in a decade, according to official estimates.
Heng, who was previously managing director of the Monetary Authority of Singapore (MAS), was also asked as to how much more money linked to 1Malaysia Development Bhd (1MDB) will be returned to Malaysia, following the S$50.3 million which Singapore police had announced on July 18 that the country would be returning. Heng declined to comment, except to say that the regulatory authorities will have to work it out as there are laws and requirements to be met.
As to the progress of MAS' investigations into 1MDB, he said MAS has been cooperating very closely with the Malaysian government, as well as with the Commercial Affairs Department, "because as a financial centre, it is very important for us to maintain the rule of law, as well as to ensure that if there is any wrongdoing, that these are not condoned".
 
Singapore, he added, will work closely and fully cooperate with Malaysia on the matter.
 
He also disagreed with the view that Singapore is a haven for people to park their ill-gotten gains. "I totally disagree with that. We are members of the Financial Action Taskforce and we have very strict anti-money laundering rules. We are an important financial centre, and maintaining trust in our financial system is critical. So it is not in Singapore's interest to run a system where it becomes a place for people to park their ill-gotten gains. It is against our principles, it is against our rules, and we enforce it strictly," he added.  
'As closest neighbours, there will always be differences' 
Heng, who was appointed Singapore's sole DPM on April 23 — it typically has two — is seen as the successor to Prime Minister Lee Hsien Loong. Soft-spoken, with gentle manners, the 57-year-old was also asked to describe the relationship between Singapore and Malaysia, with the Pakatan Harapan government having been in power for over a year now.
"I think there are areas of differences for which we are working together to look at how we can resolve them. But there is also a willingness to look at what are the areas in which we can work more closely together, in order to strengthen our cooperation. So, we are very happy that [Tun] Dr Mahathir [Mohamad] is coming for our Bicentennial National Day Parade, together with Indonesian President Joko Widodo and the Sultan of Brunei (Sultan Hassanal Bolkiah). We look forward to welcoming Tun Mahathir for this," he said.
Is Singapore worried that all the differences would cloud up ways of cooperation between the two countries? "As the closest neighbours, there will always be differences," Heng said.
"What is important is for us to resolve this as objectively and as rationally as possible. I think differences will happen from time to time. And it is important for us to see the broader strategic picture, which is, by cooperating with one another closely, we can actually achieve more together, we can do more to improve the lives of our people both in Malaysia and Singapore, and contribute to the broader regional peace and stability, and the broader development in the region," he added.