This article first appeared in The Edge Financial Daily, on July 25, 2019.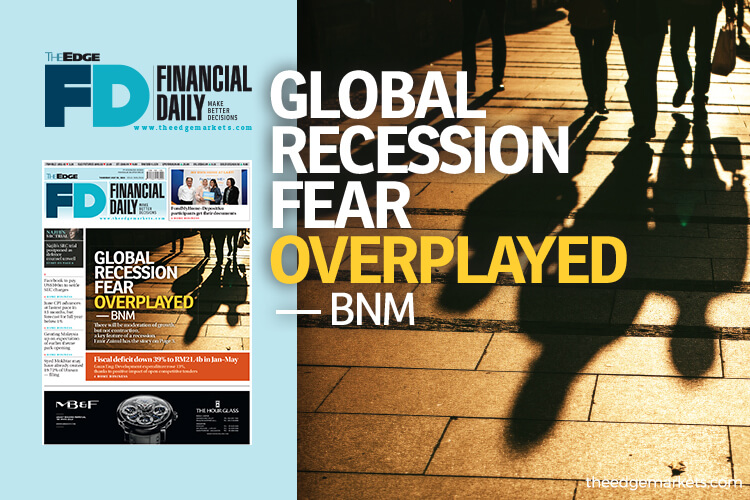 KUALA LUMPUR: While the escalating trade tension between the US and China will moderate Malaysia's economic growth, it will not cause a global economic recession next year, said Bank Negara Malaysia (BNM).
"I think the recession fear is overplayed at this point in time. What we are seeing is just lower growth compared to our long-term average," said BNM Economics Department director Fraziali Ismail.
In a media briefing yesterday entitled "US–China Trade War — Context and Implications", Fraziali explained that even in a hypothetical situation where the US and China eventually go into a full-blown trade war — in which every trade between them is tariffed — his team estimated that global growth will be cut to 3%.
Thus, he argued that it would just be a moderation of growth, instead of a contraction, a salient feature in a global economic recession.
"For global standards, that [growth level] is pretty low, and some countries will fall into a recession. But it's not as big as to say it will result in a global financial crisis. Granted, it's [the US-China trade war that is] a huge shock. But on its own, it won't plunge the economy into a deep recession," he added.
On Tuesday, Affin Hwang chief economist Alan Tan said global gross domestic product (GDP) growth could drop to 3.1%, and that there was a 30% chance of a worldwide recession in 2020 if US-China trade tensions worsen in the next few months, leading to a full-blown trade war towards the end of the third or fourth quarter.
According to Tan, a GDP growth of 3.1% is "close to a global recession", and that anything less than 3% signifies a global recession.
His prognosis follows the International Monetary Fund (IMF) lowering its forecasts for global growth to 3.2% in 2019 and 3.5% in 2020, down 0.1% for both years from its April forecast. This is the fourth time the IMF lowered its global growth forecast since October last year.
The IMF warned that more US-China tariffs or a no-deal Brexit could further stunt growth, weaken investment, and disrupt supply chains.
Tan had also said Malaysia needs to implement short-term measures to cushion against the economic impact.
Responding to this, Fraziali admitted that the global economy is facing a lot of risks, specifically those associated with past global financial crises.
He observed that most major economies are facing their own economic challenges that had previously driven global growth, but are now slowing economic expansion worldwide.
For instance, he noted the US and China are experiencing high corporate debt, whereas Europe's low interest rates have negatively affected the banks there.
These issues were major drivers of global growth in the past, but are now constraining the pace of growth, Fraziali said.
"Having said that, if you look at other [economic] indicators like inflation, unemployment, [GDP] growth, they're lower but not outright ugly," he said.
"It would take a lot of shocks for the global economy to move into negative or very low growth."
So instead of coming up with a major economic stimulus plan, he suggested the government should prioritise spending on those most affected by the modest economic growth.
"It's not so much about ramping up or boosting the economy to counter a recession, because we don't see a recession in the cards.
"So perhaps the government could think about how to prioritise its spending within the confines of its fiscal reforms. For example, within [our] society in an economic slowdown, who will be most affected by that and how can the government help them? Let's prioritise that," he said.
Staying relevant during a trade war
Moving forward, Fraziali said as an open economy highly reliant on trade, Malaysia should continue to proactively pursue multilateral trade agreements, especially within Asean.
This, he said, will enable strong trade and investment linkages among Asean countries as well as enhance the region's attractiveness as a manufacturing and investment destination.
As the trading environment worsens along with the heightening US-China trade tension, Fraziali said Malaysia needs to step up and find ways to stay relevant as a trading nation.
"Whether we like it or not, these (the US and China) are the two largest economies in the world, [so] we must trade with them. We must find ways to maximise our opportunities with them. But along the way, the way we do business has changed, so what can we offer to remain relevant?"
So far, however, he said Malaysia has been able to cushion the impact of the trade war as it is backed by a well-diversified export portfolio in terms of products and trade partners.
Further, he said Malaysia stands to benefit from further trade diversions as a result of the US-China trade war, pointing out 64% of the country's total exports are somewhat related to US-China tariffs.
"One could say [the exports are] affected, but on the other hand, there is extra demand there for countries that wish to circumvent the US and China, so they come to us. On one hand, there are risks, but there are also opportunities," he said.
"In large parts, we are seeing companies restrategising their approach and relocating. We are a net beneficiary of that to some extent."