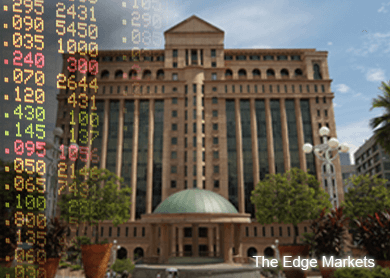 KUALA LUMPUR (Aug 12): The FBM KLCI could follow the overnight fall at global markets and open lower today after China's currency devaluation sent shockwaves across the markets and led to a sea of red at  all major stock exchanges.
This was despite Greece and its international lenders reaching an 85 billion euro bailout agreement on Tuesday after nailing down the terms of new loans needed to save the country from financial ruin.
China's 2% devaluation of the yuan on Tuesday pushed the US dollar higher and hit Wall Street and other global equity markets as it raised fears of a new round of currency wars and fed worries about slowing Chinese economic growth, according to Reuters.
US stock indexes slumped more than 1% and stocks also fell in Asia and Europe as investors contemplated the implications of a move designed to support China's slowing economy and exports. The MSCI All World Index of global shares fell 1.14%, it said.
AllianceDBS Research in its evening edition Tuesday said that dampened by the weak down close in the preceding day, the FBM KLCI had on August 11 traded lower to 1,635.77 as market participants continued to play on the selling side in anticipation of a lower market.
The research house said that in the absence of supportive buying interest, the benchmark index was in the red throughout most of the trading sessions before settling near the day's low at 1,636.71 (-17.66 , -1.07%).
"In the broader market, losers outnumbered gainers with 529 stocks ending lower and 290 stocks finishing higher. That gave a market breadth of 0.54 indicating the bears were in control," it said.
AllianceDBS Research said the benchmark index continued its losing streak with sellers still in control of the game play.
"Like the previous day's market, the benchmark index did not get to recover by the time market was closed.
"Buyers were unwilling to take advantage of beaten down stocks despite that some have declined by double-digits.
"The benchmark index had lost about 110 points in the last 6 market days," it said.  
The research house said following the down close on August 11, the market is likely to test the immediate support zone of 1,600 - 1,625 with an overhead resistance pegged at 1,660.
It said that indicator wise, the MACD was below the 9-day moving average line.
"The analysis of overall market action on August 11 revealed that buying power was weaker than selling pressure.
"As such, the FBM KLCI would likely trade below the 1,635.77 level on August 12," said AllianceDBS Research.