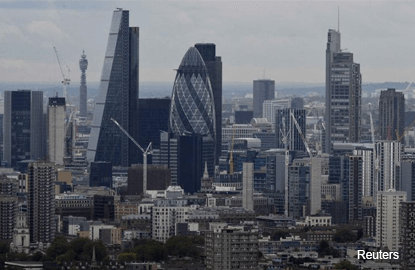 SINGAPORE (Jan 31): Global investors are most wary of high volatility in currencies, commodities and capital markets when considering investment plans in Europe, according to a survey by EY.
EY's survey of 254 global investors found that 37% of respondents cited the volatility as the biggest risk for foreign direct investments into Europe.
This was followed by 32% who were wary of economic and political instability within the European Union (EU), excluding Brexit.
In addition, some 28% said the impact of Brexit was the biggest drawback to investing in Europe.
However, some 56% of global investors say they are looking to grow their presence in Europe over the next three years despite current geopolitical and financial market volatility.
"Europe's talent, innovation capacity and large, integrated market and production system are still valued by global investors," EY said in a press release on Tuesday.
The EY 2017 European attractiveness survey – Plan B for Brexit study shows an improvement in sentiment from another survey conducted in May 2016, which found that only 36% of European investors had a positive investment outlook for Europe.
But Andy Baldwin, EY Area Managing Partner – Europe, Middle East, India and Africa warns that while it is "encouraging" that investors continue to have strong investment appetite in Europe, investor patience is finite.
"Europe's historical investor appeal was built on certainty and predictability. Europe is in danger of developing an emerging market 'geopolitical risk profile' without commensurate returns. For the foreseeable future, pure economic factors will vie alongside political considerations in influencing final investment decisions," Baldwin says.
According to EY, more than 70% of foreign investors say they have already felt some impact – including operating margins, cost of purchase and sales, in particular – following the UK's referendum on EU membership.
"The financial impact of Brexit is not confined to the UK," says Baldwin. "European businesses and investors need certainty and want clarity on the future trading relationship between the UK and the EU27."
Furthermore, EY reports that some 96% of businesses do not feel well-prepared for future uncertainties from new risks and a changing regulatory environment.
"Agility is key for businesses to succeed in a volatile landscape. Investment appetite across Europe is growing, but business structures will need to flex to accommodate future and unpredicted changes," says Hanne Jesca Bax, EY EMEIA Managing Partner Markets & Accounts.
Companies should also "seek opportunities to capture new business and improve operational efficiency as they strive to grow and expand their business," Bax adds.