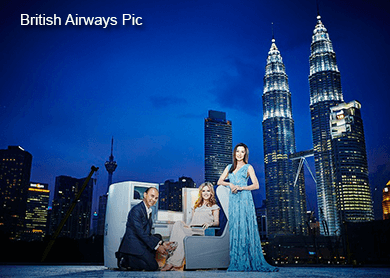 (May 28): Hollywood actress Tan Sri Michelle Yeoh, world-renowned Malaysian shoe designer Datuk Jimmy Choo and British supermodel Georgia May Jagger today added glitz and glamour to the launch of British Airways' flights to Malaysia with a Cinderella-inspired photoshoot in Kuala Lumpur.
With the iconic Petronas Twin Towers serving as a stunning backdrop, Yeoh dazzled while leaning against the British Airways' Club World business cabin seats as Choo slipped a glass shoe specially designed for the occasion on to the foot of Jagger.
Jagger wore a Temperly London "Long Sand Goddess Dress" in Almond while Yeoh looked stunning in her own evening gown as they posed for the photograph, a statement from the airline said.
British Airways' inaugural flight to Malaysia is scheduled to arrive at Kuala Lumpur International Airport at 2.35pm today.
The non-stop route is served by the long-range Boeing 777-200ER aircraft offering customers a choice of four cabins – First and Club World business cabin featuring award-winning flat beds, World Traveller Plus premium economy and World Traveller economy cabin.
"Being a proud Malaysian, it has been such a pleasure to support British Airways as they begin services to Kuala Lumpur," said Choo.
"Malaysia has so much to offer those looking for new business and investment opportunities, or a memorable holiday destination for a few weeks.
"Beyond the action and nightlife of Kuala Lumpur, my hometown of George Town in Penang, a Unesco World Heritage Site, is a marvellous place and one that I highly recommend that tourists visit," he added.
Ipoh-born Yeoh, meanwhile, said that Malaysia was the place she considered as home.
"So I think it's tremendous British Airways have launched a new route linking London and Kuala Lumpur.
"There's so much to see and do here, be it visiting the historic monuments dotted around the city, tasting the mouth-watering delicacies served at our famous street food markets or wandering one of the many art galleries.
"I was born to the north in the city of Ipoh and it's just one of the many inspiring places visitors can explore within easy reach during their stay."
Jagger said she had enjoyed her time in Malaysia.
"The people are so welcoming and the food is amazing. I've been trying the local speciality dishes.
"It has also been an incredible experience working with Datuk Jimmy Choo on this one-of-a-kind photoshoot for British Airways. Being made to feel like Cinderella was a truly magical moment – after all, British Airways knows how to treat its customers."
To celebrate the inauguration, British Airways is offering special fares to London, the UK and Europe from Kuala Lumpur, starting from just RM3,088 for travel between May 28 and November 30.
The fares are valid for booking until June 16. – The Malaysian Insider