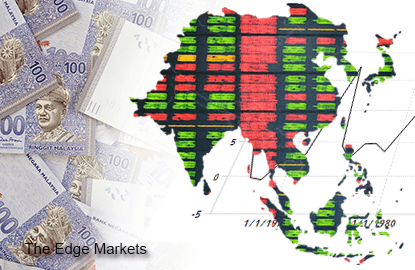 SINGAPORE (Sept 2): Most emerging Asian currencies resumed falling on Wednesday, as fears over global growth and downbeat factory activity reports drove investors from risky assets, including stocks.
The Malaysian ringgit led regional losses, as Fitch Ratings warned of downgrade risk in the country's rating outlook.
Indonesia's rupiah stayed near a 17-year low, with low commodity prices seen hurting export earnings.
The South Korean won fell, as foreign investors were set to record the longest selling streak in the local stock market since the global financial crisis in 2008.
    
The Singapore dollar eased, as economists trimmed forecasts for this year's economic growth and inflation, a central bank survey showed.
"Asian currencies are expected to still be under pressure, as growth concerns will dominate," said Khoon Goh, senior FX strategist for ANZ in Singapore.
U.S. factory activity hit a more than two-year low in August and China's manufacturing sector contracted at its fastest pace in at least three years. Euro zone manufacturing growth also fell.
Australia suffered the slowest economic growth in two years over the second quarter, partially due to a sharp slump in export volumes, data showed earlier.
        
Ringgit
The ringgit fell as Kuala Lumpur stocks lost 0.8%, underperforming most Southeast Asian equities.
Fitch said Malaysia's deteriorating currency position could force the rating agency to restore the negative outlook attached to the country's credit rating.
Malaysia's July exports were expected to rise on a weaker ringgit, although moderating from an unexpected jump in the previous month due to plunging commodity prices, a Reuters poll showed.
Oil prices slid, adding to concerns over exports. Malaysia is a major supplier of natural liquefied gas and palm oil.
    
Won
The won fell as foreign investors were set to become net sellers in South Korea's main stock exchange for a 20th straight session, which would be longest selling spree since July 2008.
Foreigners sold a combined net 4.2 trillion won (US$3.6 billion) worth of stocks during the period, the Korea Exchange data showed.
The country also reported a net outflows of US$10.64 billion in the financial account in July, after a US$10.49 billion outflow in June, central bank data showed.
    
  CURRENCIES VS U.S. DOLLAR
  Change on the day at 0520 GMT
  Currency    Latest bid   Previous day    Pct Move
  Japan yen       120.17         119.38       -0.66
  Sing dlr        1.4135         1.4123       -0.08
  Taiwan dlr      32.435         32.680       +0.76
  Korean won     1178.79        1171.80       -0.59
  Baht             35.73          35.73       +0.01
  Peso             46.70          46.69       -0.03
  Rupiah        14110.00       14095.00       -0.11
  Rupee            66.24          66.22       -0.03
  Ringgit         4.2160         4.1650       -1.21
  Yuan            6.3649         6.3645       -0.01
 
  Change so far in 2015
  Currency    Latest bid  End prev year    Pct Move
  Japan yen       120.17         119.66       -0.43
  Sing dlr        1.4135         1.3260       -6.19
  Taiwan dlr      32.435         31.718       -2.21
  Korean won     1178.79        1099.30       -6.74
  Baht             35.73          32.90       -7.92
  Peso             46.70          44.72       -4.24
  Rupiah        14110.00       12380.00      -12.26
  Rupee            66.24          63.03       -4.84
  Ringgit         4.2160         3.4965      -17.07
  Yuan            6.3649         6.2040       -2.53
 
 ($1 = 1,178.5000 won)