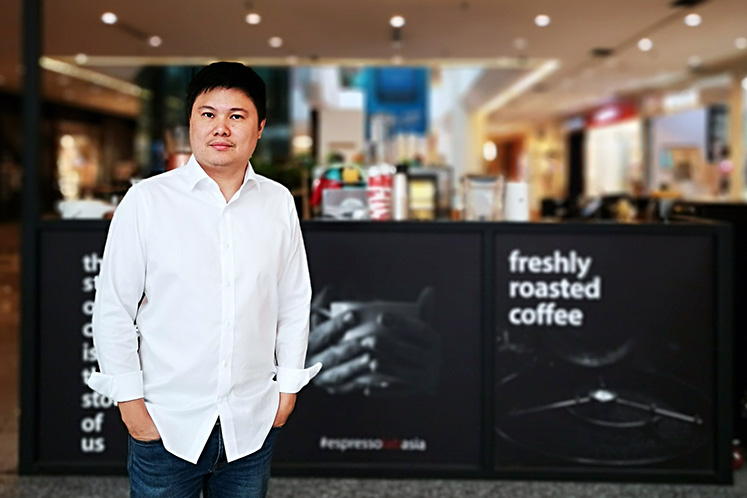 Click / Tap image to enlarge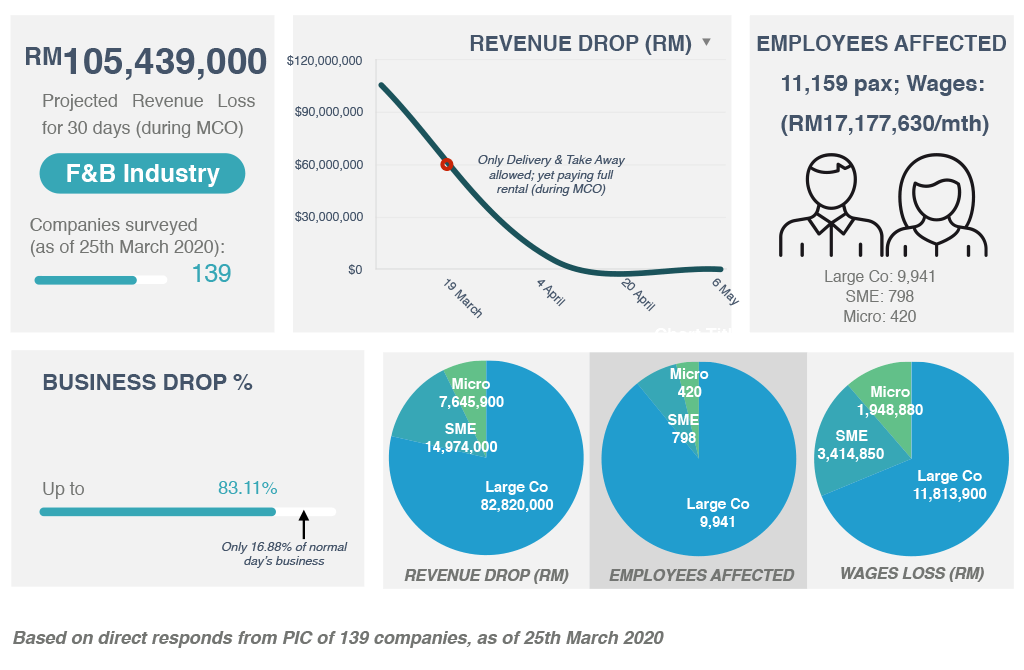 Infographic: MCO's Impact on Local F&B Industry (Source: MyF&B)
The Malaysian F&B Operators Alliance (MyF&B), a loose coalition of more than 800 food and beverage operators in the country, are calling on the government to exercise some influence over their landlords to freeze or reduce rents during the Movement Control Order (MCO) period because business has fallen more than 80% and most are struggling to make ends meet.
When MyF&B conducted an unofficial poll, it found that most F&B operators do not expect to survive for more than three months under the current conditions, says its spokesman Joshua Liew, co-founder of Espressolab Asia Pacific Sdn Bhd.
The alliance, which started as a support group over WhatsApp with only 10 members, has turned into a platform for the collective voice of the industry. It managed to secure a meeting with the Economic Action Council before the announcement of the Prihatin package by Prime Minister Tan Sri Muhyiddin Yassin last Friday.
"We asked the government to give attention to two items – wage subsidy and rental rebates," Liew tells Enterprise.
He says the alliance chose to keep it simple because these are the two main issues affecting F&B operators. "Every other issue would be addressed by other SME associations. Then, the stimulus package came out and there was a wage subsidy, but there was nothing to address the rental rebates."
Most businesses cried foul over the stimulus package, feeling that they had been left out of the equation. MyF&B decided to wait and come out with a more measured response. 
"In the midst of releasing our first press release, we secured a Zoom meeting with Finance Minister Tengku Zafrul. So, instead of criticising the government, we want to see what we can do to continue engaging with them and bringing the dialogue further," says Liew.
Some 300 members responded to the poll conducted before the stimulus package was announced. These alone represented an annual revenue of RM2 billion and employed more than 11,000 people. "75% of us won't last beyond three months if the cash flow shock is not addressed soon," says Liew.
He adds that as far as the industry is concerned, MyF&B is just the tip of the iceberg. "There are over 200,000 registered F&B establishments in the country, employing about one million people (about 7% of the nation's workforce)."
Most people are unaware of the plight of the F&B operators because they think these can still sell their products via the various delivery services out there. However, these delivery services charge a whopping 30% commission, difficult enough to stomach in good times but completely unendurable when revenues have dropped 80%, says Liew.
"Fixed costs are so high and sales are so low. On top of that, delivery services are taking RM3 from every RM10 we sell. And not every F&B outlet has a delivery service. We are asking the government to have a dialogue with the delivery platforms to reduce their commissions during the MCO," he says.
But most important is the rental rebate. Liew points out that this should not be much of a problem to landlords as most banks have announced a moratorium on loans and some will not even accrue interest. 
"So basically, the landlords will not be paying their loans during this time. Surely, they can afford to cut us a break on the rent, which can then be channelled to paying our staff," he says.
The main priority of F&B operators is job preservation, says Liew. "If the businesses fail, the beneficiaries of these wage subsidies will be out of jobs. In the meantime, we will continue to dig deep into our own coffers to keep our businesses afloat, to pay empty rent and, more importantly, to pay salaries."