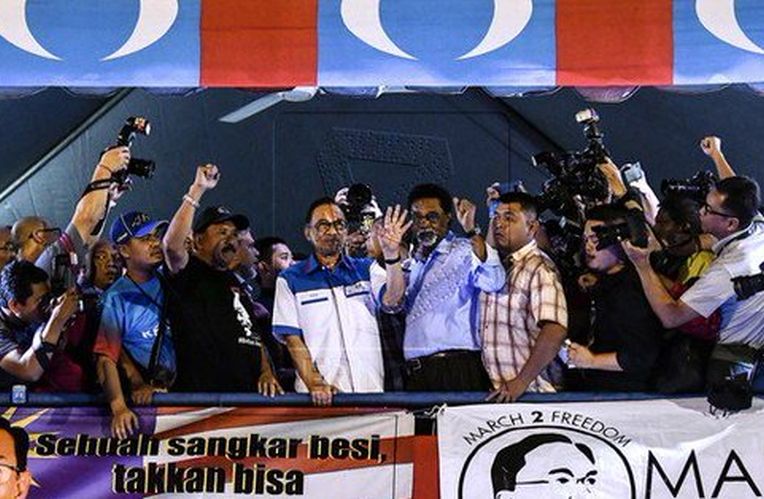 PETALING JAYA (May 16): PKR de facto leader Datuk Seri Anwar Ibrahim said he supports Tun Dr Mahathir Mohamad as Pakatan Rakyat's prime ministerial candidate because he is convinced that the veteran politician would carry the 'reformation' agenda for Malaysia.
"I would not have supported Tun Mahathir if he would not bring any change to Malaysia," he told thousands of supporters here at his first public rally upon being released from prison today.
Anwar urged his supporters to give their full backing to Dr Mahathir's premiership to correct the wrongs that have been committed by the previous government.
"The new government will be open to criticisms but we need to give our full support to Tun Mahathir and his Cabinet members to do their job," he said.
PKR vice-president Rafizi Ramli, another speaker at the gathering, reminded the Pakatan government that there is a bigger responsibility now compared to when it was the Opposition.
"Before this, we only had to oppose [the government]. Now the fate of 30 million Malaysians rests on our shoulders," he said.
"After years of being the Opposition, we understand the hardship when the government was being unfair to us. So we shall not be unfair to the current Opposition," Rafizi added.
Meanwhile, Parti Pribumi Bersatu Malaysia president Tan Sri Muhyiddin Yassin announced that Pakatan has been formally registered by the Registrar of Socities. Besides that, PPBM has also been recognised as a legitimate organisation by the RoS.
Other speakers at the rally included PKR leaders Datuk Seri Dr Wan Azizah Ismail, Datuk Saifuddin Abdullah, Nurul Izzah Anwar and Datuk Saifuddin Nasution, DAP secretary-general Lim Guan Eng, and Parti Amanah Negara president Mohamad Sabu.