This article first appeared in The Edge Financial Daily, on May 7, 2019.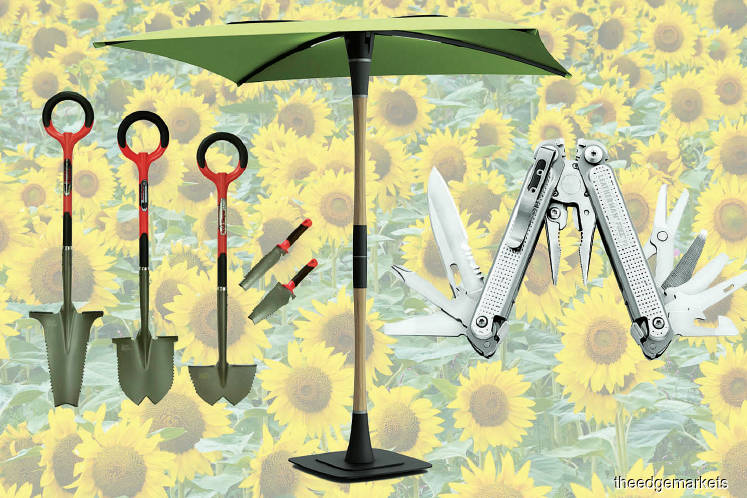 Somehow, when it comes time to buy a token of appreciation for the person who does the most demanding, important job in the world (some daunting amalgam of cop, psychiatrist, tech support, chief financial officer, and life coach), we tend to stereotype shop like we are buying for June Cleaver. Flowers? Lovely but forgettable. And that day spa gift certificate from last year? Did that even get used? Consider instead a bottle of toe-curling mescal, or a piece of garden hardware that looks like it could be used to slay dragons. Traditional gifts can even take on a tech edge or for the beauty-minded, a high-tech blow-dryer that happens to be gilded in 23.75-carat gold.
This Mother's Day, think about all that she does and all that she can do, and loves to do, and gift her ways to do it all better, easier, and with more bravado. Here are a few ideas to get you started.
A fly rod should be an extension of the person using it — if it feels wrong, it will work wrong — so you know a custom rod from woman-owned SaraBella (from US$570 [RM2,365]) will get it right, with a wide range of lengths, weights, and grip choices, as well as aesthetic considerations such as a custom thread colour.
Similarly, Furrow Surfcraft surfboards (from US$1,025), designed and shaped by Christine Brailsford Caro in Southern California, are built not just with performance and aesthetics in mind, including striking carved wooden inlays, but also environmental concerns, in a solar-powered workshop.
Death metal band or garden tool? The serrated edges and ergonomically designed handles of Radius Garden's Root Slayer five-piece landscaper set (US$199) will ensure that even after a day of planting black dahlias in the garden, Mom is not too wiped out for some headbanging.
Whatever you need Mom's typically got it. Now she can add wire cutters and Phillips head screwdriver to the arsenal. A new magnetic architecture on the Free P4 multitool from Leatherman (US$139.95) is designed to make opening and closing its 21 tools easy on those with nails.
Sure, any patio umbrella can keep the sun's rays at bay, but forward-thinking moms, with a penchant for flourish, will appreciate the solar-powered tech features of Shadecraft Robotic's Blossom umbrella (US$6,000): Built-in Bluetooth speakers, app-controlled lighting, automatic opening, closing, and even wind closure. Umbrellas are available with three wood choices and five fabric colours.
Chelsea Miller's one-of-a-kind, handmade chef's knives (from US$800) are in such demand, you will need to order now for Mother's Day 2020. In the meantime, a six-piece Miller-designed steak knife set (US$850), forged in the French village of Thiers by a family who have been making knives for more than 700 years, is a handsome addition to Sunday dinner. Bundled in a leather case, the set has violet-wood handles and elegantly curved, savagely sharp blades.
Use them on a perfectly seared, 45-day dry-aged bone-in rib-eye from Belcampo meats (US$45). Belcampo's Anya Fernald has cracked the code on making grass-fed beef as richly marbled and deeply flavoured as anything the traditional grain-fed industry can produce.
If Mom is more of an eating-clean type, consider juicing's dark secret: For every hour that a cold-pressed home-made kale and rutabaga juice adds to her life, the aggravation of cleaning the machine takes away two. The Hurom H101 Easy Clean Slow Juicer (US$499) has reconfigured its strainers so that a rinse is all it needs, while its 43rpm juicing speed guarantees that ingredients do not get heated and oxidised.
The most recent entrant to the connected home audio market, Bowers & Wilkins Formation speakers (from US$700) set the bar for combining striking design and uncompromising sound. The new suite of products is released under the Formation banner-branding, which might bring Beyoncé to Mom's mind: "I see it, I want it," indeed.
Mesmerising is not a typical word for a table. Then again, a Sisyphus Industries side or coffee table (from US$1,299) is anything but typical. Available in wood or welded steel frames, they are like dynamic Zen gardens in which a magnetically guided ball etches complex patterns in the sand that she can choose from in an accompanying app or design herself.
And while giving Mom anything to do with cleaning is admittedly a risky move, the Lidar-enabled Neato Botvac D7 Connected (US$830) is robotic one-up from a Roomba that makes (not) vacuuming, dare we say, … fun. An app maps everywhere it has cleaned and can summon it to trouble spots, like beneath a high chair, on demand or on a regular schedule. The adorable little shimmy it does as it backs itself against its charging dock is a bonus.
Maximising time, particularly those fragile yet all-important bedtime hours, Bose noise-masking sleepbuds (US$250) block out ambient noise, the pitter-patter of little feet, and the snoring that you definitely do not do with a wide selection of sounds, from gentle rain to the muted whir of a jet engine.
Come morning, upgrade her routine with a Special Edition Dyson Supersonic hair dryer (US$499), which includes a free stand or a free styling set with a detangling comb and paddle brush on all Mother's Day orders. Although typical hair dryers are brute, simple appliances comprised of a fan and heating element, Dyson engineers have raised the technical stakes — it checks/tweaks the air temperature 20 times per second — and its looks with a 23.75-carat gold face and a slick red presentation case.
For time spent outdoors, a sunburn should not be the clue that it is time to reapply sunscreen. L'Oréal's My Skin Track UV by La Roche-Posay (US$60) is a button-size clip-on device that tracks exposure to damaging UV rays and other damaging elements on a phone app, providing alerts when it is time to seek shade.
Let's face it: Mom probably needs a drink. Help her hop on the mescal trend with a forceful but elegant bottle of Mezcal Real Minero Barril (US$130), named for the barrel-like appearance of the agave variety used to make it. Graciela Angeles and her family have been making mescal for generations; unusual clay pot stills and bamboo tubing lend the spirit an earthy quality that complements the notes of smoke and green fruit.
If she is more of a whisky lover, Kikori (US$45), also owned by a woman, is a superb entry in the Japanese whisky boom. Going a step further than its Scottish counterparts by taking on local characteristics and production methods, the light and floral spirit is distilled from rice fermented with koji then aged for three years in a combination of American and French oak as well as ex-sherry casks.
Master blender Joy Spence has captured the essence of Jamaica in Appleton Estate's 21-year-old rum (US$140), coaxing notes of pineapple and vanilla with undertones of espresso and orange from an elegant spirit matured in oak casks. It is best enjoyed neat.
Whereas if Mom is looking for a cocktail, nothing is quite as regal as a G&T made with Empress 1908 gin (US$43). The gin's flavour comes from traditional botanical elements like juniper and grapefruit peel, as well as more esoteric sources such as the signature tea blend from the Fairmont Empress Hotel of Victoria, Canada, for which this gin was created.— Bloomberg