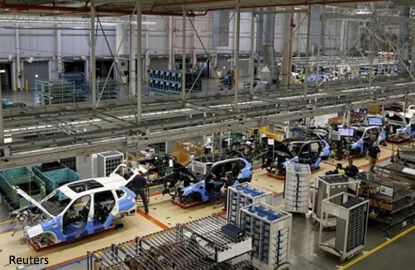 FRANKFURT (Jan 18): Germany's powerful carmakers warned uncertainty about future tariffs in the wake of a "hard Brexit" could deter investment in Britain over a number of years, hampering their largest export market.
Every second new car sold in Britain comes from a German-owned brand, and every second car made in the United Kingdom is exported to a customer in the European Union, Germany's carmaking lobby VDA said.
"An exit of Great Britain from the (EU's) common market would have significant consequences for the economy on both sides of the channel," VDA president Matthias Wissmann said in a statement to Reuters on Wednesday.
"A hard Brexit would be arduous and expensive. The consequence would be a long phase of insecurity. By the time new contracts have been negotiated, years will pass. This has a deterring effect on investors."
In a major speech on Tuesday, Prime Minister Theresa May said Britain would leave the EU's single market — interpreted by some economists as a "hard Brexit." She added Britain could not remain a full member of its tariff-free zone, but would seek unfettered trade with the bloc.
In 2015, the last year for which statistics are available, 810,000 cars made in Germany were sold in Britain, VDA said. Some 57% of cars exported from Britain go to the EU, it added.
"That is why the automakers have a large interest in finding solutions which enable intensive trade and preserves the value chain," Wissmann said.