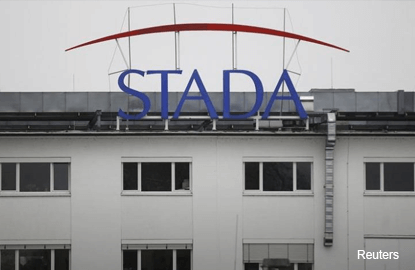 LONDON/FRANKFURT/BENGALURU (Feb 13): The prospect of a bidding war drove shares in Stada 14% higher on Monday, after the German drugmaker said it was weighing two takeover approaches, including one from private equity firm Cinven Partners which valued it at almost 3.5 billion euros (US$3.7 billion).
Buyout firms Advent, Permira and CVC have been working on offers for months and approached Stada about a deal, people familiar with the situation told Reuters. It remains unclear which of them Stada was referring to as the second suitor in its statement.
Cinven itself had been preparing a joint bid with Poland's unlisted Polpharma SA to combine the two drugs businesses and cut costs. The buyout firm decided to go it alone when the venture proved too complicated, a person familiar with the matter told Reuters.
Polpharma was not immediately available for comment.
Cinven was offering a price of 56 euros per Stada share, the German company said. The shares jumped 14% to 56.7 euros by 1115 GMT on Monday.
The approaches vindicate the strategy of activist investor Active Ownership Capital (AOC), which built a stake of about 7% in shares and options before May last year, when the shares were trading at around 30 euros apiece.
AOC was set up by former investment bankers Florian Schuhbauer and Klaus Roehrig and Stada marked the firm's first major investment.
The drugmaker said it was still weighing its options, saying it was "not possible to foresee whether a takeover offer from Cinven or the other potential bidder will materialise."
The buyout firms declined to comment and Stada would not elaborate on its statement.
Breaking up the company?
Under its former CEO Hartmut Retzlaff, Stada had steered clear of major merger deals, when the generic drug industry began consolidating to cut costs, driven by larger players including Teva and Allergan.
Retzlaff stepped down last August after more than two decades at the helm.
A source close to one of the bidders said that supervisory board, which previously opposed a sale, has become more open to considering bids, even though this will likely result in a breakup of Stada.
Founded in 1895 in Dresden as a pharmacists' cooperative, Stada is seeking to expand its non-prescription consumer care business. Its generic drug business is under price pressure as medical insurers in Germany, its largest market, are seeking bulk procurement deals at low prices.
Sources familiar with potential bidders say that a new owner will likely separate the two businesses — a challenge, because Stada is largely managed along regional or country divisions, which combine generics and consumer care lines of business.
Investor AOC had been pushing for personnel changes at Stada.
In August the investor succeeded in convincing shareholders to remove the German drugmaker's supervisory board chairman, but failed to install its candidate in the post.
Stada's supervisory board of non-executive directors, led since August by Carl Ferdinand Oetker, a member of the eponymous German family-owned baking goods and food group, has previously been unwilling to engage in negotiations with potential bidders, several people familiar with the matter have told Reuters. 
(US$1 = 0.9389 euros)