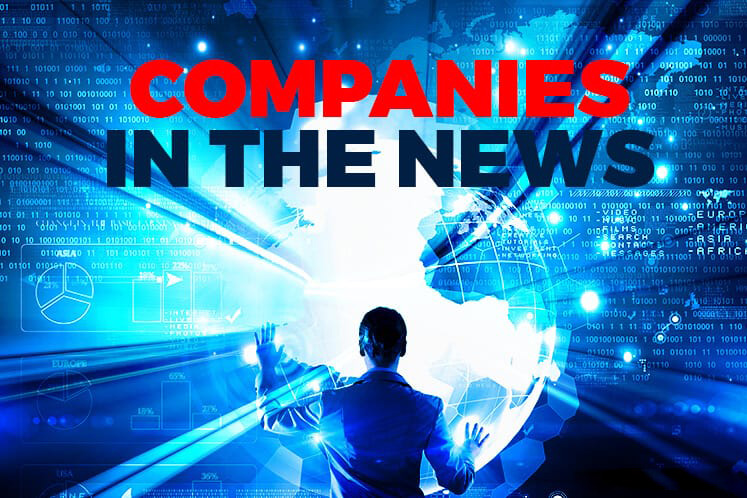 KUALA LUMPUR (March 25): Based on corporate announcements and news flow today, companies that may be in focus tomorrow (March 26) may include the following: George Kent (Malaysia) Bhd, Scomi Energy Services Bhd, Permaju Industries Bhd, OCR Group Bhd, Hai-O Enterprise Bhd, Rexit Bhd, Sapura Resources Bhd, Bio Osmo Bhd and Sapura Energy Bhd.
George Kent (Malaysia) Bhd's fourth quarter ended Jan 31, 2019 (4QFY19) net profit fell 64.81% to RM18.25 million, from RM51.85 million a year earlier, due to lower contribution from its engineering segment. Revenue dropped 33.78% to RM114.5 million, from RM172.92 million previously. The group has declared a third interim dividend of 3.5 sen per share, payable on April 30.
For the full financial year ended Jan 31, 2019 (FY19), net profit fell 31.74% to RM84.92 million from RM124.4 million in FY18 while revenue decreased 30.19% to RM430.75 million from RM616.99 million.
Scomi Energy Services Bhd has bagged two contracts worth US$150 million (RM610 million) from the Kuwait Oil Company for the provision of mud products and mud engineering services for deep drilling and development drilling.
Permaju Industries Bhd has partnered OCR Group Bhd to complete a residential and commercial development with an estimated RM1 billion gross development value in Kota Kinabalu, with profit sharing to be on a 50:50 basis.
The 44.28-hectare Princess Heights project, in Menggatal, which comprises shops, shop-offices, terraced houses, townhouses and a four-storey hypermarket, is also earmarked for the future development of an e-commerce and lifestyle hub. Upon completion of Phase 1E of the project, which consists of the four-storey hypermarket, it will be leased to Mydin Mohamed Holdings Bhd for a period of 20 years, with total collectable rental estimated at RM433 million.
Hai-O Enterprise Bhd's third quarter net profit fell 25.92% to RM12.79 million or 4.4 sen per share from RM17.27 million or 5.95 sen per share a year earlier, dragged by its multi-level marketing (MLM) and wholesale divisions. Revenue for the quarter ended Jan 31, 2019 fell 16.41% to RM86.16 million from RM103.07 million previously.
For the cumulative nine months ended Jan 31, 2019, Hai-O's net profit declined 33.91% to RM37.39 million or 12.86 sen per share from RM56.47 million or 19.5 sen per share a year ago. Revenue was down 26.41% to RM258.41 million from RM351.13 million.
Business application solutions provider Rexit Bhd has secured a five-year outsourcing services agreement from Great Eastern Takaful Bhd (GETB) to develop, manage and operate the mySalam portal for eligible members.
The agreement value will be calculated at RM1.40 per annum per eligible member, subject to a maximum charge of 4 million members. The agreement, inked via Rexit's wholly-owned subsidiary Rexit Software Sdn Bhd, will be valid until Dec 31, 2023, and may be renewed for a further two-year period or any other specified period as required by GETB.
Sapura Resources Bhd posted a net loss of RM1.86 million in its fourth quarter ended Jan 31, 2019 (4QFY18), after having also reported losses for each of the first three quarters, compared with a net profit of RM14.90 million last year, when there was a one-off reversal of an indemnity provision worth RM22 million.
Revenue rose marginally to RM13.08 million from RM12.95 million a year earlier, due to higher contribution from the property segment.
For the full year ended Jan 31, 2019 (FY19), the group posted a net loss of RM6.14 million against a net profit of RM13.45 million in FY18, while revenue fell 4.9% to RM48.84 million, from RM51.35 in FY18.
Bio Osmo Bhd's shareholders have been told to reject the takeover bid launched by its largest shareholder, Datuk Seri Farouk Abdullah, which has been deemed "not fair and not reasonable" by independent adviser DWA Advisory Sdn Bhd.
DWA Advisory said the offer price of 5 sen is considered not fair as it is lower than the estimated valuation, based on the sum-of-parts valuation (SOPV) method, of six sen to seven sen per share in Bio Osmo, representing a discount of 16.7% and 28.6%. The offer price also represents a discount of about 23.1% over the closing price of Bio Osmo as at the last full trading date.
The offer is also not reasonable considering that the offeror intends to maintain the listing status of Bio Osmo and does not intend to compulsorily acquire any outstanding offer shares for which valid acceptances have not been received prior to the closing date.
Sapura Energy Bhd returned to the black in the fourth financial quarter ended Jan 31, 2019 (4QFY19) with a net profit of RM500.43 million, compared with a net loss of RM2.29 billion a year ago, boosted by a gain of RM2.66 billion from the sale of a 50% stake in its exploration and production (E&P) business, through the strategic partnership with OMV Aktiengesellschaft (OMV AG) in November last year. Revenue rose 64.5% to RM1.49 billion from RM902.7 million, on higher revenue from its engineering and construction segment.
The group declared a special dividend of 0.5 sen per share for FY19, payable on June 24. For full year FY19, the group recorded a net profit of RM207.55 million compared with a net loss of RM2.5 billion in the previous year, though revenue fell 9.5% to RM4.57 billion from RM5.05 billion.