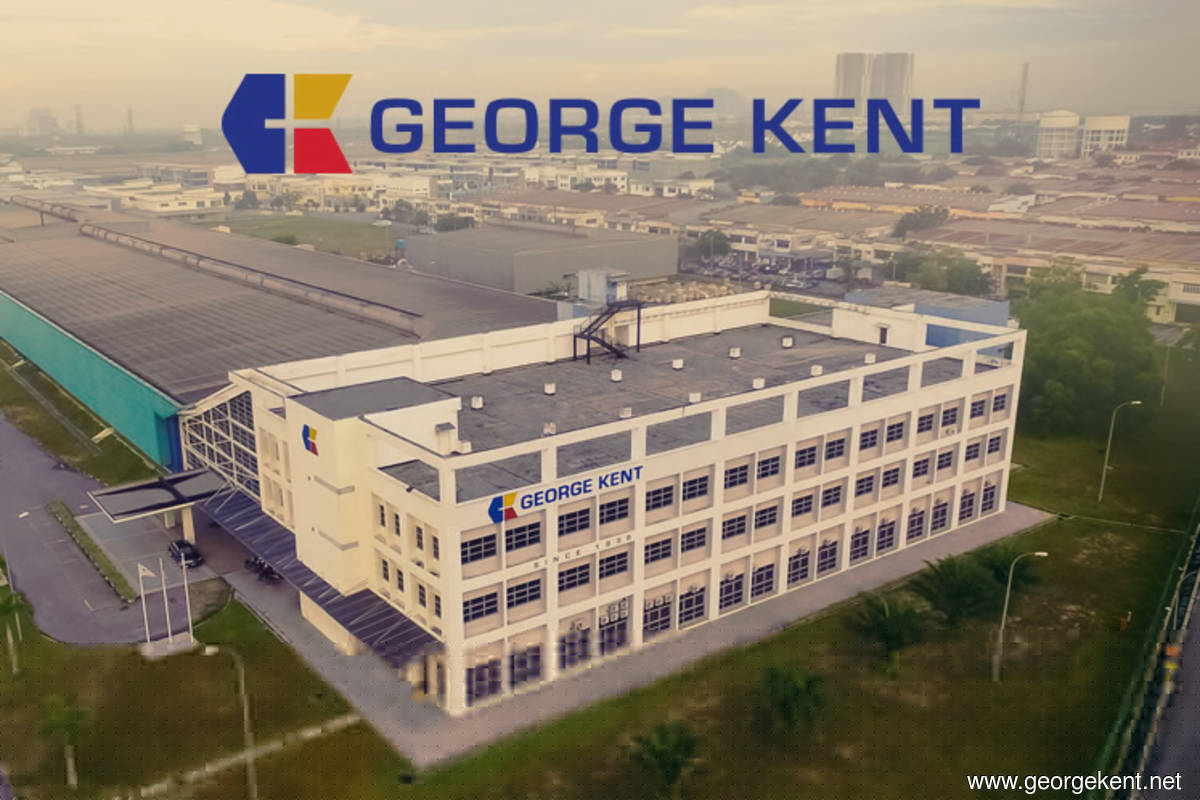 KUALA LUMPUR (March 29): George Kent (Malaysia) Bhd said it has been invited by Johan Holdings Bhd to buy a 40% stake in the latter's subsidiary, Dynacare Sdn Bhd, for RM40 million.
George Kent and Johan share the same major shareholder — Tan Sri Tan Kay Hock.
In a bourse filing, George Kent said Dynacare will work on constructing a manufacturing plant to make gloves for two years, with a global contract sum of RM624.1 million.
It added that the purchase of the 40% stake will be funded by its internally generated funds and bank borrowings. This RM40 million will be used to finance the working capital requirements of Dynacare, as well as a financial commitment to constructing and setting up the rubber glove manufacturing plant, which includes the acquisition of a piece of land.
The glove manufacturing plant is expected to be completed and be fully operational by July 2023, George Kent said in the filing.
"Our board anticipates that the group's new business activities in the glove business may contribute to 25% or more of the net profits of the group and/or result in a diversion of more than 25% of the NA of the group towards the aforesaid new business activities moving forward."
Dynacare has signed an agreement with Small Medium Enterprise Development Bank Malaysia Bhd (SME Bank) to acquire a 71,980 sq m plot of leasehold industrial land in Lumut, Perak for RM27.3 million. The land currently houses five single-storey factories, a store, an office building and ancillary buildings totalling 19,965 sq m of gross floor area.
The plan for this new glove business is to instal and commission 42 production lines within the next two years or 24 months to manufacture examination and surgical gloves, which is expected to yield a production capacity of 12 billion pieces of gloves per annum.
Commercial production is expected to commence in August this year, with six production lines to be operational by December. The remaining 36 production lines will be commissioned and operational in stages in 2022 and 2023. It will be using double former glove-dipping machines.
In total, Dynacare plans to employ 1,698 workers for the glove business. 1,500 of them will be production or general workers, said George Kent.
The move is subject to approvals from George Kent and Johan shareholders as well as from any other relevant regulatory authorities.
Tan, who is George Kent's non-independent and non-executive chairman, is also Johan's chairman, chief executive and major shareholder. His wife Puan Sri Tan Swee Bee is a non-independent and non-executive director of George Kent and managing director and major shareholder of Johan.
Datuk Ahmad Khairummuzammil Mohd Yussof is an independent and non-executive director of both George Kent and Johan, with Star Wealth Investment Ltd being a major shareholder of both George Kent and Johan.
Kay Hock and Swee Bee are the group's largest shareholders with a 44.92% stake or 237.75 million shares in George Kent through their vehicles Kwok Heng Holdings Ltd, Kin Fai International Ltd, Suncrown Holdings Ltd and Star Wealth Investment, plus their direct stakes as well as of May 29, 2020.
The couple control 50.84% or 316.71 million shares of Johan through Sky Wealth Ventures Ltd, which in turn owns Mustika Manis Sdn Bhd, Kin Fai International, Suncrown Holdings, Kwok Heng Holdings and Star Wealth Investment, as of May 29.
The proposal is expected to be completed by the second quarter of 2021.
Shares in George Kent finished 3.18% or 2.5 sen higher at 81 sen, valuing the group at RM456.25 million. Johan closed unchanged at 17.5 sen, for a market value of RM136.27 million.