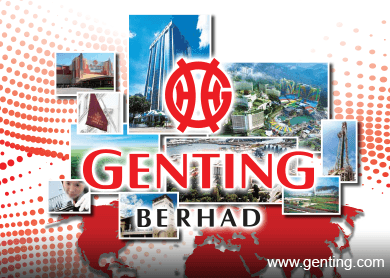 ALBANY, NEW YORK / LOS ANGELES (Dec 15): New York state plans to award its first full-scale casino licenses this week as Caesars Entertainment Corp. and Genting Bhd. vie to build a gambling palace within an hour's drive of the Big Apple's 8.4 million residents.
Four other publicly traded companies -- Empire Resorts Inc., Penn National Gaming Inc., Churchill Downs Inc. and Full House Resorts Inc. -- are among 16 bids for as many as four licenses. Winners are scheduled to be selected by the Gaming Facility Location Board on Dec. 17.
The biggest prize among three regions approved for casinos is the Catskill Mountains-Orange County area, parts of which are 50 miles (80 kilometers) from New York City. In that region, state officials are seeking to balance the goal of economic growth in the Catskills, a faded resort destination, against the potential for reaping more tax revenue in Orange County, which is closer to the city.
"New York City is the Holy Grail," said Srihari Rajagopalan, an analyst at UBS Securities LLC. "The casino customer prefers convenience over amenities."
The awards represent the last major prize in a round of expansion that has seen Ohio, Maryland, Kansas and Massachusetts approve Las Vegas-style gambling parlors during the past five years. The winners will get to open potentially lucrative casinos in the third-most-populous U.S. state. The losing companies, most of which already operate on the East Coast, will face new competition in an already saturated market.
Voter Approval
New York became the largest U.S. state to allow non-Indian casinos when voters approved a constitutional amendment last year. Governor Andrew Cuomo, who backed the amendment, says the casinos may add as much as $430 million to state and local coffers. Last week, he said he didn't have an opinion on who gets a license.
"We set up the process that has a separate board making the decision," Cuomo said at a Dec. 11 press briefing in Albany. "They should just do their job and go through the law and pick the best operators."
The expansion comes as growth in the $38 billion U.S. gambling industry slowed to 1.2 percent last year, from 4.8 percent in 2012, Fitch Ratings said last month in a report. In Atlantic City, New Jersey, about 130 miles south of Manhattan, four of 12 casinos closed this year. A bid to close a fifth, the Trump Taj Mahal Casino Resort, is in bankruptcy court.
New casinos have been taking business from established markets in Delaware, Missouri and West Virginia. That trend may continue with the New York openings, according to the Fitch.
No Jackpot
"Taxes on gaming are not the jackpot they once were for many states," Marcy Block, a Fitch senior director, said in the Nov. 24 report. "Outside of Las Vegas, gaming supply has largely met demand, so we don't expect overall revenues to increase dramatically."
New York is already home to nine video-slot parlors at racetracks and five full-scale casinos operated by Indian tribes under federal law.
At hearings in September, the five-member location board quizzed bidders on their ability to overcome competition from other states. In addition to the Catskills-Orange County zone, casinos were approved for the capital region around Albany and a third area along the Pennsylvania border.
"Our primary focus is on picking the best locations," Kevin Law, the panel's chairman and president of the Long Island Association, a business organization, said in an interview at the hearings in Albany. "We have to look at economics as well, because we don't want to do a disservice to residents of this state as the entire gaming industry is going through some type of retrenching."
Asian Customers
To overcome the saturation, Genting, the largest casino operator in Malaysia, said it would tap a database of Asian customers for both of the resorts it has proposed in Orange County. It would also build off clients who already go to Resorts World Casino at the Aqueduct Racetrack in New York City's Queens borough.
"Genting is focused on delivering the greatest economic benefit for the state of New York by recapturing gaming dollars currently spent out of state," said Michael Levoff, a spokesman for Genting in New York.
Las Vegas-based Caesars, which has proposed a casino in Orange County near the Woodbury Common outlet mall, is the largest operator in Atlantic City. The company said it would draw on its list of 45 million gamblers, and celebrity chefs including Gordon Ramsay and Bobby Flay, to get attention for its $880 million project.
The Caesars project wouldn't preclude a license for a casino in the Catskills, said Jan Jones Blackhurst, head of government relations.
"You can have one in Orange County and one in the Catskills, depending on how you design them," Blackhurst said by e-mail. "New York state would be leaving way too much on the table to exclude Orange County."