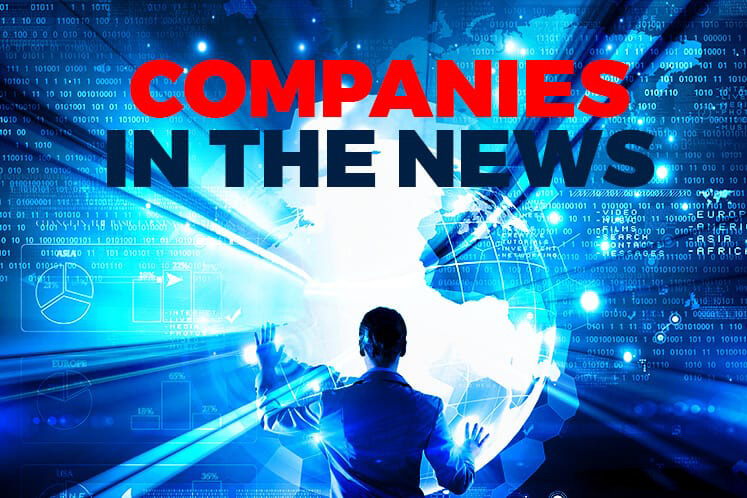 KUALA LUMPUR (Jan 11): Based on corporate announcements and news flow today, companies that may be in focus on Monday (Jan 14) may include the following: Genting Bhd, Poh Kong Holdings Bhd, Scomi Energy Services Bhd, Perisai Petroleum Bhd, Tatt Giap Group Bhd, APFT Bhd, Spring Gallery Bhd and Green Packet Bhd.
Genting Bhd has argued that its upcoming hotel and casino resort in Las Vegas will look "dramatically different" from Wynn Resorts Holdings LLC's property when it opens for business in late 2020.
Genting said Wynn Resorts' claim has been predicated on speculative extrapolation regarding the appearance of its unfinished resort and casino, which it said is still in an early stage of construction with nearly two years left to go before the opening.
It also claimed that Wynn Resorts has failed to demonstrate the threat of imminent and irreparable harm, which is a key requirement for the granting of any order of temporary or preliminary injunctive relief.
Genting said the US District Court of Nevada has granted an extension of time for it to file its response to the complaint, and any material development of the legal suit will be announced.
Poh Kong Holdings Bhd expects to stem the decline in net profit to record a growth in the current financial year ending July 31, 2019, on anticipation of higher gold prices this year.
Its executive chairman-cum-managing director Datuk Eddie Choon is predicting gold price to trade at US$1,300 to US$1,400 per ounce in the next 12 months, up from below US$1,300 per ounce now.
Choon is of the view that gold will benefit from the ongoing US-China trade war concerns, as investors may find the precious metal a safe haven.
Scomi Energy Services Bhd's (SESB) board has commenced an investigation into the RM64.33 million lent to its parent company Scomi Group Bhd as the advances were made without board approval.
The advances without board approval have dragged SESB into deeper financial trouble as Scomi Group, which holds a 65.64% stake in SESB, has not been able to repay the outstanding amount.
The board said that it is currently reviewing the management structure and terminating the shared services arrangement between itself and the parent company, except for certain critical functions.
Perisai Petroleum Bhd will be suspended from trading effective Jan 22 after the stock exchange rejected the group's proposed regularisation plan.
Unless Perisai appeals against the exchange's decision before Feb 10, upon its delisting, the company will continue to exist and may continue its operations as an unlisted entity.
The company was first classified as a PN17 company on Oct 2, 2016 after it defaulted in payment of the principal and interest for S$125 million multi-currency medium term notes.
Tatt Giap Group Bhd has seen Dynaciate Engineering Sdn Bhd emerging as its largest shareholder, after the latter increased its stake to 29.74% from 12.95% previously.
Dynaciate said this "further reinforced its commitment" to Tatt Giap's growth.
Tatt Giap's recently-appointed executive director Khoo Song Heng, who jointly owns Dynaciate, said the group has "solid plans and strategies which we believe will give a boost to the group's momentum" and increasing stake in the group was to ensure the plans can be succesfully executed.
APFT Bhd, which appointed two new directors barely three months ago, has received a fresh requisition from shareholders for an extraordinary general meeting to remove the new appointees and three other directors.
The directors named for removal are recently appointed Tengku Shamsulbhari Tengku Azman Shah and Datuk Tan Choon Hwa, as well as Edwin Silvester Das, Tan Sri Zaini Omar and Saiful Azhar Mohd Yusoff.
The shareholders, who hold an aggregate of more than 10% of APFT's issued share capital, also proposed the appointment of Jeya Kumar Jegathison, Chan Tiam Hin and Tan Chee Koon as new directors.
APFT said it is seeking legal advice on the matter.
Spring Gallery Bhd saw some 19.7 million of its shares, representing a 9.92% stake, traded off-market at a discount today, for a total of RM12.8 million.
The transaction could be linked to the former principal private secretary of Sarawak Chief Minister, Wan Khalik Wan Muhammad, who emerged as a shareholder in Spring Gallery with a 10% stake after acquiring 19.86 million of the company's shares via a private vehicle Total Sejati Sdn Bhd today.
Green Packet Bhd saw some 37.4 million of its shares, representing a 4.98% stake, traded off-market at a premium today.
The shares were transacted in six tranches for an aggregate sum of RM13.08 million, or at 35 sen apiece. This represents an 11.1% premium to the stock's last traded price of 31.5 sen in the open market, where only 64,200 shares crossed.
Parties involved in the transaction were not known at the time of writing.