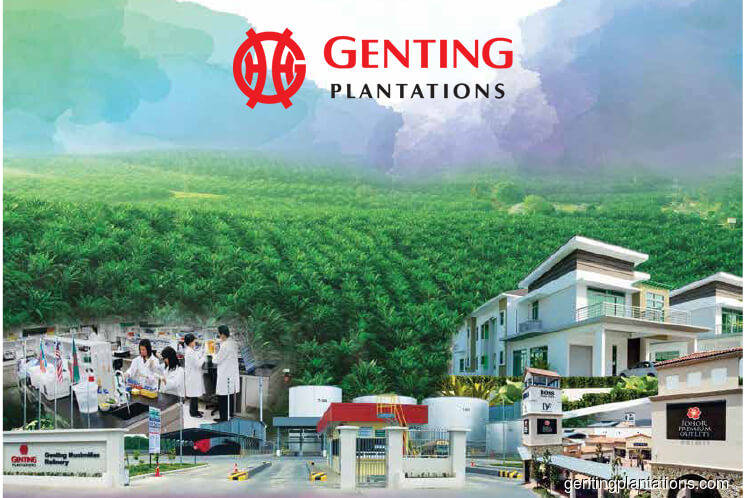 KUALA LUMPUR (Feb 26): Genting Plantations Bhd has posted a fourfold jump in net profit to RM61.69 million in the fourth quarter ended Dec 31 (FY19), from RM14.27 million in the year-ago quarter, supported by higher crude palm oil (CPO) prices.
Quarterly revenue rose a third to RM643.59 million, from RM482.34 million before, on the back of higher CPO prices and sales volume of biodiesel and refinery products, as well as improved property sales.
Genting Plantations recommended a final single-tier dividend of 9.5 sen per share for FY19, bringing total dividends for the year to 13 sen, comparable to FY18.
In a bourse filing, the group said its fresh fruit bunches (FFB) production during the quarter was lower on-year as the output decline from its Malaysian estates arising from dry weather conditions in the first half of 2019 exceeded the production growth from Indonesia.
CPO prices rallied sharply in the quarter, driven by the decline in inventory levels from the tightening of supply and anticipated increase in demand upon implementation of the higher biodiesel mandates in Indonesia and Malaysia.
"However, the late rally was not sufficient to offset the weaker year-on-year CPO prices for the first nine months of 2019, resulting in the group posting a marginally lower y-o-y CPO price of RM2,048 per metric tonne for FY19.
"Meanwhile, the group's palm kernel price for 4QFY19 and FY19 was lower y-o-y, burdened by the elevated inventory levels for palm kernel oil."
Earnings for its property segment were underpinned by higher contribution from property sales, while earnings for its biotechnology segment were relatively stable.
Genting Plantations' net profit for the full year came in at RM142.07 million, down 13.8% from RM164.90 million in FY18.
This was despite a 19.1% growth in annual revenue to RM2.27 billion, from RM1.90 billion before, on higher sales volume at its downstream manufacturing segment.
Genting Plantations said its prospects for FY20 will track the performance of its mainstay plantation segment, which is in turn dependent principally on the movement in palm product prices and the group's FFB production.
"Despite the headwinds from the Covid-19 outbreak, palm product prices are currently trading well above their corresponding levels in 2019.
"In the near term, the group expects prices to also be influenced by other factors, including the extent of palm oil supply tightness, demand for palm oil from major importing countries and the implementation of higher biodiesel mandates by Indonesia and Malaysia."
It anticipates an overall growth in FFB production for 2020, mainly driven by additional mature areas and better age profile in Indonesia, but sees moderating crop production due to lagged effects of dry weather conditions across both Malaysia and Indonesia in 2019.
Shares in Genting Plantations closed 14 sen or 1.38% down at RM10 today. At its current price, the group has a market capitalisation of RM8.97 billion.