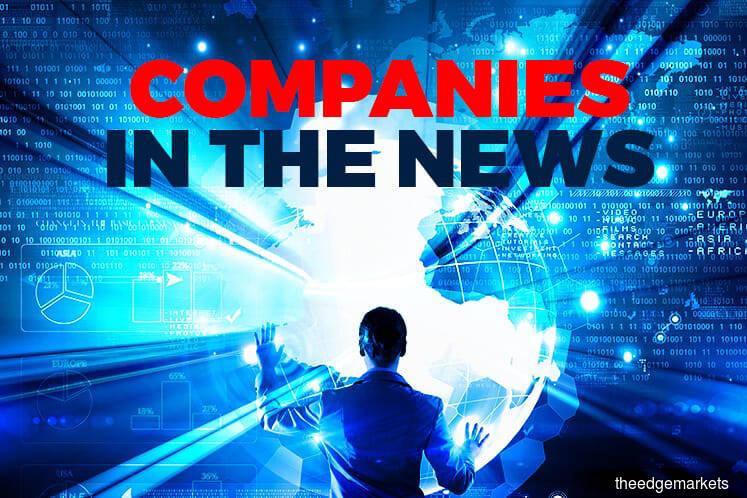 KUALA LUMPUR (Dec 20): Based on corporate announcements and news flow today, companies that may be in focus on Friday (Dec 21) may include: Genting Malaysia Bhd, Tenaga Nasional Bhd (TNB), E.A. Technique (M) Bhd, KKB Engineering Bhd, Cahya Mata Sarawak Bhd, YFG Bhd, Atta Group Global Bhd, Dagang Nexchange Bhd (Dnex) and Aeon Credit Service (M) Bhd. 
The opening date of Genting Malaysia Bhd's most anticipated new outdoor theme park is still up in the air, as the group is still considering various options for it. 
It clarified in a stock exchange filing today that "the opening date of the outdoor theme park is dependent on the options to be pursued by Genting Malaysia". 
Tenaga Nasional Bhd is targeting to increase the number of customers next year through the implementation of the Net Energy Metering (NEM) and the Supply Agreement for Renewable Energy (SARE) schemes via its wholly-owned subsidiaries TNBX Sdn Bhd and G-Sparx Sdn Bhd. 
TNBX Sdn Bhd Senior Manager (New Product Development) Dr Aznan Ezraie Ariffin said the increase was expected, following the various opportunities and incentives offered to customers under these schemes.
"As at August 2018, there are 230 residences, 83 commercial buildings and 39 industry players benefiting from the NEM implementation, which began in early 2017," Aznan said.   
E.A. Technique (M) Bhd has bagged two contracts for the supply and operation of vessels, worth a collective RM94.5 million. 
Of this, RM66.3 million is a contract from Petroliam Nasional Bhd (Petronas) to provide and operate two units of 40-tonne bollard pull harbour tugs for Kertih Port Sdn Bhd, and one harbour tug cum support vessel for Petronas Penapisan (Terengganu) Sdn Bhd. 
Another RM28.2 million is from Sungai Udang Port Sdn Bhd for the provision of a 40-tonne bollard pull harbour tug, one multi-purpose mooring boat, and two 60-tonne bollard pull harbour tugs. 
"These contracts are expected to contribute positively to the earnings and net tangible assets of EA Technique for the financial year ending Dec 31, 2019, and beyond," EA Technique said. 
KKB Engineering Bhd's unit Harum Bidang Sdn Bhd has secured a supplementary contract for the supply and delivery of concrete-lined mild steel pipes and mechanical couplings worth an estimated RM46.7 million. 
The contract, which was awarded by CMS Infra Trading Sdn Bhd, a unit of Cahya Mata Sarawak Bhd, entails the supply and delivery of the pipes to JKR Central Unallocated Stores in Tanah Puteh, Kuching. 
Cahya Mata Sarawak is also a major shareholder of KKB. 
Practice Note 17 company YFG Bhd said Atta Group Global Bhd has terminated a RM30 million construction contract that was offered to the group, due to corporate and personal guarantee issues.
The contract was for the construction of 112 units of 14-storey apartments and eight units of three-storey terrace houses in Butterworth.
Dagang Nexchange Bhd (Dnex) has proposed to dispose of its 51% stake in Forward Energy Sdn Bhd (FESB) to FESB managing director Datuk Azmi Abdullah for a nominal sum of RM1.
Dnex said it wants to exit FESB, as the firm's operating and other expenses amount to RM2 million annually.
Azmi and his wife Datin Zarinah Md Shariff already control 42.33% of FESB, which is primarily engaged in the independent power producer (IPP) business.
Dnex at the same is also acquiring a 100% interest in Forward Energy Generation Ltd (FEGL) from Labuan-incorporated Forward Energy Ltd for RM6.69 million.
Aeon Credit Service (M) Bhd's net profit rose 23.5% to RM87.14 million in the third financial quarter ended Nov 30, 2018, from RM70.55 million a year ago, as revenue improved on stronger interest income, profit revenue, finance charges and fee income. Earnings per share rose to 33.35 sen from 28.74 sen. 
Revenue grew 11.6% to RM348.5 million, from RM312.34 million a year ago.
The group's impairment loss on financing receivables was also lower at RM61.51 million, versus RM86.49 million a year ago.
For the cumulative nine months, Aeon Credit's net profit rose 22.6% to RM267.01 million, from RM217.75 million in the same period last year, while revenue rose 8.7% to RM1.01 billion from RM925.95 million.