This article first appeared in The Edge Financial Daily, on February 6, 2020.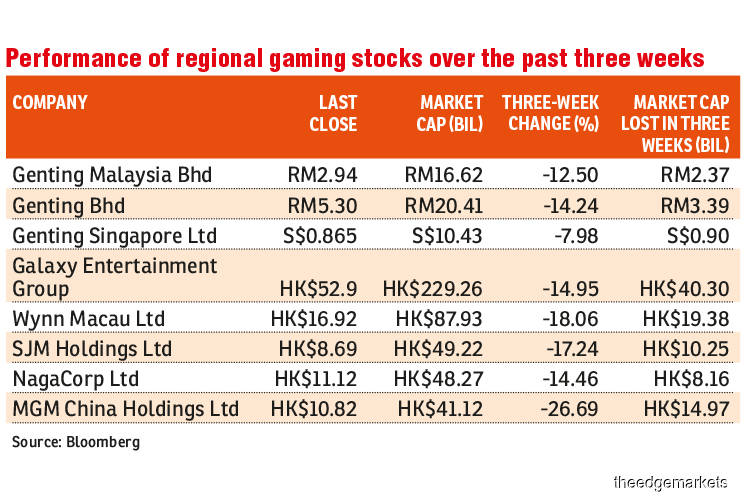 KUALA LUMPUR: Casino operators in the region, which are hit hard by the Wuhan virus outbreak, are selling targets as the number of confirmed infected cases continue to climb. Genting Malaysia Bhd is not spared from the selldown.
Genting Malaysia's share price slipped below the RM3 level yesterday to RM2.94 — its lowest since January last year.
The group's announcement on cancelling all tour bookings from China for February added pressure on its share price. Any cancellation will be revenue foregone.
Genting Malaysia said the cancellation was carried out in accordance with international health and safety practices to reduce the risk of spreading the novel virus.
The hilltop casino operator's share price has tumbled 12.5% over the past three weeks from RM3.36 on Jan 17, wiping out market capitalisation of RM2.37 billion. It is currently trading below analysts' consensus target price of RM5.36.
Likewise, its parent company Genting Bhd's share price has also skidded, dropping 14.24% in three weeks to close at RM5.30, its lowest since March 2010.
At the current level, the conglomerate's share price is 27.4% below its consensus target price of RM7.30. In terms of market value, Genting also lost some RM3.39 billion in three weeks.
Nonetheless, Affin Hwang Capital analyst Ng Chi Hoong believes that the impact could be relatively limited, as China tourists are not the main volume driver for mass or VIP market.
"Based on the nationality on the hotel occupancy, 70% of the rooms are sold to locals. We believe that most of the gaming volume is contributed by locals, followed by Asean countries," said Ng.
He, however, noted that the reduction in volume is still unavoidable in the first quarter of 2020 as overall travel volume slows, adding that there could be a downside risk to the forecast if the outbreak prolonged.
"I believe the biggest concern that most investors had was how long will the outbreak last, as (business) volume will no doubt be impacted as tourists and locals are likely to shy away from crowded places (including casinos)," said Ng.
Still, the biggest catalyst for Genting Malaysia is the opening of its theme park by year end, he noted. If the travelling or spending pattern does not improve, it would not be a surprise if visitation numbers fall below most analysts' expectations, said Ng.
Concerns of weaker-than-expected earnings aside, Nomura head of equity research Tushar Mohata sees the bargain-hunting opportunity after the recent drop considering Genting Malaysia's exposure to overseas tourists is lower that its peers such as in Singapore.
Tushar highlighted that it is likely that even the number of local visitors will decline in the near term.
"However, usually a sell-off in tourism stocks during times of pandemics is transitory if history is any guide, and typically makes a V-shaped recovery once the outbreak is contained," said Tushar.
"While we don't claim to know when that will be during the current outbreak as data is very limited, given Genting Malaysia's scheduled theme park opening by this year and potential for earnings upgrades if the losses in Empire [Resorts Inc] are reduced faster than expected, I think it is at a good entry point," he added.
On the brighter side, it appears that the Genting counters have it slightly better than casino operators in Macau. Casinos in the special administrative region were forced to shut down for two weeks as preventive measures to curb the virus spread.
A random check on Bloomberg showed that the share price of casino operator MGM China Holdings Ltd plunged 26.7% over three weeks.
TA analyst Tan Kam Meng said: "As you can see in casino operators listed in Hong Kong, share prices have been bashed down over the past one month. Genting Malaysia, which has relatively high foreign shareholders, is exposed to this downside risk."
"We would not buy any stocks now, [whose businesses] can be affected by the Wuhan virus unless we are very sure the risk of this virus outbreak has subsided," he added.