Click / Tap image to enlarge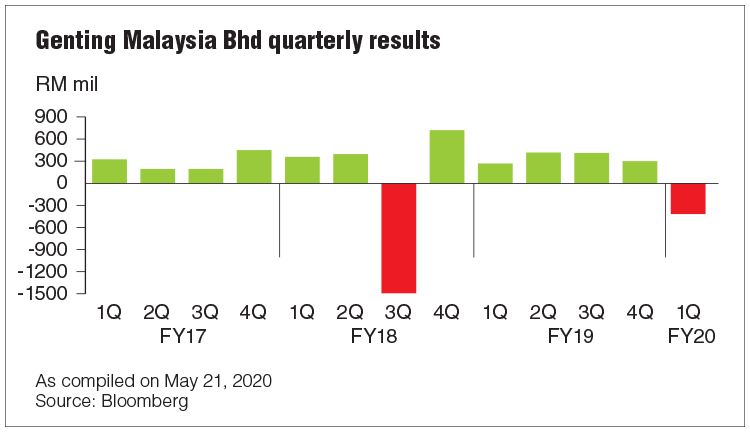 KUALA LUMPUR (May 21): Severely affected by the Covid-19 pandemic, Genting Malaysia Bhd posted a net loss of RM417.95 million for the first quarter ended March 31, 2020 (1QFY20), compared to a net profit of RM268.28 million for the previous corresponding quarter.
Adding to the woes, the casino operator recognised a loss of RM100.1 million relating to its stake in financially stressed Empire Resorts Inc, a casino it acquired from controlling shareholder Tan Sri Lim Kok Thay last year.
Genting Malaysia explained that the loss was primarily due to refinancing costs associated with Empire Resorts's debts as well as depreciation and amortisation costs.
The group's losses did not come as a surprise as all its casinos had been shut down temporarily since mid-March due to the outbreak.
Its quarterly revenue shed 28.5% to RM1.95 billion from RM2.73 billion a year ago.
In a local filing, Genting Malaysia said that its home operation's revenue dropped by 36% to RM1.22 billion, while its adjusted earnings before interest, taxes, depreciation and amortisation (Ebitda) shrank 40% to RM331.2 million. 
In the US and Bahamas, revenue was down by 13% to RM320.7 million, while adjusted Ebitda tumbled by 78% to RM14.7 million.
On its prospects, Genting Malaysia cautioned that it expects its financial results for the remainder of the year to be adversely impacted, while the full extent of the impact of Covid-19 is uncertain at this point in time.
It said it will continue to implement various aggressive cost-control measures, including reductions in operational expenditure such as payroll and related costs as well as the cancellation or deferment of non-essential capital expenditure.
It also said it had put in place stringent health and precautionary measures at all its properties to prepare for the recovery of the leisure and hospitality sector.
See also:
Genting Malaysia slashes headcount when chips are down
Covid-19 closures push Genting into the red with RM133m quarterly loss