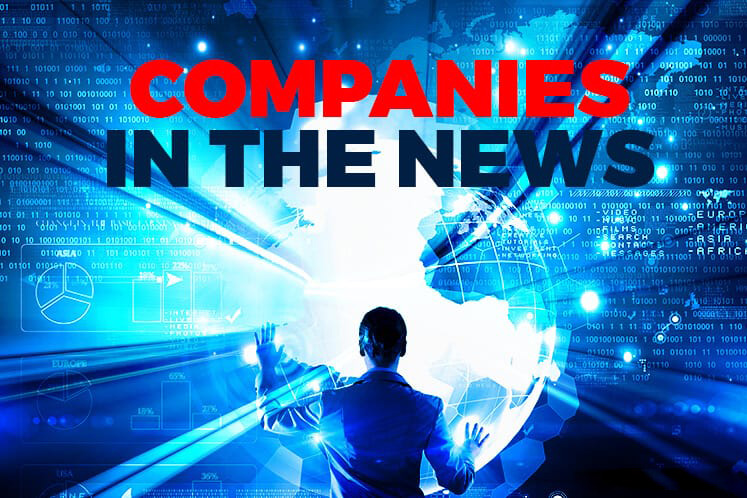 KUALA LUMPUR (June 20): Based on corporate announcements and news flow today, stocks in focus on Friday (June 21) may include Genting Malaysia Bhd, Kerjaya Prospek Group Bhd, Boustead Holdings Bhd, KKB Engineering Bhd, Seacera Group Bhd, Aeon Credit Service (M) Bhd, Serba Dinamik Holdings Bhd, WCT Holdings Bhd, Poh Kong Holdings Bhd, UMW Holdings Bhd and Berjaya Media Bhd.
Genting Malaysia Bhd has decided to withdraw its judicial review application against the Ministry of Finance's (MoF) decision to amend the 2014 tax incentive approval in December 2017.
The group announced the decision in a filing with Bursa Malaysia today, without elaborating on the rationale for the move.
On Jan 24, the High Court granted Genting Malaysia leave to commence the judicial review, and a stay of the MoF decision pending disposal of the judicial review application.
Kerjaya Prospek Group Bhd has secured an RM227.3 million contract to construct the main building for a development project within the Bukit Bintang area in Kuala Lumpur.
Kerjaya Prospek said its unit Kerjaya Prospek (M) Sdn Bhd accepted the letter of award yesterday from Enduring Power Sdn Bhd.
Boustead Holdings Bhd has secured a vessel refit works contract worth RM95.99 million from the Defence Ministry.
The group said its subsidiary Boustead Naval Shipyard Sdn Bhd will undertake the works for the patrol vessel KD Terengganu.
It said that a formal contract between the Government and Boustead Naval Shipyard will be signed at a later date.
KKB Engineering Bhd has scored three contracts worth a total of RM29 million.
The group said its subsidiary OceanMight Sdn Bhd received a subcontract letter of award from MISC Offshore Floating Terminals Dua (L) Ltd for the provision of engineering, procurement, construction and commissioning of a new electric submersible pump module in relation to upgrade and modification works on MAMPU-1 and AJK Platform for Vestigo Petroleum Sdn Bhd.
The group was also issued a supply order by Mirecont Sdn Bhd to supply mild-steel cement lining (MSCL) pipes for the Sarawak Water Supply Grid Programme.
The group had also received a purchase order from SKE Alliance Sdn Bhd to supply MSCL pipes to the Sarawak Water Supply Grid Programme.
Tile manufacturer Seacera Group Bhd has been served a letter of demand for RM18.3 million from AmBank Islamic Bhd.
The PN17 firm said it received the letter as the guarantor for facilities taken by its subsidiary Seacera Ceramics Sdn Bhd in respect of total amount outstanding and due payable under the Murabahah Tawarruq Term Financing-I and Cashline-I.
Seacera is required to settle full settlement within seven days from June 19 failing which AmBank Islamic will proceed with necessary action as deemed fit and all costs to be incurred by the company.
Aeon Credit Service (M) Bhd, which recorded a net profit of above RM300 million in the previous two financial years, hopes to maintain the performance for the current year.
Group chairman Ng Eng Kiat said although the country's economy appears to be affected by the ongoing US-China trade tensions, Aeon Credit's business has been fairly stable and is still recording growth.
Meanwhile, the group's managing director Kenji Fujita, 49, is retiring from his position effective today, will be succeeded by Yuro Kisaka, 44.
Engineering, procurement, construction and commissioning (EPCC) outfit Serba Dinamik Holdings Bhd said it is eyeing a net profit growth of about 10% for the financial year ending Dec 31, 2019 (FY19), as it intends to secure several more contracts within the year.
Chief executive officer Datuk Dr Mohd Abdul Karim Abdullah said the management is targeting to achieve revenue growth of 15% to 20%, translating to sales revenue of RM4 billion.
He also said the group targeted net profit growth of 10% to 12%, or over RM400 million for FY19.
WCT Holdings Bhd and Hyatt Hotels Corp (Hyatt) have entered into a management agreement to develop a 200-room hotel in an integrated development that includes the largest regional mall in Paradigm Mall Johor Bahru.
To be named Hyatt Place Johor Bahru, the hotel will feature 200 guestrooms, a cafe, swimming pool, fitness centre, as well as more than 2,400 sq ft of meeting space. It is set to open in 2020.
Jeweller Poh Kong Holdings Bhd announced a 25% jump year-on-year in net profit for the third quarter ended April 30, 2019. Its quarterly net profit leapt to RM5.39 million from RM4.31 million previously, riding on the back of an uptrend in gold prices.
However, quarterly revenue came in a marginal 1.7% lower at RM236.37 million compared with RM240.44 million a year ago, due to softer demand for gold jewellery products.
For the cumulative nine-month period, Poh Kong recorded a net profit of RM15.31 million, up 5.7% from RM14.48 million in the same period a year ago, while revenue grew 5.1% to RM768.65 million from RM731.35 million in 9MFY18.
Permodalan Nasional Bhd (PNB) has acquired a 30% stake in Strategic Sonata Sdn Bhd (SSSB) from Singapore's Mapletree Dextra Pte Ltd, leading to a proposed sale of land by UMW Holdings Bhd to SSSB becoming a related party transaction.
SSSB had on June 13 entered into a share subscription agreement with PNB for the stake acquisition in the former.
On Nov 30 last year, UMW announced that it was selling industrial leasehold land measuring 38.803 acres in Shah Alam, Selangor to SSSB for RM287.7 million.
Berjaya Media Bhd (BMedia), which publishes theSun newspaper, managed to narrow its losses by 38% in the fourth financial quarter ended April 30, 2019 amid the absence of a RM1.96 million impairment loss on quoted investments that was recorded in the year-ago quarter.
The group posted a smaller net loss of RM3.71 million for the quarter, from RM6.03 million previously.
However, quarterly revenue was down 25.9% to RM4.81 million from RM6.5 million previously.
For the full year, the group's net loss widened to RM17 million from RM12.5 million the previous year, while revenue dropped 22.9% to RM25.66 million from RM33.27 million.