This article first appeared in The Edge Financial Daily, on July 25, 2019.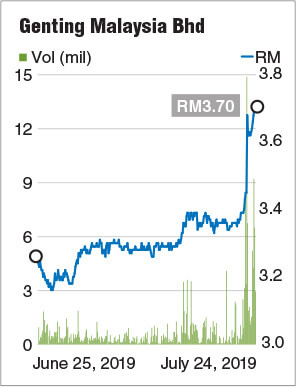 KUALA LUMPUR: Genting Malaysia Bhd saw active trade yesterday after Maybank Investment Bank (IB) Research upgraded the casino operator from "hold" to "buy" yesterday on expectation of an earlier opening of its troubled theme park.
Genting Malaysia shares reached as high as RM3.73 in intraday trade from its opening of RM3.50, before closing at RM3.70, giving the group a market capitalisation of RM21.97 billion. A total of 57.67 million shares changed hands compared to its daily average of 13.6 million shares over the past year.
"We gather that Resorts World Genting (RWG) could be opening its outdoor theme park (OTP) a lot earlier than we expected. Our earnings estimates are unchanged but we remove the 10% discount we previously ascribed to our sum-of-parts (SOP)-based valuation on added certainty that the OTP will finally open," Maybank IB wrote in its report.
It also raised its target price for Genting Malaysia to RM3.80 from RM3.40 previously.
It added that it is optimistic that the OTP will drive Genting Malaysia's next phase of earnings growth regardless of whether it opens in first quarter 2021 (1Q21) or earlier.
Maybank IB noted that RWG took out full-page job advertisements for its theme park division in local newspapers over the last two weeks.
"While we understand that this division oversees both Skytropolis indoor theme park and the OTP, Skytropolis has been open since December 2018. This suggests to us that the OTP, currently the subject of an US$1 billion lawsuit between Genting Malaysia and Fox/Disney, could be ready to open soon. We understand that construction of the OTP was around 95% completed as at July 2019," it said.
Last November, Genting Malaysia sued 21st Century Fox and its new owner Walt Disney Co, for pulling out of the OTP in RWG.
Genting Malaysia sought more than US$1 billion in damages in the suit and said Fox terminated the deal because Disney does not want to be associated with a gaming business.
Maybank IB said that it is unsure whether Genting Malaysia will reconcile with Fox/Disney, partner other studios or operate the OTP on its own, and has left its earnings estimates (based on the assumption that it will open in 1Q21) unchanged.
"That said, we remove the 10% discount we ascribed to our SOP-based valuation to arrive at a revised target price of RM3.80 as we are more certain that [the] OTP will finally open," it said.