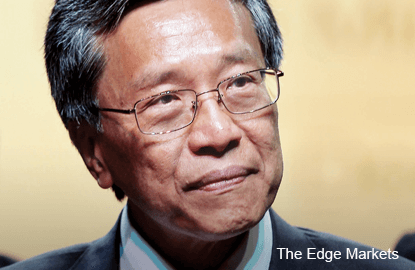 KUALA LUMPUR: Genting Malaysia Bhd has secured its shareholders' mandate to sell its entire 17.8% equity stake, or 1.43 billion shares, in Genting Hong Kong Ltd even as some minority shareholders view the selling price as too low.
Also, some minority shareholders voiced unhappiness saying that the share sale could pave the way for related parties to tighten their grip on Genting Hong Kong, which owns casinos in the Philippines. 
At the extraordinary general meeting (EGM), Genting Malaysia's board told shareholders that Tan Sri Lim Kok Thay, whose family controls the Genting group, had expressed interest in buying Genting Hong Kong shares. 
As at June 15, the Lim family owns a 58.44% stake in Genting Hong Kong. Genting Bhd, in which the Lim family holds a 39.75% stake, controls a 49.31% stake in Genting Malaysia.
"Tan Sri Lim Kok Thay had on June 13 indicated that he and entities in which he has interest or has deemed interest, may be interested in acquiring part of all the disposal shares held by us," said Genting Malaysia in a slide presented to shareholders.
Genting Bhd, the single largest shareholder of Genting Malaysia, and Lim refrained from voting at the EGM.
In a filing with Bursa Malaysia yesterday, Genting Malaysia said the disposal was approved by poll at the group's EGM held yesterday. The poll result showed that 75.84% of its shareholders, representing 1.55 billion shares, voted in favour of the resolution versus 24.16%, or 493.04 million shares, who voted against it. 
Shareholder William Ng, who attended the EGM, told The Edge Financial Daily that dissenting shareholders were concerned about the low minimum price for Genting Hong Kong's stake, which was fixed at US$0.33 (RM1.25).
The bulk of the shares would be priced between US$0.33 and US$0.45, according to a circular to shareholders.
The share price of Genting Hong Kong, which is listed in Hong Kong and Singapore, closed at US$0.345 across the Causeway. The minimum price of US$0.33 represents a discount of 4.34% to yesterday's closing price.
The group's original cost of investment in in Genting Hong Kong was US$604.1 million, representing an average price of US$0.42 per share, according to a circular to shareholders. This means the minimum price of US$0.33 apiece was a 21.43% discount to the cost of US$0.42 per share.
The audited net assets of Genting Hong Kong as at Dec 31, 2014 was US$3.19 billion or US$0.40 per share, stated in the circular. The minimum price represents a 17.5% discount to the audited net assets.
Based on the minimum price of US$0.33, Genting Malaysia is expected to receive gross proceeds of about US$472 million from the share sales. "With the minimum price of US$0.33, our group is expected to record a performance gain on disposal of about US$360.8 million in our group income statement," it said.
The casino operator, which is sitting on a net cash pile of RM1.12 billion, would utilise the sale proceeds to fund the 10-year Genting Integrated Tourism Plan and future investments.
According to Ng, Genting Malaysia had explained that it pegged the disposal price at a range which could be sold at a loss because the gaming and entertainment businesses are not commonly valued based on book value, as companies in this industry are driven by earnings.
To recap, Genting Malaysia through Resorts World Ltd, had subscribed for a 26.8% stake in Genting Hong Kong (formerly Star Cruise Ltd) for US$262.5 million in June 1998. Genting Malaysia then upped its stake to 36.1% in 2004, before paring it down to 18.4% in 2012. Subsequently, Genting Hong Kong issued new shares, which diluted the group's interest in the former to the current 17.81%.
For the financial year ended December 2014 (FY14) Genting Hong Kong posted a net profit of US$385 million, down 30% from US$552.4 million the year before. However, revenue was higher at US$570.8 million against US$554.7 million in FY13.
This article first appeared in The Edge Financial Daily, on July 3, 2015.