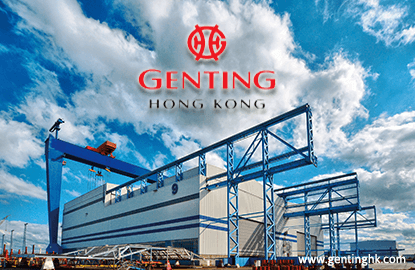 KUALA LUMPUR (March 2): Cruise ship operator Genting Hong Kong Ltd has acquired Nordic Yards' three shipyards in Wismar, Warnemunde and Stralsund, Germany, for a combined €230.6 million (RM1.04 billion).
Genting Hong Kong said the latest acquisition, along with Lloyd Werft last year, enables it to realise its global cruise ship fleet strategy over the next decade for its three brands — Crystal Cruises, Dream Cruises and Star Cruises.
"The rapid growth of the world cruise industry, especially in China, has led to cruise ship order book reaching an all-time high," said Genting Hong Kong chairman and chief executive officer Tan Sri Lim Kok Thay in a statement today.
"In order to ensure that the company can build the required number of cruise ships in the next decade for our global fleet expansion, it is strategic that we acquired shipyards that can build our cruise ships in a timely basis and in a more cost effective manner," he added.
The newly acquired yards together with the previously purchased Lloyd Werft will be managed as the Lloyd Werft Group.
Genting Hong Kong said ownership of the shipyards will free it from both the delivery timing and pricing uncertainties associated with the cruise ship order book cycle, which is at a historic high and allow management to focus on the strategic planning, design and deployment of its planned cruise ships among its three brands.
"With all the yards situated in Germany, a country with a long tradition of efficiency in building high quality and innovative cruise ships and megayachts, the Lloyd Werft Group, with approximately 1,700 experienced management and workers, is well placed to succeed as one of the best cruise and megayacht shipbuilding companies in the world," said Lim.
"The investment in the Lloyd Werft Group will have good returns from the 10-year planned order book, fits perfectly with the company's (Genting Hong Kong) global cruise strategy and is in the long-term interest of the company," he added.
The three shipyards, with further investment, will have a steel fabrication capacity of about 150,000 tonnes a year, sufficient to build a number of cruise ships and a megayacht per year.
At 2.59pm, shares of Genting Hong Kong were traded 1.59% higher at US$0.32, giving it a market capitalisation of US$2.71 billion.