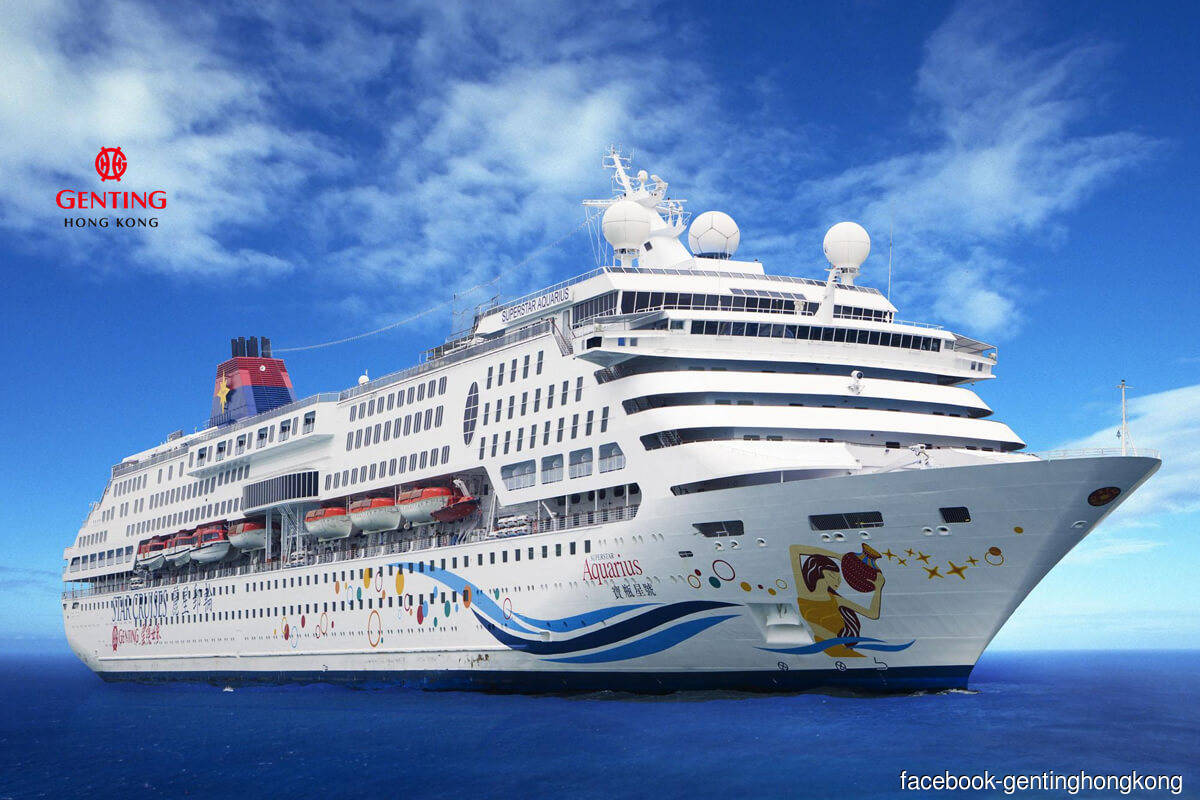 KUALA LUMPUR (Nov 11): Cash-strapped Genting Hong Kong Ltd (Genting HK) is selling a 50%-stake in its indirect wholly-owned Genting Macau Holdings Ltd to White Supreme Corp, an investment holding company owned by real estate, leisure and hospitality investor Ao Mio Leong, for HK$50 million (US$6.41 million)
Under the deal, to which Ao is the guarantor, White Supreme Corp will also pay HK$700 million (US$89.74 million) to take over a shareholder's loan that Genting Macau owes — together with interests — to Star Cruises Asia Holding Ltd, which is Genting Hong Kong's wholly-owned unit. The sum amounted to no less than HK$800 million as at Nov 10.
In Genting HK's stock exchange filing today, Star Cruises Asia inked the sale and purchase agreement for the stake sale and loan reassignment with the purchaser on Tuesday (Nov 10). The deal also includes put and call options for the remaining 50% stake in Genting Macau.
Genting Macau and its subsidiaries are principally engaged in the development of hospitality facilities. It is currently developing a hotel alongside Macau's Nam Van Lake. According to GGRAsia, an online newsletter that focuses on Asia's casino industry, the project is named Resorts World @ Macau and its topping-off ceremony was held earlier this year. It also observed that construction at the project's site has halted.
Genting HK, which is controlled by Malaysian tycoon Tan Sri Lim Kok Thay with a 69.24% stake as at July 22, said the disposal is aligned with its objective to sell non-core assets, and that it will reduce its financial burden in meeting future funding requirements in relation to Genting Macau's business. Lim also holds 44.8% in Genting Bhd — in which he is the chairman and CEO. Genting, in turn, controls 49.45% in Genting Malaysia Bhd and 52.66% in Genting Singapore Ltd.
The disposal is estimated to result in a loss of about US$159 million, said the troubled cruise ship operator, after taking into account the transaction's net proceeds of HK$748.48 million (about US$95.96 million), the US$67.8 million consolidated net liability value of Genting Macau as at Sept 30, the loss on assignment of the sale loan, and the impairment of receivables from Genting Macau.
Nevertheless, the transaction will increase Genting HK's liquidity, and the sale proceeds will be used for general working capital and to fund the group's cruise-related and other operations.
Genting HK has been hit hard by the Covid-19 pandemic. It reported a wider net loss of US$742.6 million for the six months ended June 30, 2020, versus US$56.5 million a year ago, as it had to cancel many sailings and temporarily suspend almost all its cruise operations since February. Revenue in the period slumped 69% to US$226.23 million from US$729.16 million.
In August, it was reported that Genting HK had suspended all payments to creditors to preserve cash for its key operations. At the time, Genting HK said the payment halt would likely result in default. As at end-July, it owed a total of US$3.4 billion.
Formerly known as Star Cruises, Genting HK operates the Star Cruises, Drema Cruises and Crystal Cruises lines.
Genting HK's share price slipped six cents or 17.46% to HK$0.26 today, valuing the group at HK$2.21 billion. The stock has declined 66% over the past 12 months.
Read also:
Cruise ship operator Genting Hong Kong suspends payments to creditors
Genting HK gets €193m German aid after asking for €570m, largest sum requested by foreign firm — report
Lim Kok Thay sells Genting HK's Zouk to his son
Lim Kok Thay's son resigns from Genting HK as the cruise operator finds ways to keep concern going
Kok Thay's wealth evaporates as GENT HK cruises into troubled waters
Genting HK receives interest from investors for cruise brand