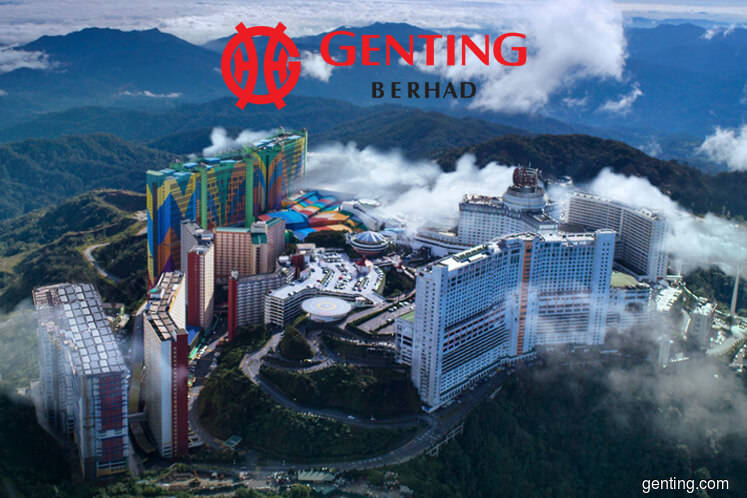 KUALA LUMPUR (Aug 13): Selling in the shares of both Genting Malaysia Bhd (GenM) and parent company Genting Bhd reemerged today after the news that Empire Resorts Inc — in which GenM is to acquire a 46% stake from controlling shareholder and chairman Tan Sri Lim Kok Thay for US$128 million (RM538 million) — is considering filing for voluntary Chapter 11 bankruptcy due to its severe liquidity problem.
At the ring of the closing bell, GenM took the seventh spot on Bursa Malaysia's top active counters list, declining 3.11% or 10 sen to RM3.12, giving it a market capitalisation of RM18.53 billion — with 44.87 million shares changing hands.
Meanwhile, Genting was the 45th most actively traded counter on the bourse, closing 2.26% or 14 sen lower to RM6.05, valuing the company at RM23.46 billion. The counter saw 10.09 million shares transacted.
The two stocks came under pressure after the announcement on the related party transaction. Empire Resorts' statement on its financial problem added pressure on the two counters.
Lim's investment vehicle Kien Huat Realty III currently controls 84% of Empire Resorts, which is in dire need of fresh capital to keep it going. The US casino operator has enormous debt of over US$400 million as at June 30.
Over at Nasdaq, Empire Resorts' share price dived to US$8.18 — the lowest level this year, down 12.4% or US$1.16 on Monday.
Last Friday, debt-laden Empire Resorts highlighted to shareholders the option of filing for voluntary bankruptcy in the announcement of its second-quarter financials to the US Securities and Exchange Commission (SEC), noting the option would enable it to easier restructure its borrowings.
Also, the US casino operator pointed out that it needs an injection of fresh capital from shareholders given that it is loss making operations-wise.
Empire Resorts' subsidiary Montreign Operating Co LLC owns and operates Resorts World Catskills, a casino resort located at the about 1,700-acre site of a four-season destination resort in Sullivan County, New York. It is approximately 90 miles from New York City.
See also:
Empire Resorts on the brink of filing for bankruptcy
Kok Thay sells loss-making Empire Resorts stake to Genting Msia